The Merry Wives of Windsor
Written by William Shakespeare
Directed by Karen Carleton
Performed in:
- Airfield Gardens, Dundrum, Dublin: Tue 27 to Fri 30 June 2006
- The Sylvan Theatre, Kilruddery Gardens on Sat 1 July 2006
- Elm Park Golf Club, Donnybrook on Sat 8 July 2006
- Centre Stage Summer Festival, Cabinteely Park on Sun 16 July 2006
This is one of Shakespeare's funniest plays and is literally littered with sayings that have become part of everyday language. Once again, the garden of Airfield House in Dundrum was filled with the sights and sounds of the Balally Players interpreting one of Shakespeare's best loved plays. As always, audiences were treated to a magical evening in a wonderful setting all created by a group of people intent on enjoying themselves as much as those who came to see them.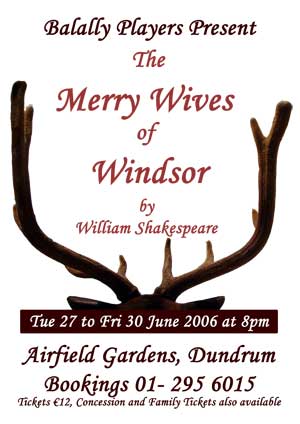 The first performance of the 2006 summer Shakespeare production, 'The Merry Wives of Windsor', was brought to life outdoors in Airfield_Gardens in the grounds of Airfield House, Dundrum. Opening night was on Tuesday 27 June and the play was performed for four nights.
The play was also be performed in: The Sylvan Theatre, Kilruddery Gardens on Sat 1 July and Elm Park Golf Club, Donnybrook on Sat 8 July.
The last performance was part of the 'Centre Stage Summer Festival' on 16 July at 3pm. It consisted of a 50 minute extract and took place in front of Cabinteely House - the magnificient 18th Century House built by Robert Nugent, Earl Clare and now owned by Dun Laoghaire-Rathdown County Council. The house is surrounded by 96 acres of Parkland.


The opening night in Airfield Gardens was colder than expected for midsummer, but the play and the cast received a very warm reception.
Cast

Citizens of Windsor
MISTRESS MARGARET PAGE
MASTER GEORGE PAGE
ANNE PAGE (Nan) their daughter
MISTRESS ALICE FORD
MASTER FRANK FORD
JOHN & ROBERT
MISTRESS QUICKLY
DOCTOR CAIUS
JIN RUGBY Servant to Dr Caius
SIR HUGH EVANS
HOST OF THE GARTER INN
MAIDENS & WOMEN OF
WINDSOR
Mary Ryan
Leonard Nealon
Karina Steffens
Ciara O'Byrne
Peter Flood
Francis Cahill and Rupert Heather
Antoinette Fahey / Ruth Blayney
Jim Carroll
Roger Cleary
Tony McGettigan
Niall O'Kennedy
Emma Brewer, Rachel Fitzpatrick
and Teresa Dempsey
Visitors to Windsor
SIR JOHN FALSTAFF
PISTOL & NYM (his followers)
ROBIN his servant
MASTER FENTON
a young gentleman
MASTER ROBERT SHALLOW
(a Justice)
MASTER ABRAHAM SLENDER
(his nephew)
SIMPLE (servant to Slender)
Geoffrey O'Keefe
Niall O'Kennedy, Rupert Heather
Anita Roche

Anthony Duffy

Lorcan Dunne

Patrick O'Malley
Doris Cullen
Crew
Stage Manager
ASM
Costume Design
Sound & Lighting
Set Design
Construction

Make Up
Poster Design & Programme
Front of House


Jean Monahan
Oran O'Rua
Dympna Murray
Gerry Doyle and Patrick Hand
Gerard Bourke
Brian Dempsey, Pat Hand and
John Carleton
Sonia Dolan and Teresa Dempsey
Declan Brennan Geoffrey O'Keeffe
Joanne Keane, Judy McKeever
and members of Balally Players
Directed by Karen Carleton
Historical note on the play
The Merry Wives of Windsor is one of the best loved of Shakespeare's comedies and also contains the highest proportion of prose of any of his plays. Some place the play's creation as late as 1601. Its central character is Falstaff who had been a roaring success with audiences in Henry IV Part I and Part II, although in this incarnation he bears little resemblance to his previous character.

The play may have been performed or at least written for the occasion of the installation of Lord Hunsdon as a knight of the Garter on 23 April 1597, although John Dennis a century later claimed that the bard had written the play on the order of Elizabeth I who wished to see Falstaff in love.

Poster from 1602

"A most pleasant and excellent conceited comedy"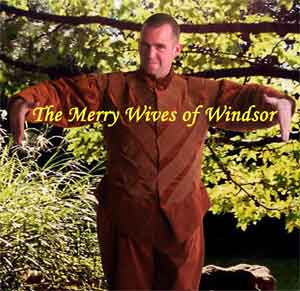 Geoffrey O'Keefe getting to grips with his role as Falstaff
- before he had his antlers fitted!
Plot summary
The play involves the ritual humiliation of Sir John Falstaff who is flirting with two married women for financial gain. Falstaff sends identical love letters to Mrs Ford and Mrs Page and he ends up thrown in a dirty ditch and beaten while in disguise as the 'fat woman of Brainford' by Mr Ford. His final embarrassment at Herne's oak is the worst, however. While all this goes on there is the matter of Page's daughter to be dealt with. Her three suitors (Doctor Caius, Slender and young Fenton) try to win the approval of her parents, but the true lover of Anne Page ends up the victor in hilarious circumstances.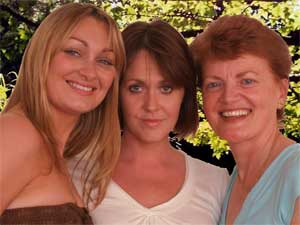 Antoinette Fahey, Ciara O'Byrne and Mary Ryan who appeared in 'The Merry Wives of Windsor' in Airfield Gardens, Dundrum
Pictures taken on Opening Night in Airfield Gardens as the cast prepared to go on stage.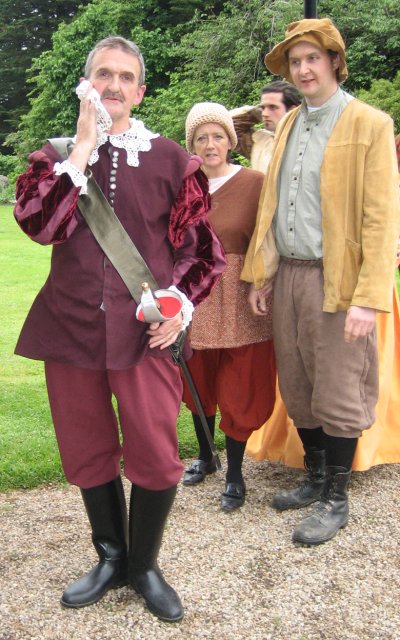 Jim Carroll, Teresa Dempsey and Francis Cahill 'off stage' in Airfield Gardens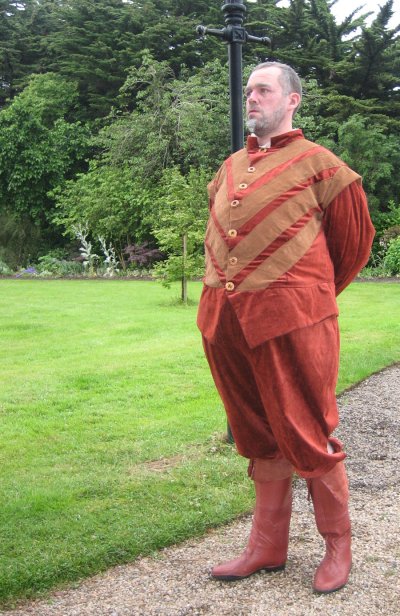 Sir John Falstaff played by Geoffrey O'Keefe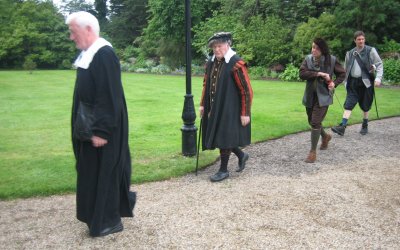 Tony McGettigan, Lorcan Dunne, Niall O'Kennedy and Rupert Heather


Poster for 'The Merry Wives of Windsor'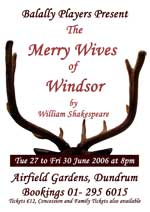 To view a copy of the poster for 'The Merry Wives of Windsor' in Adobe Reader format (version 5 or later) just click on this link to Merry_Wives A4 Poster (173KB).
To save a copy, right-click on the link and select "Save Target As..."
Programme for Airfield Gardens
To view a copy of the programme for the Airfield Gardens performances of 'The Merry Wives of Windsor' in Adobe Reader format (version 5 or later) just click on this link to Merry_Wives_Programme (67KB). To save a copy, right-click on the link and select "Save Target As..."
A higher quality PDF (401KB) of the Programme for printing may be accessed here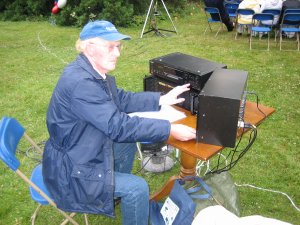 Gerry Doyle preparing to operate the sound equipment for The Merry Wives of Windsor in Airfield Gardens