The Cripple of Inishmaan (2006)
Written by Martin McDonagh
Directed by Karen Carleton
Performed in The Mill Theatre - Wed 18 to Sat 21 October 2006
This second production of the play followed a very successful presentation in Lamb Doyles, Blackglen Road, Dublin in November 2005.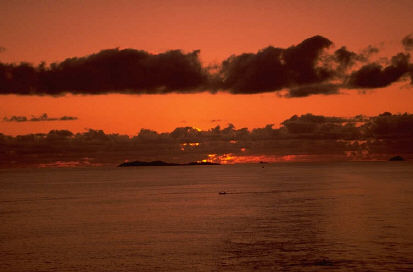 The play and the playwright
In 1934, the people of the remote island of Inishmaan look towards the west at what seems an even more remote and strange place - America. So when they learn that the Hollywood director Robert Flaherty is coming to the neighbouring island to film a documentary, they are curious, intrigued and maybe even a little excited. No one is more excited than Cripple Billy, an unloved boy whose chief occupation has been gazing at cows and yearning for a girl who wants no part of him.

Written by one of the world's most celebrated young playwrights, this ingeniously funny, suspenseful, and moving play centers on Billy, a disabled boy living on a barren island off the Irish coast during the 1930s. Billy's parents died at sea when he was a baby, and he has been raised by two soft-hearted foster-aunts. Relentlessly ridiculed by the other islanders, "Cripple Billy" seizes a chance to escape his confined life on Inishmaan when an American film crew arrives to make a documentary.

As news of Billy's 'crazy notion' ripples through his rumor-starved community, The Cripple of Inishmaan becomes a merciless portrayal of a world so comically cramped and mean-spirited that hope is an affront to its order.

Martin McDonagh's comic tale of The Cripple of Inishmaan is funny and sad and exhilarating. McDonagh is an adept storyteller, with a keen eye and ear for capturing both the humour and sadness of people trapped in lives devoid of social or cultural stimuli or economic advantages. While hardly filled with the milk of human kindness the citizens of Inishmann are nevertheless sympathetic and their interactions so hilarious that you tend to forget the underlying desperation even in the title character's flight away from their petty feuds and thoughtless cruelty.

This presentation of the play was the first full Balally Players production at the Mill Theatre (the production that opened the Mill Theatre in May 2006, 'Our_Town' was a joint production with five local drama groups).

For more details on the play and the cast in the last Balally Players production in Lamb Doyles, Dublin, just click on this link to the November 2005 production.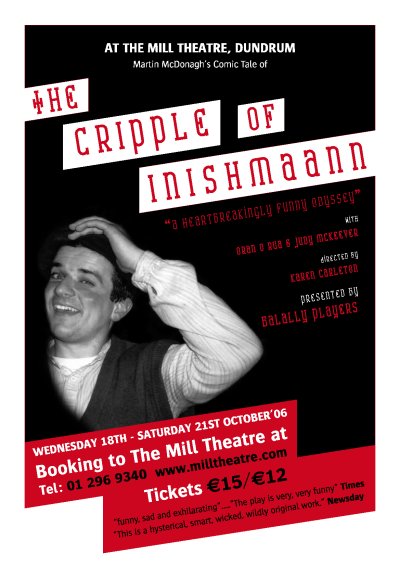 Cast

Kate
Eileen
Johnnypateenmike
Billy
Bartley
Helen
Babbybobby
Doctor
Mammy
Mary Ryan
Anne Lucas
Peter Flood
Oran O'Rua
Robert Duff
Judy McKeever
Francis Cahill
Tony McGettigan
Dorris Cullen
Crew

Stage Manager
Lighting
Sound
Director
Kevin Fahey
Paul Macken
Gerry Doyle
Karen Carleton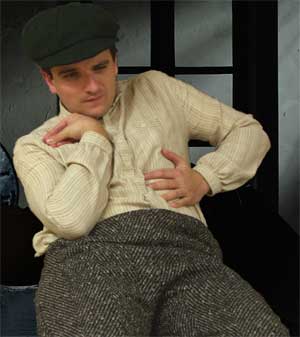 Cripple Billy (played by Oran O'Rua) at one of the more reflective moments in the play
Poster in PDF
To view a copy of the poster for 'The Cripple of Inishmaan' in Adobe Reader PDF format (version 5 or later) just click on this link to the poster. To save a copy, right-click on the link and select "Save Target As..."