By the Bog of Cats
Written by Marina Carr
Directed by Jean Monahan
Performed in:
- The Mill Theatre Wednesday 25 to Saturday 28 April 2007
- An Tain Theatre, Dundalk Sunday 3 June 2007
The play was directed by Jean Monahan and was performed in the Mill Theatre from Wednesday 25 to Saturday 28 April 2007. It was later staged on the night of Sunday 3 June in An Tain Theatre, which is in the Town Hall on Crowe Street, Dundalk.
This was a very successful production and the first major drama directed by Jean Monahan. The play is known as a powerful drama, but it is a challenge for the director and the actors. However, the audiences in Dublin and Dundalk agreed that it rewarded them well as it made them cry and laugh in equal measure on its journey that explored the human condition.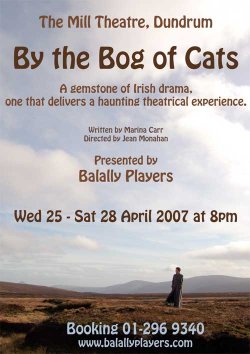 One of the posters for the play at the Mill Theatre
The Play
Playwright Marina Carr turned to Greek Tragedy for inspiration when writing her play, 'By the Bog of Cats'. It's a play about a small-town family feud, so it explores hatred and love in equal measure. It's about sorrow, but yet wickedly funny. All human life and death is there - a tale told by a collection of characters at various stages of the family life cycle - and where better to bring that concoction to the boil than at a wedding! The principal characters in the play are drawn from the traveling community. The setting is rural Ireland and the land is never too far from the centre of the story.
The bog is home to the traveller Hester Swane and her partner, Carthage Kilbride and their daughter, Josie. His success as a farmer is based on the tutelage and determination of Hester. However, he is now about to cast Hester aside and marry a wealthy farmer's daughter while Hester is to be driven off the land and into a house in town. She is to lose the freedom of the bog.
The play is a tale of family secrets, deadly legacies and the power of love. Forgiveness, vengeance and strife emerge as the dream makes its way through heartbreak and hilarity towards its tragic conclusion.
The Writer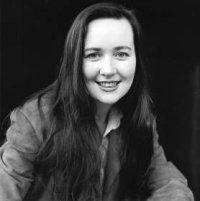 Marina Carr
Marina Carr was born in 1964 and grew up in County Offaly.
She graduated from UCD in 1987. 'By the Bog of Cats' won the Irish Times/ ESB Award for Best New Play in 1998. She has been Writer-in-Residence at Trinity College and was Heimbold Professor of Irish Studies at Villanova University in 2003.
At the time of the Balally Players production, she was a member of Aosdána and lived in Kerry.
Poster, Cast and Crew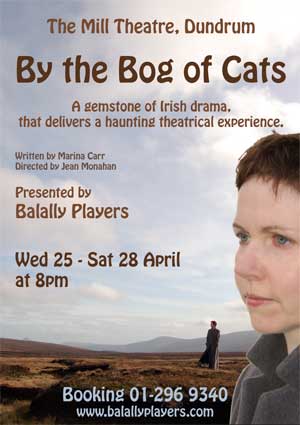 A second version of the poster for the play at the Mill Theatre, featuring Claire Reilly (above) who played the lead role 'Hester Swane'.
Cast

Hester Swane
Ghost Fancier
Monica Murray
Josie Kilbride
Mrs Kilbride
Catwoman
Carthage Kilbride
Caroline Cassidy
Xavier Cassidy
Waiter
Joseph Swane
Father Willow
Waitresses
Claire Reilly
Declan Brennan
Doris Cullen
Anna O'Duffy / Megan Rudden
Muriel Caslin O'Hagan
Margaret Toomey
Geoffrey O'Keeffe
Jacqueline Dooley
Peter Flood
Fionn Staines
Robert Duff
Jim Carroll
Rachel Fitzpatrick, Deirdre Connolly
Crew

Director
Costume and Set Design
Stage Manager
Assistant Stage Manager
Make up
Lighting Design
Lighting Operator
Sound
Publicity
Poster Design
Jean Monahan
Dympna Murray
Carol Hayes
Niamh Holland
Teresa Dempsey
Barry Donaldson
Patrick Hand
Óran O'Rua
Gary Wall
Declan Brennan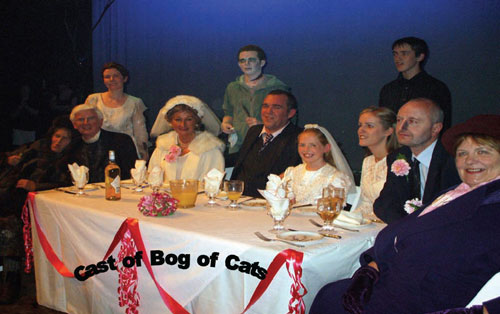 Some of the cast after a performance