Money Talks & Sure Thing
'Money Talks' written by Jason Milligan
'Sure Thing' written by David Ives
Directed by Brian Molloy
Performed in Studio Space at The Mill Theatre Wed 17 to Sat 20 Oct 2007
These two short plays at the Mill Theatre Studio accompanied 'Riders to the Sea' in the main theatre space.
Cast for Money Talks by Jason Milligan

Clarke
Yollanda
Waitress
Francis Cahill
Sally Ann Doddy
Nicola Murphy
Cast for Sure Thing by David Ives
Bill
Betty
Alan Keating
Niamh Daly
The Director was Brian Molloy and the Stage Manager was Orla Morgan.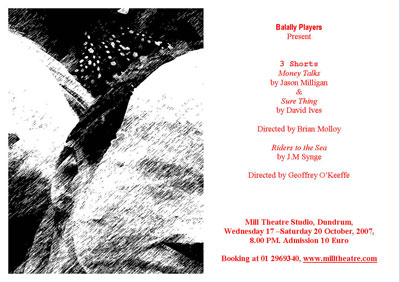 The plays were performed on Wednesday 17 to Saturday 20 October 2007 in the Mill Theatre Studio in tandem with 'Riders to the Sea' in the Main Auditorium.