Christmas at Airfield (2007)
Directed by Niamh Daly and Teresa Dempsey
Performed in Airfield House, December 2006
Traditional Christmas celebration in story and song.
The Christmas show at Airfield House, Dundrum is always one of the most popular productions staged each year by Balally Players. December 2007 was no exception with a great collection of carols, stories, music and humour. The focus, as always, was on Christmas and the emphasis was on delivering a most entertaining evening full of variety and good cheer. 'Mrs Overend' (Teresa Dempsey) welcomed one and all to her home to savour the Christmas spirit in a variety of performances by members of Balally Players. At the interval, guests enjoyed a glass of mulled wine and a mince pie before returning to the drawing room to round off a wonderful evening's entertainment.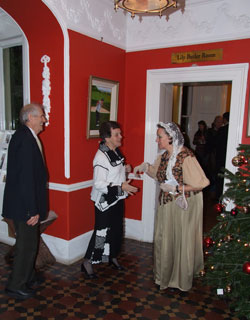 Mrs Overend (Teresa Dempsey) welcoming guests arriving for the show at Airfield House.
The show was performed over four nights from from Saturday 8 to Tuesday 11 December 2007.
Each of the four nights at Airfield was booked out and many members of the audience described themselves as 'regular fans' back again for a show they look forward to each year.
The show consisted of twenty four pieces covering everything from seasonal stories, poems, songs and Christmas carols to comedy sketches, old and new, that entertained the audience until just after ten o'clock each night.
The show was co-directed by Niamh Daly and Teresa Dempsey. The full list of what was performed and who performed is in the Christmas at Airfield programme (see below).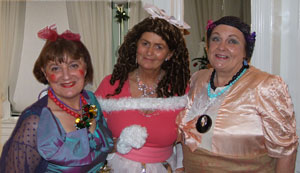 Angela, Margaret and Doris, writers and performers of one of the topical comic sketches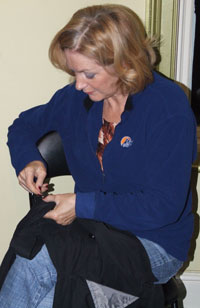 Anne Lucas preparing to go on stage
Full details on the pieces performed in the show, which is always a favourite with audiences at Christmas, are in the programme (see below).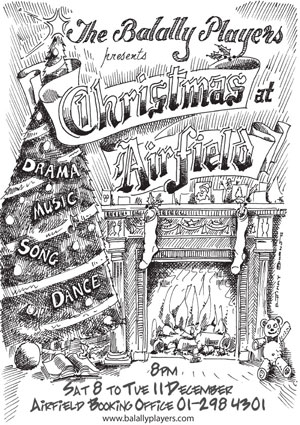 To download this small image (62KB) right-click on the picture and select "Save Picture As...".
To view a copy of the 'Christmas at Airfield' Programme in Adobe Reader (version 5 or later) just click on this link_to_the_programme.
To save a copy, right-click on the link and select "Save Target As..." The size of the PDF file is 180KB.