Romeo and Juliet
Written by William Shakespeare
Directed by Karen Carleton
Performed in The Mill Theatre 16 to 18 June and Airfield 19 to 21 June 2010
Summer Shakespeare, performed outdoors around the longest day of the year, became a regular part of most of the Balally Players annual programmes after 'A Midsummer Night's Dream' was performed in the gardens of Airfield House in 2001. Nine years later, Karen Carleton took 'Romeo and Juliet' to Airfield following a few days in the Mill Theatre.
Having taken a 'rest' in the summer of 2009, Shakespeare returned to the Mill Theatre and the gardens of Airfield House in June 2010 with a wonderful, energetic, 'fresh air' performance of 'Romeo and Juliet', presented by Balally Players and directed by Karen Carleton.
The play was on stage in the Mill Theatre from Wednesday 16 to Friday 18 June. Immediately after the Mill, the play moved outdoors to the grounds of Airfield House, Dundrum where it was performed from Saturday 19 to Monday 21 June.
The final performance in Airfield, on Midsummer's Day, was played on a warm, sunny evening to a full and very appreciative audience.
Romeo and Juliet - a tragedy, but not as they knew it
Mercutio & Romeo

The plays of Shakespeare presented by Balally Players to date were his comedies. While 'Romeo and Juliet' is a story about young, innocent lovers coming to a sad end, the play is a tragedy laced with a fair amount of comedy. The sombre Prologue foretells of the darkness, but if it were not for that, the audience would see much more light than shade until Mercutio meets his end sharply, unexpectedly and almost accidentally. Mercutio belongs to neither of the feuding families. He is arch enemy of Tybalt and a close friend of Romeo. He is one of the few in Verona who can deal happily and freely with both houses and happy he is until the tide turns.

The play does not follow what was the accepted path of a tragedy, where a person of high rank is cut down or falls, usually to their death. Shakespeare presents the death of the two leading characters as a young and impetuous couple caught up in a tangled web woven as much by their feuding families as by themselves.

Some commentators have drawn attention to the fact that Shakespeare was a young man at the time he wrote the play. They have also speculated that he may possibly have married in haste. Whatever his motivation, he was inspired by both classical and medieval tragedy. A feature of contemorary dramatic writing was the combination of elements of comedy with those of tragedy.

For some, this is Shakespeare's most popular and famous play. The script tells the audience up front, in the Prologue, that this is going to be a tragedy where the children of two feuding families will both love and die before the play is over. The Montague clan (Romeo's parents) and the Capulet family (Juliet's parents) are effectively at war with one another.

Prince Escalus

Brawls between servants of the two feuding noble families drive the ruler, Prince Escalus, to declare that death will be the punishment for anyone who disturbs the peace in Verona. The prospect of their children falling in love and setting up home together fans the flames of family passions that are already ablaze. Hot stuff!

This early Shakespeare play (written around the mid 1590s) has not always enjoyed the critical acclaim it does today. It has sometimes suffered by comparison with his four great tragedies, Hamlet, King Lear, Macbeth and Othello. These days, academics are more likely to judge it as a great work of art in its own right, rather than as a less psychologically deep or structurally complex member of the Shakespearean set of tragedies.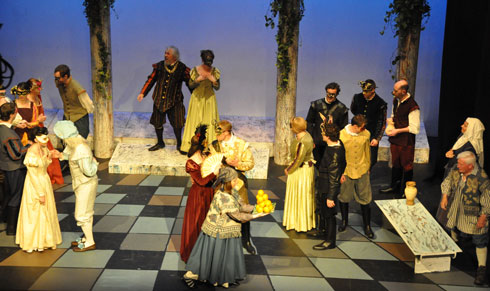 Opening night in the Mill Theatre on Wed 16 June 2010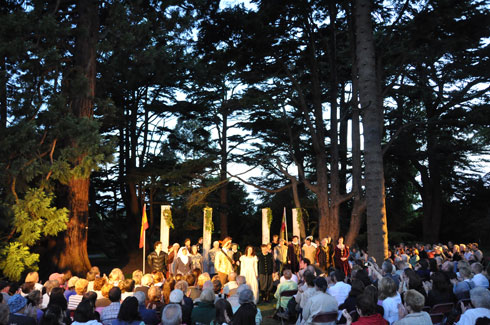 Last night in the gardens of Airfield House on Mon 21 June 2010
In 'Romeo and Juliet', Shakespeare vividly captures the beauty, intimacy and ultimate fragility of young love in a hostile world.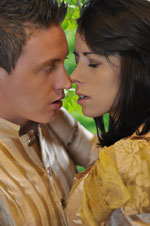 Robert Hudson & Eilish O'Brien
This production was a wonderfully fresh presentation from a cast committed to the traditional performance, beautifully costumed and lit.
The Balally Players production featured plenty of on-stage battles, sword fights, drumming, male group choreography, a masked ball for the ladies and more, all beautifully dressed in costumes designed by Dympna Murray.
This was a muscular production on the lives of the families - Mercutio and Tybalt, the feuding Capulets and Montagues - less romance and tragedy - more West Side Story than Baz Lurhman.
Robert Hudson played Romeo and Eilish O'Brien played Juliet.


Picture Gallery - Mill Theatre
Photographs from productions are stored on the SmugMug.com site. The Balally Players SmugMug account allows for the viewing and downloading of images at various sizes if high resolution pictures have been uploaded. The slideshow below can be run and stopped by clicking on the play (>) and pause (¦¦) icons. You can move forward and back by clicking on the right or left of the image. To go to the gallery of these images stored in the Balally Players pages of the SmugMug site, where you can see and download larger copies of the images, visit www.balally.smugmug.com to see all of the available galleries of images.


Picture Gallery - Airfield


Cast

Romeo
Juliet
Friar Lawrence
Mercutio
Nurse
Tybalt
Capulet
Lady Capulet
Montague
Lady Montague
Chorus
Benvolio
Paris
Prince Escalus
Apothecary, Citizen
Balthazar
Peter
Mopsa
Sampson
Gregory
Abraham
Abraham
Friar John, Constable, Citizen
Page, Servant to Paris
Officer to Prince
Officer to Prince
Citizen, Dancer
Citizen, Dancer
Citizen, Dancer
Robert Hudson
Eilis O'Brien
Michael Sharp
Garreth Murphy
Hilary Madigan
Mark Phelan
Brendan Dunne
Joanne Keane
Pat O'Grady
Mary Ryan
Muriel Caslin
Sean Murphy
Sean Ahearn
Richard Stowe
Deirdre Mullen
Kevin O'Flynn
Tony McGettigan
Fiona Walsh
Jamie McLoughlin
Francis Cahill
Darren McBride
Richard Doyle
Sean Daly
Aoibhinn Finnegan
Michael Carty
Fintan Murphy
Claire O'Donovan
Teresa Dempsey
Orla Cooney
Creative Team

Director
Production Manager
Costume Design
Stage Manager
Assistant Stage Manager
Scenic Artist
Lighting Design
Lighting Operation
Sound Operation
Properties

Set Construction
Make Up
Programme Design
Programme Content
Photography
PR
Crew & Front of House

Karen Carleton
Aoife Braiden
Dympna Murray
Dave Walsh
Doris Cullen, Lisa Walsh
John Canning
Paul Macken
Peter Carey
Andrew Gibbons
Jean Monahan,
Eithne Brannigan
Brian Dempsey, Patrick Hand
Teresa Dempsey
xwerx.com
Fiona Buckley
Declan Brennan
Judy McKeever
Members of the Company
Additional valuable support was also given to the Director by Emma Coughlan, Paul Burke, Geoffrey O'Keeffe, Cathal Quinn and Claire Reilly.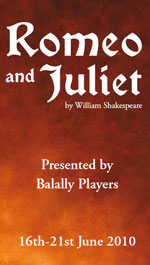 A copy of the artwork for the programme is available here as a PDF file.
To open the document, left-click on the link above.
To download a copy, right-click on the link above and select "Save as....."