All My Sons
Written by Arthur Miller
Directed by Joe Jordan
Performed in the The Mill Theatre, Dundrum - Tuesday 25 to Saturday 29 January 2011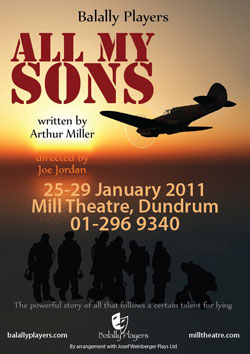 The stage of the Mill Theatre was taken back in time to the aftermath of the Second World War for this tale of how a strong, successful and outwardly happy family is torn apart by a series of lies told in a vain attempt at self preservation, but which ultimately lead to the opposite effect.
Joe Jordan directed 'All My Sons' at the Mill Theatre during the cold January that introduced 2011. Rehearsals were often a battle against the elements as heavy snow interrupted the preparations on more than one occasion.
However, the show went on without a hitch and was performed for the week of 25 to 29 January 2011.
This is one of the all-time classics of American theatre. That makes it a double-edged sword for director and cast. On the one hand, it is so well known and admired that audiences love to see it. It is such a good character-based story that even people who don't usually come to the theatre are often captivated by it. On the other hand, being so well known it can be very difficult for a new production to do justice to the best memories that fans of the play have in their minds. The audiences who came to the Mill Theatre for this production were not disappointed. They were treated to a fine interpretation by a troupe of talented actors who, together with their supporting crew, presented a great production.
The idea for the play came from a a true story, which Arthur Miller's then mother-in-law pointed out in an Ohio newspaper. The story described how a woman informed on her father who had sold faulty parts to the U.S. military during World War II. Although written over 60 years ago, the central theme of 'All My Sons' is particularly relevant to the present day, with its deep sense of betrayal, crisis of confidence and loss of trust in what were once pillars of society at home and abroad. Set in a small town in America, this is a story of moral obligation and ultimately, retribution.
Winner of the Drama Critics' Award for Best New Play in 1947, 'All My Sons' established Arthur Miller as a leading voice in the American theatre. The play introduced themes that thread through Miller's work as a whole: the relationships between fathers and sons, and the conflict between business and personal ethics.
Although a well-established director for many years, this was Joe Jordan's first project with Balally Players.
A challenging classic
In his lifetime of 89 years, until the year before his death on 10 February 2005, Arthur Miller wrote eighteen plays. His third play, 'All My Sons', which was first performed in 1947, became a triumph after his critical failure with 'The Man Who Had All The Luck' on Broadway three years earlier. The Miller family business was in the 'rag trade' in New York and until the stock market crash, when Miller was fourteen, they were reasonably well off and lived in a comfortable middle-class district within the city.

Like so many people, then and now, who experience financial or emotional shocks that shake their world to its core, the uncertainty of the foundations beneath what is held to be solid, true and of value, leaves an indelible mark.

'Death of a Salesman', perhaps his best known play, won the acclaim of audiences and critics in 1949 and his 1953 masterpiece, 'The Crucible', earned him a Tony Award. It also attracted the unwelcome attention of the 'House Un-American Activities Committee' (HUAC), the investigative committee of the United States House of Representatives. He was seen by some as a 'Communist writer' and was questioned for that, his challenge to the 'American Dream' and for likening the work of the HUAC to the Salem witch hunt in 'The Crucible'. He was cited for contempt of Congress when he refused to cooperate and name names, but the conviction was overturned on appeal.

Miller learned of the event that inspired 'All My Sons' from his mother-in-law in Ohio. A company released defective aircraft parts to the Army Air Force during the war causing a number of fatal crashes. In the real story, it was a daughter who 'blew the whistle' on her father.

This great human drama explores how the loss of trust and truth - the first casualties of war tears a family apart and affects its friends and its neighbours. The play opens early on a Sunday morning just after a storm and ends at two o'clock the following morning. The story that unfolds over the course of one day is about what happens as they all come to terms with what one character calls "a certain talent for lying" and some of them search for understanding and meaning, while others seek retribution.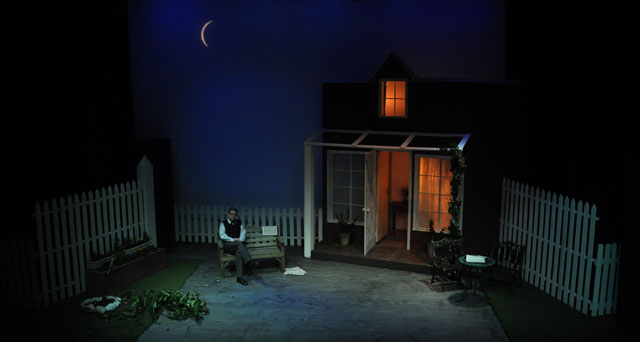 Niall O'Kennedy on the set of 'All My Sons' at the Mill Theatre
Cast of 'All My Sons' (alphabetical order)

Chris
Dr Jim Bayliss
Mother (Kate)
Bert
Joe
Ann
George
Sue Bayliss
Lydia
Frank

Seán Ahern
Declan Brennan
Muriel Caslin O'Hagan
Manus Daly
Brendan Dunne
Niamh Fortune
Ronan Horgan
Joanne Keane
Claire O'Donovan
Niall O'Kennedy

Crew

Director
Production Management
Stage Manager
ASM
Make-up
Hairstyling
Lighting
Sound Design
Sound Operation
Costume
Set Design

Fight Choreographer
PR
Poster & Programme Design

Joe Jordan
Brian Molloy & Orla Cooney
Aoife Braiden
Lorraine O'Hagan
Teresa Dempsey
Orla Cooney
Barry Donaldson
Declan Brennan
Derek Green
Dympna Murray
Louis O'Byrne
Pat O'Grady
Conor Hegarty
Óran O'Rua
Declan Brennan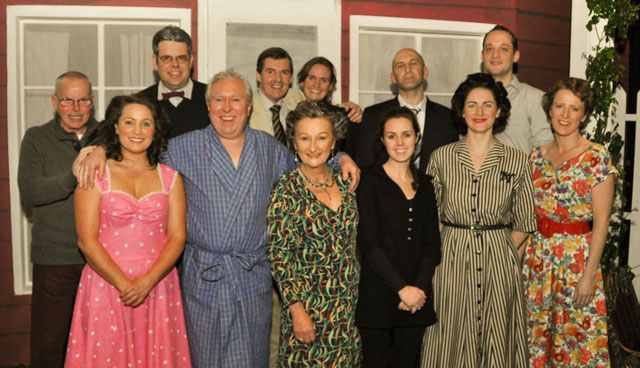 Director Joe Jordan (left) with the cast and some of the crew of 'All My Sons' on the set in the Mill Theatre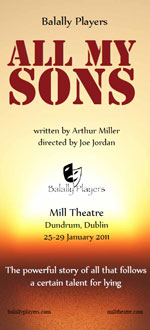 Programme Cover
The programme for the Mill Theatre production is available here as a PDF file (754KB).
To view the PDF file in Adobe Reader or other PDF reader, click on the link above. To download a copy of the PDF, right-click and take the option to "Save link as..." or a similar option that may appear in the browser you use.
The programme includes some, but not all, of the text that is reproduced here. It also has photographs and biographies of the ten actors who portrayed the characters in the play.
Picture Gallery
Photographs from productions are stored on the SmugMug.com site. The Balally Players SmugMug account allows for the viewing and downloading of images at various sizes if high resolution pictures have been uploaded. The slideshow below can be run and stopped by clicking on the play (>) and pause (¦¦) icons. You can move forward and back by clicking on the right or left of the image. To go to the gallery of these images stored in the Balally Players pages of the SmugMug site, where you can see and download larger copies of the images, visit www.balally.smugmug.com to see all of the available galleries of images.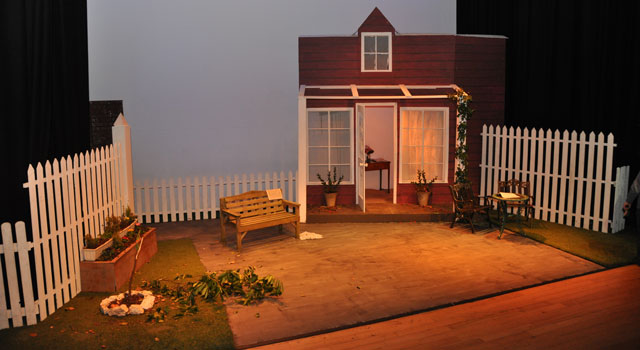 The Set for 'All My Sons'


Director's Note
Joe Jordan, Director

One of the most frequently asked questions by potential audience members who don't know this play is "what is it about"? Ideally, I like to answer with one descriptive word. This is not always possible, but in the case of 'All My Sons' that word is 'retribution'.

The story is set in a small town in Ohio and deals with war profiteering and its tragic consequences. The play's shocking revelations and Miller's insistence that we must take responsibility for our actions provide a lesson about the destructive self interest and greed that sometimes drives capitalism at the expense of human values.

When the play was first produced it was only two years after the Second World War and must have been particularly painful for some audience members who had lost a husband, a father, a son or a brother.

Though not popular with all critics when it was first produced, it was a campaign in support of the play and its writer by Brooks Atkinson of the New York Times that led to its initial successful run. Today it is justly renowned as a classic of American Theatre and is performed internationally in very many different translations.

Over sixty years after its first production the theme is particularly relevant today in light of the financial scandals in our own country and abroad.

Joe Jordan, Director


Director Profile - Joe Jordan
Joe directed his first play many years ago with the Lantern Theatre in Merrion Square. Since then he has directed with 33 Players, Strand Players, Olivians and the Dublin Shakespeare Society. Occasionally he has 'treaded the boards' with these groups and others. Among his favourite writers are Miller, Tennessee Williams, Henrik Ibsen, Harold Pinter, Brian Friel, Frank McGuinness and a writer he feels deserves a re-evaluation, Hugh Leonard. Joe is a great supporter of the One Act Circuit and is always on the lookout for a strong play to participate.
'All My Sons' - a summary of a great play based on a true story
Father and mother, Joe and Kate Keller, had two sons, Chris and Larry. Joe Keller was the owner of a manufacturing plant with Steve Deever, and their families were close. Steve's daughter Ann was Larry's girlfriend, and George was their friend. When the war came, both Keller boys and George were drafted.
During the war, Keller's and Deever's manufacturing plant had a very profitable contract with the U.S. Army, supplying parts for military aircraft. One on occasion, a shipment of defective engine cylinder heads for fighter aircraft arrived at the plant. There was immense pressure from the army to maintain high levels of production with no delays. Steve Deever called Keller on the phone. Joe had not left for work yet, so the it was a conversation over the phone. Steve wanted to know what he should do. Keller told Steve to weld the cracks in the cylinder heads and then to ship them to the army. Steve was nervous about doing this alone, but Keller said that he had the flu and could not go into work. Steve shipped out the parts, knowing that they were defective, but believing that they might still be safe.
Later, it was discovered that the defective parts caused twenty-one planes to crash. All of the pilots died. Steve and Keller were arrested and convicted, but Keller managed to win an appeal and get his conviction overturned. He claimed that Steve did not call him and that he was completely unaware of the shipment. Keller went home free, while Steve remained in jail, ostracised by his family and the local community.
Three years later, the action of the play begins. Chris has invited Ann to the Keller house because he intends to propose to her. They have renewed their contact in the last few years while she has been living in New York. They must be careful, however, since his mother, Kate, insists that Larry is still alive somewhere. Her belief is reinforced by the fact that Larry's memorial tree blew down in a storm that morning (the opening scene of the play), which she sees as a positive sign. Her superstition has also led her to ask the neighbour, Frank Lubey, to make a horoscope for Larry in order to determine whether the day he disappeared was an astrologically favorable day. Everyone else has accepted that Larry is not coming home, and Chris and Joe argue that Kate ('Mother') should learn to forget her other son. Kate demands that Joe in particular should believe that Larry is alive, because if he is not, then their son's blood is on Keller's hands.
Ann's brother George arrives to stop the wedding. He had gone to visit Steve in jail to tell him that his daughter was getting married, and then he left newly convinced that his father was innocent. He accuses Keller, who disarms George by being friendly and confident. George is reassured until Mother accidentally says that Keller has not been sick in fifteen years. Keller tries to cover her slip of the tongue by adding that Joe's flu was exceptional and just another product of the stress that everyone was under during the war. However, her words only confirmed George in his view of what happened and he is further convinced of Joe Keller's guilt. Chris tells George to leave the house.
Chris's confidence in his father's innocence is shaken, however, and in a confrontation with his parents, he is told by his mother that he must believe that Larry is alive. If Larry is dead, she claims, then it means that his father, Joe, killed him by shipping out those defective parts. Chris shouts angrily at his father, accusing him of being inhuman and a murderer, and he wonders aloud what he must do in response to this shocking, emotional explosion that rocks his family and his belief in his father to the core.
Chris is disillusioned and devastated, and he runs off to be angry at his father in private. Kate tells Keller that he ought to volunteer to go to jail, if Chris wants him to. She also talks to Ann and continues insisting that Larry is alive. Ann is forced to show Kate the letter that Larry wrote to her before he died, which was essentially a suicide note. The note basically confirms Kate's belief that if Larry is dead, then his father, her husband Joe is responsible, not because Larry's plane had the defective parts, but because Larry killed himself in response to what he perceived as the unbearable shame his father's actions brought on the family.
Kate begs Ann not to show the letter to her husband and son, but Ann does show the letter. Chris returns and says that he is not going to send his father to jail, because that would accomplish nothing. He also says that he is going to leave and that Ann will not be going with him, because he fears that there will always be the possibility that she will urge him, overtly or silently, to turn his father in to the police.
Joe Keller enters, and Kate is unable to prevent Chris from reading Larry's letter aloud. Keller now finally understands that in the eyes of Larry and in a symbolic moral sense, all the dead pilots were his sons. He says that he is going into the house to get a jacket, and then he will drive to the jail and turn himself in. But a moment later, a gunshot is heard - Keller has killed himself.