Christmas at Marlay (2012)
Directed by Joanne Keane
Performed in Marlay House, December 2012
Traditional Christmas celebration in story and song.
The Christmas Variety Show for 2012 was in Marlay House, Grange Road, Rathfarnham, Dublin 16 as our traditional venue, Airfield House, was undergoing major renovations.
There were three performances - on Thursday 13, Friday 14 and Saturday 15 December at 8pm each evening.
While the venue was different, the style of the show was the ever popular heart-warming collection of Christmas carols and comedy, songs and stories - a great evening of entertainment for all the family. As usual, mulled wine and mince pies were served at the interval.
A list of who performed what is in this PDF of the programme for the show.
Joanne Keane, Director, with Muriel Caslin-O'Hagan.
Picture Gallery
Photographs from productions are stored on the SmugMug.com site. The Balally Players SmugMug account allows for the viewing and downloading of images at various sizes if high resolution pictures have been uploaded. The slideshow can be run and stopped by clicking on the play (>) and pause (¦¦) icons. You can move forward and back by clicking on the right or left of the image. To go to the gallery of these images stored in the Balally Players pages of the SmugMug site visit www.balally.smugmug.com to see all of the available galleries of images and download copies in a range of different sizes.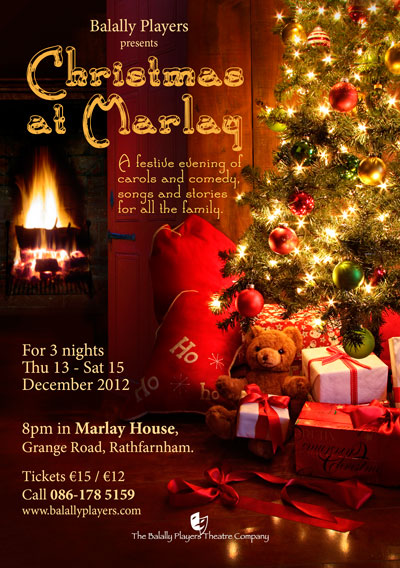 Cover pagefor flyer based on poster design for Christmas at Marlay 2012