Present Laughter
Written by Noel Coward
Directed by Gerard Bourke
Performed in the The Mill Theatre, Dundrum - Tuesday 22 to Saturday 26 October 2013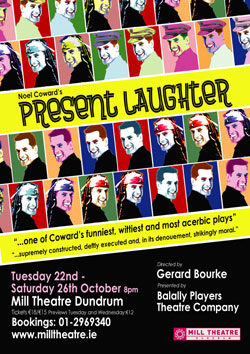 Director Gerard Bourke assembled a great cast and crew and designed a production that brought this play to life and warmed up the laughter muscles on a cool Autumn evening in 2013.
'Present Laughter' is a well-loved light comedy by Noel Coward. Although written in 1939 and first staged in 1942, its celebrity culture theme strikes a contemporary note over seventy years later.
The play's title comes from a song in Shakespeare's Twelfth Night, 'present mirth hath present laughter', a variation on 'carpe diem'. The central character, Garry Essendine, originally played by Coward, makes fun of himself as a so-called 'sophis cated' West End star about to embark on a tour of Africa.
It's a smart, witty romp through a farcical few days in the life of a celebrity. We meet preening matinée idol Garry Essendine, feel his horror at turning 40, and see him cope with a succession of friends, fans or hangers-on arriving in his London studio. They either wish to seduce him, serve him, berate him or befriend him as they whirl in and out of his flat or hide in adjoining rooms.
Despite his behavioural shortcomings, Garry is fun to be with; the kind of person who could brighten up even the dullest day with his flights of verbal rhetoric, or his cutting witty remarks.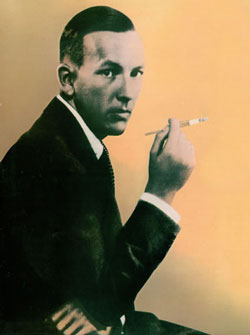 Sir Noël Peirce Coward (1899 – 1973)
As a writer, Noël Coward published over 50 plays. Works such as 'Hay Fever', 'Private Lives', 'Design for Living', 'Present Laughter' and 'Blithe Spirit' are performed as regularly in the 21st century as they were while he was alive.
He also composed many songs, among them the very famous 'Mad Dogs and Englishmen'. His musical theatre works include the operetta 'Bitter Sweet'. In addition to all that, his portfolio of work contains comic revues, poetry, short stories, the novel 'Pomp and Circumstance', and a three-volume autobiography.
During World War II, he volunteered to help the war effort and ran the British propaganda office in Paris.
He acted in the theatre and on film for over 50 years and, as in 'Present Laughter', he was the star performer in many of his own works. He won an Academy Honorary Award in 1943 for 'In Which We Serve' and he was knighted in 1969.
Cast of 'Present Laughter'

Garry Essendine
Liz Essendine
Monica Reed
Joanna Lypiatt
Henry Lypiatt
Daphne Stillington
Morris Dixon
Miss Erickson
Lady Saltburn
Roland Maule

Brendan O'Sullivan
Ciara O'Byrne
Joanne Keane
Mairín Condon
Brendan Dunne
Caitlín Higgins Ní Chinnéide
Brian Molloy
Doris Cullen
Sheila O'Kelly
Cormac McGabhann

Creative Team for 'Present Laughter'

Director
Production Manager
Set Design
Lighting Designer
Costume Designer
Assistant Costume Designer
Sound Designer
Stage Manager
Technician and Set Builder
Prop Master
Props Assistant
Hair and Make-up

Set Dressers
Photography
Marketing

Gerard Bourke
Michael Kennedy
Gerard Bourke & Tom Ronayne
Paul Macken
Dympna Murray
Jillian Wildgoose
Steven Bonny
Aoife Braiden
Patrick Hand
Katerzyme Horzela
Abina Guinan
Teresa Dempsey &
Vivienne O'Callaghan
Miriam Meaney & Orla Cooney
Declan Brennan
Hugh Hick

Coward wrote: "Present Laughter is a very light comedy and was written with the sensible object of providing me with a bravura part".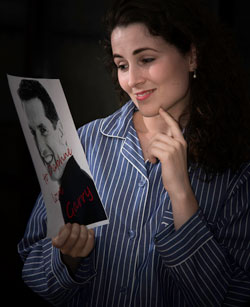 Caitlín Higgins Ní Chinnéide, 'Daphne' in 'Present Laughter', admiring a publicity head-shot autographed by 'Garry', played by Brendan O'Sullivan.
Photograph: Declan Brennan.
The script for 'Present Laughter' was completed around the same time that Coward was working on another play called 'This Happy Breed'. That was in 1939, before the outbreak of World War II. However, the plays were not produced until 1942. Many who knew Coward, pointed to the irony in the title, given that the play's hero is heard so many times during the play lamenting his own ageing and mortality. Coward openly admitted that the character of Garry Essendine, complete with towering ego and self-absorbed nature, was a caricature of himself.
It's interesting to note that the structure of the play has what became a recognisably 'Cowardian theatrical device' at the very end of the play. where the main characters tiptoe out as the curtain falls. This was something that he used in other plays such as Private Lives, Hay Fever and Blithe Spirit.
Noel Coward was the star of the show as Garry Essendine in the original production of 'Present Laughter'. Actors who have followed him in the role include Nigel Patrick, Albert Finney, Peter O'Toole, Simon Callow and Ian McKellen. So, Brendan follows in the footsteps and stands on the shoulders of giants of the theatre - no bother to him!


Picture Gallery
Photographs from productions are stored on the SmugMug.com site. The Balally Players SmugMug account allows for the viewing and downloading of images at various sizes if high resolution pictures have been uploaded. The slideshow can be run and stopped by clicking on the play (>) and pause (¦¦) icons. You can move forward and back by clicking on the right or left of the image. To go to the gallery of these images stored in the Balally Players pages of the SmugMug site visit www.balally.smugmug.com to see all of the available galleries of images and download copies in a range of different sizes.


The Stage Set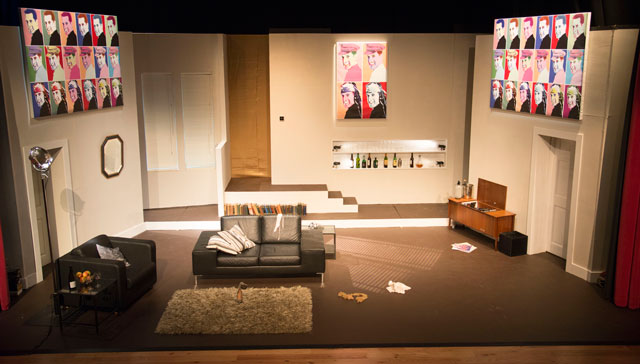 The set for 'Present Laughter'


Pictures taken at dress rehearsal and final performance on Saturday 23 March 2013
The full set of pictures taken during the performance are in the slideshow above, below the cast and crew credits. Here's a small selection of the many pictures taken. To view and/or download any of the pictures, visit www.balally.smugmug.com to see the '2013 Present Laughter' gallery and all of the available collections of images.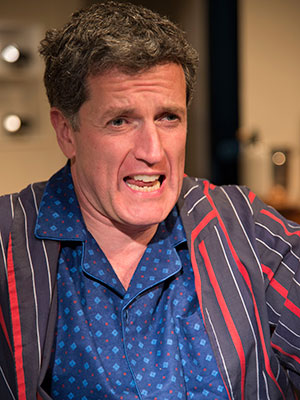 Garry Essendine (Brendan O'Sullivan)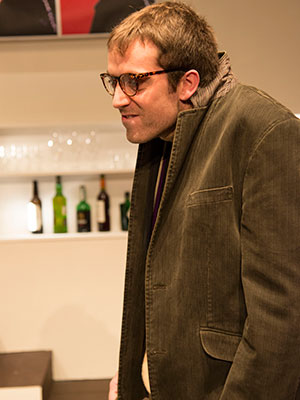 Roland Maule (Cormac McGabhann)
Daphne Stillington Caitlín Higgins Ní Chinnéide)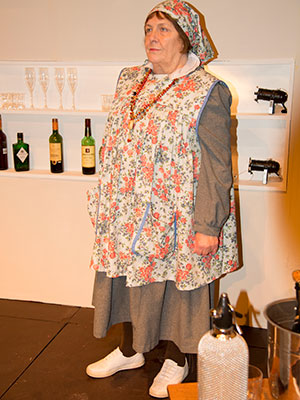 (Doris Cullen)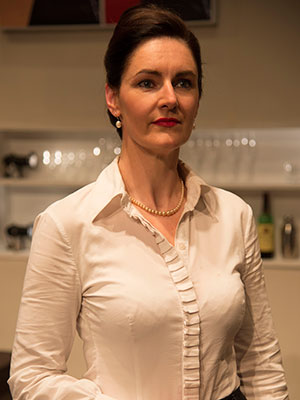 Monica Reed (Joanne Keane)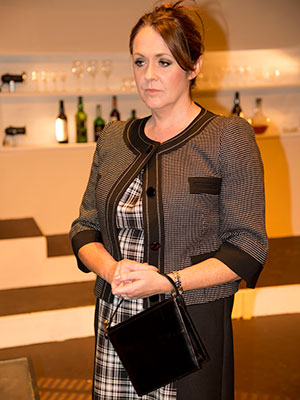 Liz Essendine (Ciara O'Byrne)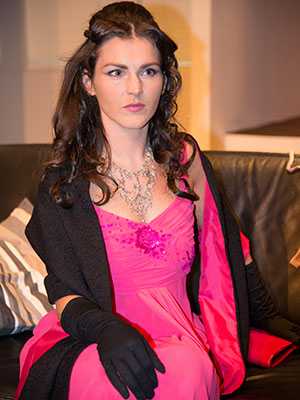 Joanna Lypiatt (Mairín Condon)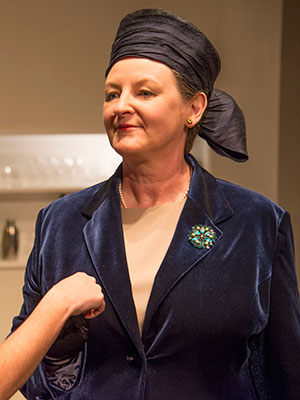 ()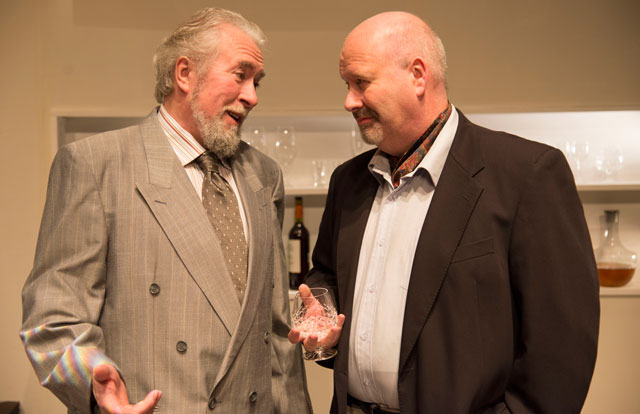 Henry Lypiatt (played by Brendan Dunne) and Morris Dixon (played by Brian Molloy)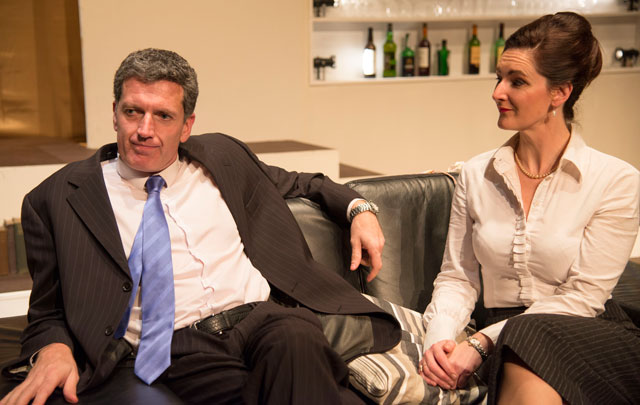 Garry Essendine (played by Brendan O'Sullivan) and Monica Reed (played by Joanne Keane)