Blithe Spirit
Written by Noel Coward
Directed by Gerard Bourke
Performed in the The Mill Theatre, Dundrum - Tuesday 11 to Saturday 15 November 2014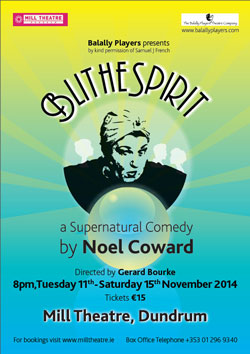 Gerard Bourke took on the task of bringing another of Noel Coward's plays to the stage for Balally Players in November 2014.
On Saturday 15 November the cast of 'Blithe Spirit' took the final bow and left the stage to the applause of a full house at the Mill Theatre.
As Charles himself might have remarked, under the guidance of director Gerard Bourke, this hilarious farce sparkled like the tulips of champagne and warmed like the balloons of brandy that kept stage management busy throughout the run. Cast and crew set out to make and have fun and it was great to see so many in the audiences join in. Witticisms, insults, ghosts and loose furniture all flew in equal measure in what has been aptly described as one of the most endearing and indeed enduring of Coward's comedies. Frequently listed among the most performed plays, Balally Players upheld its own and this play's honoured traditions by bringing a magical, if not supernatural performance to the stage!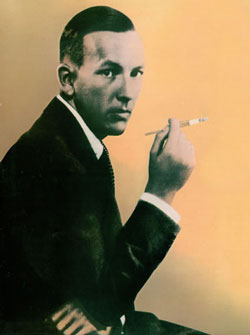 Sir Noël Peirce Coward (1899 – 1973)
As a writer, Noël Coward published over 50 plays. Works such as 'Hay Fever', 'Private Lives', 'Design for Living', 'Present Laughter' and 'Blithe Spirit' are performed as regularly in the 21st century as they were while he was alive.
He also composed many songs, among them the very famous 'Mad Dogs and Englishmen'. His musical theatre works include the operetta 'Bitter Sweet'. In addition to all that, his portfolio of work contains comic revues, poetry, short stories, the novel 'Pomp and Circumstance', and a three-volume autobiography.
During World War II, he volunteered to help the war effort and ran the British propaganda office in Paris.
He acted in the theatre and on film for over 50 years and, as in 'Present Laughter', he was the star performer in many of his own works. He won an Academy Honorary Award in 1943 for 'In Which We Serve' and he was knighted in 1969.
Cast of 'Blithe Spirit'
Charles
Ruth
Elviria
Madame Arcati
Dr Bradman
Mrs Bradman
Edith
Brendan O'Sullivan
Hilary Madigan
Mairin Condon
Muriel Caslin O'Hagan
Kevin Fahey
Joanne Keane
Aoibhinn Finnegan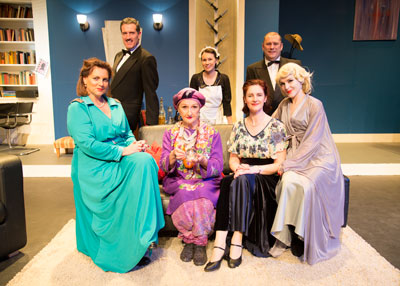 Cast of 'Blithe Spirit' before a performance on stage in the Mill Theatre.
Crew for 'Blithe Spirit'
Director
Producer
Stage Manager
Asst Stage Managers

Costumes
Lighting
Gerard Bourke
Michael Kennedy
Aoife Braiden
Margaret Twomey, Sean Daly
and Francis Cahill
Dympna Murray
Paul Macken
"You can't sympathise with any of them."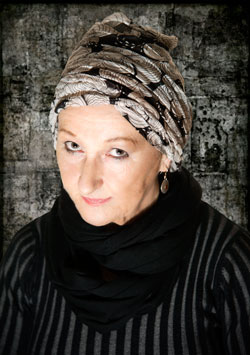 Muriel Caslin-O'Hagan as the eccentric medium and clairvoyant Madame Arcati in 'Blithe Spirit'.
Photograph: Declan Brennan.
Coward's famous comic play is about socialite and novelist Charles Condomine, who invites the eccentric medium and clairvoyant, Madame Arcati, to his house to conduct a séance, hoping to gather material for his next book. One of Coward's most critically acclaimed plays, the cast, crew and audiences enjoyed his distinctive humour throughout the run from 11 to 15 November.
The play was first performed in London's West End in 1941. It ran for just under two thousand performances in London and on Broadway for over six hundred performances. The play was adapted by Coward for a film starring Rex Harrison in 1945 and became a musical under the title 'High Spirits' in 1964 on Broadway. Radio and television adaptations were also produced in the 1950s and 1960s. In fact there have been few periods since it was written that it has not been produced for ever-appreciating audiences.
The title 'Blithe Spirit' came from the poem 'To a Skylark' by Shelley. Coward had wanted to create a comedy about ghosts, but difficulties with the plot and concerns about how wartime Britain might object to its theme delayed him. However, he concluded that if the characters were 'heartless' it could work. He said that "you can't sympathise with any of them. If there was a heart it would be a sad story."


Picture Gallery
Photographs from productions are stored on the SmugMug.com site. The Balally Players SmugMug account allows for the viewing and downloading of images at various sizes if high resolution pictures have been uploaded. The slideshow can be run and stopped by clicking on the play (>) and pause (¦¦) icons. You can move forward and back by clicking on the right or left of the image. To go to the gallery of these images stored in the Balally Players pages of the SmugMug site visit www.balally.smugmug.com to see all of the available galleries of images and download copies in a range of different sizes.