Move Over Mrs Markham
Written by Ray Cooney & John Chapman
Directed by Bernard Doyle
Performed in the The Mill Theatre, Dundrum - Tuesday 14 to Saturday 18 April 2015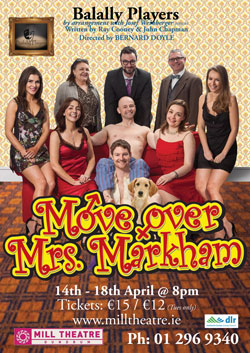 Our Spring production in the Mill Theatre this year was the very funny farce, Move Over Mrs Markham, written by Ray Cooney and John Chapman.
Director, Bernard Doyle, assembled a strong team on stage and backstage to ensure that this hilarious farce delivered a great, entertaining evening at the theatre.
The play is set in a very elegant top floor London flat, belonging to Philip and Joanna Markham. Philip is a straight-laced publisher of children's books, and he shares an office with his partner, Henry Lodge, on the ground floor. Philip had reluctantly agreed to let Henry borrow his apartment for the evening to entertain his latest girlfriend. At the same time Joanna Markham had been persuaded by Linda Lodge to let her borrow the apartment so she can entertain her lover. What nobody knows is that the Interior Designer who had been decorating the apartment for the past three months had decided that this was the night he and the au pair girl would try out the new round bed! Not surprisingly, chaos and confusion ensue! The situation is further complicated by the arrival of a straight-laced authoress of children's books. The frantic efforts of the Markhams to hide the amorous goings-on lead to a hectic and hilarious evening.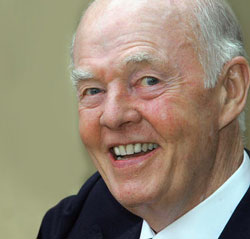 Ray Cooney

Raymond Cooney, OBE was born in 1932 and became a writer after he had spent some time working as an actor. His biggest success was 'Run for Your Wife', which ran for nine years in London's West End and became its longest-running comedy. Seventeen of his plays have been performed in London's theatre district.

John Chapman (1927-2001) was a British writer who began his involvement with the theatre as an actor in the 1940s. He collaborated with Ray Cooney on several television shows and stage plays including 'Move Over Mrs Markham' in 1968.
Cast of 'Move Over Mrs Markham'
Philip Markham
Joanna Markham
Alastair Spenlow
Linda Lodge
Henry Lodge
Sylvie
Olive Harriet Smythe
Walter Pangbourne
Felicity Jane Wilkinson

Barry O'Connor
Sinead Donovan
Brendan Phelan
Fiona Walsh
Sean Daley
Máirín Condon
Doris Cullen
Barry John Kinsella
Maggie Nugent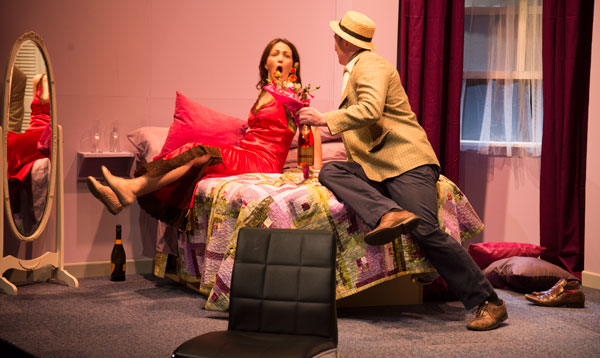 Crew for 'Move Over Mrs Markham'
Director
Set Design
Production Manager
Lighting Design and Operation
Sound Design and Operation
Costumes
Stage Manager
Assistant Stage Manager
Set Construction

Production Photography

Poster Design
Publicity
Programme Design

Bernard Doyle
Dympna Murray
Patrick Hand
Paul Macken
Kevin Macken
Jean Monahan
Jean Monahan
Aoihhinn NiFhionnagain
Tom Ronayane
Egidijus Survila
Mick Behan
Michael P Behan
Brendan Phelan
Joe McCarthy
Mick Behan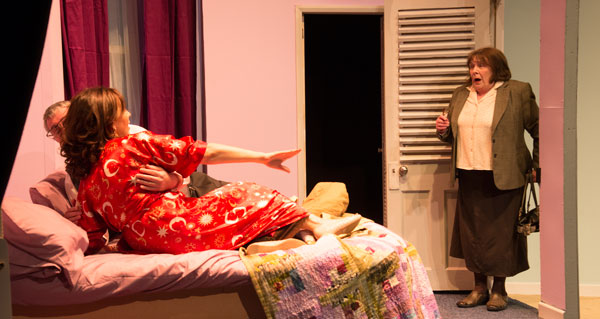 Picture Gallery
Photographs from productions are stored on the SmugMug.com site. The Balally Players SmugMug account allows for the viewing and downloading of images at various sizes if high resolution pictures have been uploaded. The slideshow can be run and stopped by clicking on the play (>) and pause (¦¦) icons. You can move forward and back by clicking on the right or left of the image. To go to the gallery of these images stored in the Balally Players pages of the SmugMug site visit www.balally.smugmug.com to see all of the available galleries of images and download copies in a range of different sizes.