Cat On A Hot Tin Roof
Written by Tennessee Williams
Directed by Oran O'Rua
Performed in the Mill Theatre from 20 to 23 January 2016

Cat On A Hot Tin Roof is centred on 'Big Daddy' Pollitt's plantation. He is the richest cotton planter in the Mississippi Delta, and he is about to celebrate his sixty-fifth birthday. He is joined on the family estate by his eldest son Gooper and his family, his favoured younger son, Brick, an ageing football hero who has turned to drink, and Brick's feisty wife, Maggie.
As the hot summer evening unfolds, the veneer of happy family life and Southern gentility gradually slips away as unpleasant truths emerge and greed, lies, jealousy and suppressed sexuality threaten to reach boiling point. Winner of the Pulitzer Prize for drama, Tennessee Williams' Cat on a Hot Tin Roof is a masterly portrayal of family tensions and individuals trapped in prisons of their own making.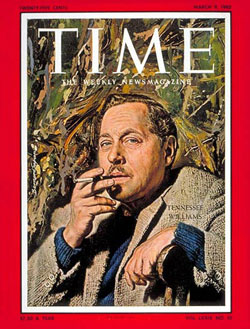 Tennessee Williams on the cover of TIME Magazine — 6 March 1962 — Cover Credit: Bernard Safran
Thomas Lanier 'Tennessee' Williams III, worked principally as a playwright in the American theatre. He also wrote short stories, novels, poetry, essays, screenplays and a volume of memoirs. His reputation was firmly established with his play A Streetcar Named Desire, in 1947. Other successes, which were also brought to the cinema included The Glass Menagerie, Cat on a Hot Tin Roof (1955) and The Night of the Iguana.
During the winter of 1944–45, his "memory play" The Glass Menagerie, developed from his 1943 short story Portrait of a Girl in Glass, was successfully produced in Chicago garnering good reviews. It moved to New York where it became an instant and enormous hit during its long Broadway run. The play tells the story of a young man, Tom, his disabled sister, Laura, and their controlling mother Amanda, who tries to make a match between Laura and a gentleman caller. Williams' use of his own familial relationships as inspiration for the play is impossible to miss. Elia Kazan (who directed many of Williams' greatest successes) said of Williams: "Everything in his life is in his plays, and everything in his plays is in his life." The Glass Menagerie won the New York Drama Critics' Circle Award for best play of the season.
Mairin Condon as Maggie in 'Cat On A Hot Tin Roof'
The huge success of his next play, A Streetcar Named Desire, in 1947 secured his reputation as a great playwright. Although widely celebrated and increasingly wealthy, Williams was still restless and insecure and in the grip of a fear that he would not be able to replicate his success. During the late 1940s and 1950s Williams began to travel widely with his partner Frank Merlo, often spending summers in Europe. To stimulate his writing he moved often, to various cities including New York, New Orleans, Key West, Rome, Barcelona, and London. Williams wrote, "Only some radical change can divert the downward course of my spirit, some startling new place or people to arrest the drift, the drag."
Director Oran O'Rua
Oran O'Rua began acting and directing with UCD Dramsoc, where he was awarded the Irish Student Drama Association's Best Actor award in 1998. While in UCD Dramsoc, he adapted for the stage the Robbie Hyland poem, What Has To Be Done, and directed the ensuing production entitled, Betrayal.
A member of Balally Players since 2003, he has played diverse roles both on and off-stage. In 2008, Oran directed a new piece of Irish writing entitled, The Moon Cut Like A Sickle, by Ken Armstrong, and has since gone on to direct and produce a number of one act and full-length plays. Throughout 2012, Oran was a participant on the Fishamble Theatre Director Programme based in the Mill Theatre. Most recently with Balally Players, he directed The Glass Menagerie, by Tennessee Williams, which was performed in the Mill Theatre.


Cast

Maggie
Brick
Big Daddy
Big Mama
Gooper
Mae
Rev. Tooker
Doc Baugh
*Dixie

Mairin Condon
Richard Boyd
Paul Sharpe
Doris Cullen
Niall O'Kennedy
Elaine Burgess
Barry O'Connor
Tony McGettigan
Emily Doyle / Sophie McGurrin

Understudies: Sharon McCoy, Roberta Rowntree, Deirdre Stokes, Rodger Young
* Children: Aine Caffrey, Maeve Coleman, Alicia Duffy, Bláthnaid Gleeson, Karolina Mazynska, Holly McGurrin, Ciara O'Connell, Lillie Power, Ciara Ryan
* The children were students of Act3 Stage School.
Creative Team

Director
Stage Manager
Assistant Stage Managers

Set Design
Set Construction

Lighting
Sound
Costume Design
Make-up
Publicity
Programme and Photography
Child Cast Coordinator

Oran O'Rua
Aoife Braiden
Sharon McCoy, Roberta Rowntree,
Deirdre Stokes, Rodger Young
Dympna Murray
Patrick Hand, Darren Hamilton,
Tom Ronayne and Rodger Young
Barry Donaldson
Fiona Walsh
Dympna Murray
Teresa Dempsey
Joe McCarthy
Declan Brennan
Ciara O'Byrne (Act 3 Stage School)

Programme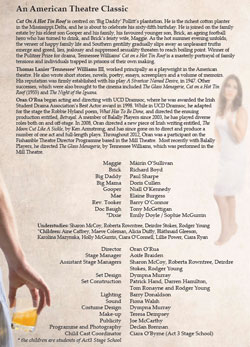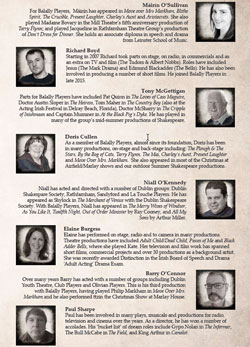 A copy of the 'Cat On A Hot Tin Roof' programme is available here as a PDF file.