The Lark and Not The Nightingale
Written by Jennifer Johnston
Directed by Lorcan Dunne
Performed (first) in Maureen O'Hara Studio from 26 to 29 October 2016
Mamie, the caretaker of a performing hall, lives in its dusty attic. Taking little care of the building and less of herself, she spends most of her time and money on whiskey and cigarettes. Mamie hears "Romeo and Juliet" which is being performed and it brings back happy and sad memories. In an alcoholic haze-- she talks of their days in the theatre to her husband, Owen-- rails at him for leaving her for another woman and is torn between hating and loving him. A poignant and thought provoking play.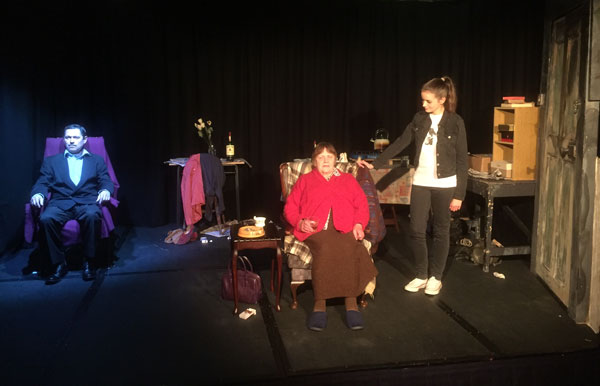 Barry O'Connor (Owen), Doris Cullen (Mamie) and Eimear Smyth (Janet)
The play achieved the following results on the One Act Festival circuit in 2017.
Results at Wicklow Federation Drama Festival, Glenealy on 22 January 2017
Results:
Best Actress
Best Moment in Drama
2nd - Best Play
Results at Bray One-Act Festival on 25 January 2017
Best Play
Best Director
Best Actress
Nominations out of 3 for:
Best Actor
Best Supporting Actress
Best Lighting
Picture Gallery
Photographs from productions are stored on the SmugMug.com site. The Balally Players SmugMug account allows for the viewing and downloading of images at various sizes if high resolution pictures have been uploaded. The slideshow can be run and stopped by clicking on the play (>) and pause (¦¦) icons. You can move forward and back by clicking on the right or left of the image. To go to the gallery of these images stored in the Balally Players pages of the SmugMug site visit www.balally.smugmug.com to see all of the available galleries of images and download copies in a range of different sizes.


Cast

Mamie
Owen
Janet

Doris Cullen
Barry O'Connor
Eimear Smyth

Crew

Director
Production/Stage Manager
Costume Design
Sound and Lighting
Set Construction
Poster Design

Lorcan Dunne
Mary Ryan
Dympna Murray
Sean Murphy & Paul Macken
Patrick Hand
Aoibhinn Finnegan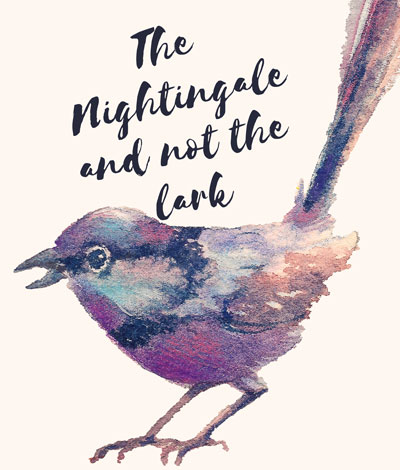 Graphic from poster for the play.