Pride and Prejudice
Directed by Brian Molloy
Performed in dlr Mill Theatre, Dundrum, Tuesday 21 to Saturday 25 February 2017
Stage adaptation of Jane Austen's novel brought to the dlr Mill Theatre.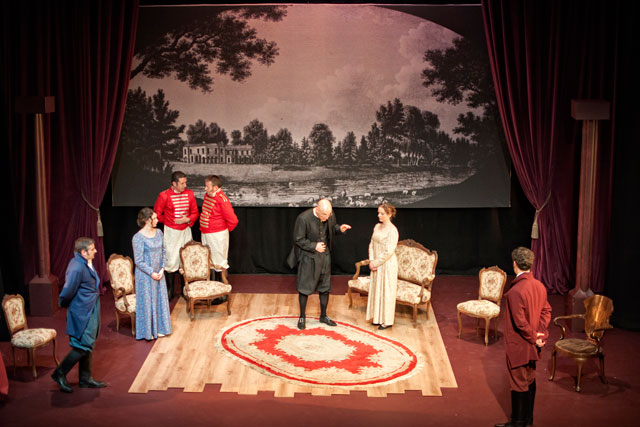 In a revision of Mary Keith Medbery's adaptation by Brian Molloy, Balally Players brought Jane Austen's 'Pride and Prejudice' to the main stage of the dlr Mill Theatre in February 2017. It is one of the most beloved works in literature and this production of the lively stage adaptation featured all the sparkling wit and romance of the great novel.
First published in 1813. 'Pride and Prejudice' follows the main character, Elizabeth Bennet, as she deals with the challenges of manners, upbringing, morality, education and marriage that were serious issues in the society of the landed gentry in Regency England. Country gentleman, Mr Bennet, lives in Longbourn with his wife and five daughters, the second of whom is Elizabeth.
The novel, on which this stage adaptation is based, is set in England in the early 19th century and tells the story of Mr and Mrs Bennet's five unmarried daughters after two gentlemen have moved into their neighbourhood: the rich and eligible Mr Bingley, and his status-conscious friend, the even richer and more eligible Mr Darcy. While Bingley takes an immediate liking to the eldest Bennet daughter, Jane, Darcy is disdainful of local society and repeatedly clashes with the Bennets' lively second daughter, Elizabeth.

A large talented ensemble cast from Balally Players brought this lavish, witty and romantic drama to the stage featuring some of the best loved Austen characters in a fine period setting with costumes to match and graced by a dance or two!


Picture Gallery
Photographs from productions are stored on the SmugMug.com site. The Balally Players SmugMug account allows for the viewing and downloading of images at various sizes if high resolution pictures have been uploaded. The slideshow can be run and stopped by clicking on the play (>) and pause (¦¦) icons. You can move forward and back by clicking on the right or left of the image. To go to the gallery of these images stored in the Balally Players pages of the SmugMug site visit www.balally.smugmug.com to see all of the available galleries of images and download copies in a range of different sizes. A PDF file with instructions on how to download copies of photographs in a range of different sizes, or share them on social media, is available here.
Photographs taken at the dress rehearsal on 20 February 2017.
Photography: Declan Brennan


Cast of 'Pride and Prejudice'
Elizabeth
Mr Darcy
Mrs Bennet
Jane
Lydia
Mr Bennet
Mr Bingley
Mr Collins
Lady Catherine de Bourg
Mr Wickham
Miss Bingley
Charlotte Lucas
Colonel Forster
Colonel Fitzwilliam
Lady Lucas
Harris
Mr Denny
Sir William Lucas
Martha
Sharon McCoy
Emmet Mahony
Eilish Rafferty
Aoibhinn Finnegan
Aisling McDonnell
Brendan Dunne
Oran O'Rua
Brendan Phelan
Muriel Caslin O'Hagan
Brendan O'Sullivan
Mairin Condon
Sarah McDonagh
Len Nealon
Barry O'Connor
Hilary Madigan
Tony McGettigan
Mark Coen
Michael Sharp
Eimear Smyth
Production Team for 'Pride and Prejudice'
Director
Production Manager
Costume Design
Assistant Costume
Stage Manager
Stage Hands

Set Designer
Set Construction
Choreography

Sound
Lighting
Hair & Makeup
Sound Operator
Marketing

Finance

Brian Molloy
Judy McKeever
Dympna Murray
Treasa Walsh
Aoife Braiden
Gemma Stack, Claire Hartin,
Fergal Cleary, Gillian Higgins
Gerard Bourke
Patrick Hand
Aoibhinn Finnegan,
Brendan O'Sullivan
Kevin Nolan
Paul Macken
Joan Thorpe, Teresa Dempsey
Fiona Walsh
Brendan O'Sullivan,
Mairin Condon
Sean Murphy
A PDF copy of the programme for 'Pride and Prejudice' is available here.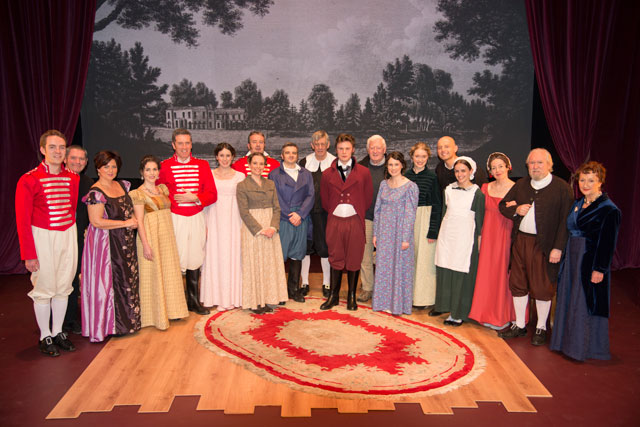 Cast of 'Pride and Prejudice' at the dress rehearsal in the dlr Mill Theatre on 20 February 2017.