Great Expectations
Written by Charles Dickens and Adapted by Jo Clifford
Directed by Brian Molloy
Performed in dlr Mill Theatre, Dundrum, Wednesday 20 to Saturday 23 February 2019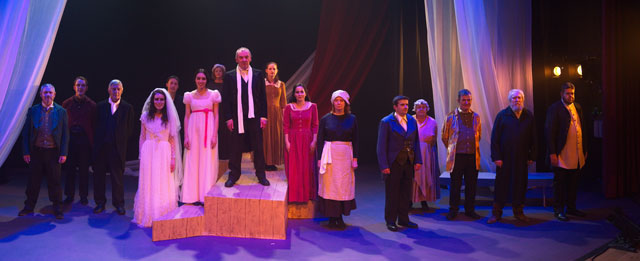 The cast on stage after the dress rehearsal on 19 February 2019 at the dlr Mill Theatre
From Wednesday 20 to Saturday 23 February 2019, at dlr Mill Theatre, Dundrum, Balally Players presented one of Charles Dickens' best-loved tales brought thrillingly to life and given a fresh spin. Directed by Brian Molloy, 'Great Expectations' follows the tumultuous yet uplifting adventures of the orphan, Pip.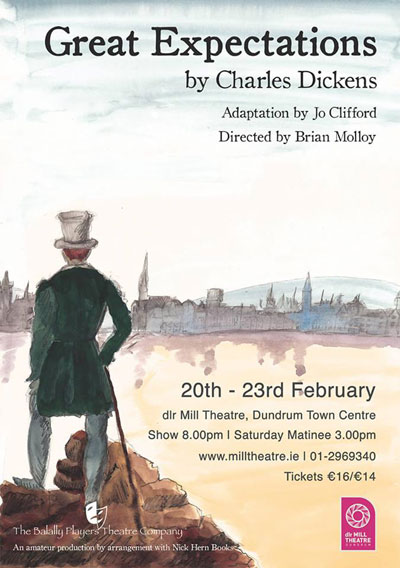 When the orphan Pip meets the convict Magwitch in a graveyard and is forced to help him escape, his life takes a series of unexpected turns.
Invited to the house of the mysterious Miss Havisham, he falls in love with her adopted daughter, the beautiful but cold-hearted Estella. Then the generosity of an unknown benefactor sends him to London to become a gentleman. But the truth behind his change of fortune, once revealed, is not what Pip expects…
The story is presented as a memory play in which a middle-aged Pip observes his younger self through the mists of time past. Miss Havisham's crumbling drawing room is the setting for the story with her rotting wedding cake reminding the audience of disappointments and unfulfilled expectations.
This stage adaptation written by Jo Clifford was presented in the evening and also at a Saturday Matinee.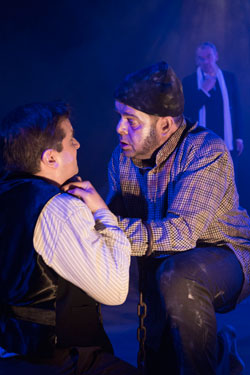 (l-r) Oran O'Rua (Young Pip), Niall O'Kennedy (Magwitch) and Michael McHugh (Adult Pip)
Using the novel's own words as its starting point, Clifford's adaptation recreates Dicken's classic story of love and mystery. Pip longs to be a gentleman, but he is haunted by the memory of the mysterious Magwitch, and his love for the bewitching Estella seems to be just another dream.
Charles Dickens (1812-1870) was an English writer and social critic, generally regarded as the greatest novelist of the Victorian period. Many of his novels have been famously adapted for the stage and screen, including Great Expectations, David Copperfield, Oliver Twist and Nicholas Nickleby.
Jo Clifford is Professor of Theatre and Bill Findlay Fellow of Stage Translation at Queen Margaret's University College Edinburgh, and Associate Playwright of the Playwrights' Studio, Scotland. Her plays, including the original works Every One, Losing Venice, Light in the Village and The Tree of Knowledge, and adaptations of Faust, Celestina, Blood Wedding, Yerma, Life is a Dream and The House of Bernarda Alba are all published by NHB. Jo lives in Edinburgh.
Photographs taken by Declan Brennan at the Dress Rehearsal on Tuesday 19 February 2019.


Cast for 'Great Expectations'
Adult Pip
Young Pip
Estella
Miss Havisham
Joe Gargery
Mrs Joe
Mr Wopsle
Magwitch
Biddy
Jaggers
Wemmick
Molly
Herbert Pocket
Sarah Pocket
Bentley Drummle
Camill, Ensemble
Cousin Raymond, Ensemble
Michael McHugh
Oran O'Rua
Remy Naidoo
Aisling Uí Laoire
Brendan Dunne
Nuala O'Reilly
Peter Prior
Niall O'Kennedy
Carlotta Guizzardo
Michael Sharp
Barry O'Connor
Janet Dunne
Mark Coen
Jennifer Byrne
Nigel Wheatley *
Doris Cullen
Aengus Cooke

* Declan Bennan played the part of 'Bentley Drummle' as Nigel Wheatley was unable to be on stage.
Production Team for 'Great Expectations'
Director
Production Manager
Stage Manager
Set Design
Set Construction
Lighting Design
Sound Design
Sound Operator
Costume Coordinators

Make-up
PR & Marketing

Poster
Programme Design

Brian Molloy
Barry O'Connor
Aisling Ní Fhoghlú
Gerard Bourke
Patrick Hand
Kris Mooney
Brian Molloy
Aisling Ní Fhoghlú
Mary Ryan, Sinead Donovan,
Joanne Keane, Treasa Walsh
Teresa Dempsey
Aisling Uí Laoire, Pat McCarry,
Mark Coen
Susan Murphy
Oran O'Rua

A PDF copy of the programme for 'Great Expectations' is available here.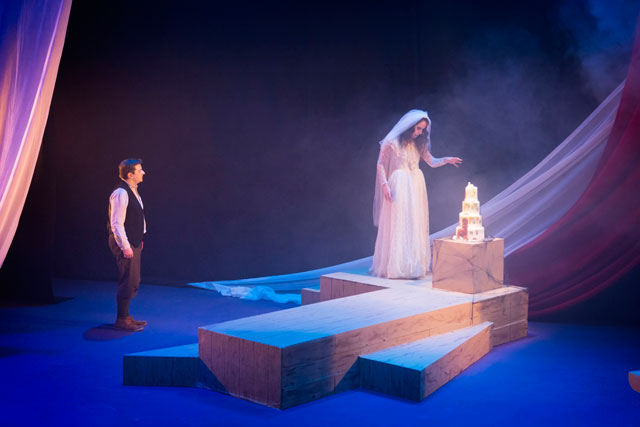 (l-r) Oran O'Rua (Young Pip) and Aisling Uí Laoire (Miss Havisham)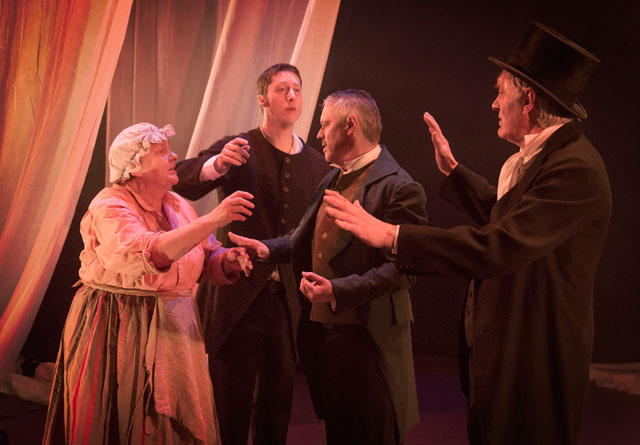 (l-r) Doris Cullen (Camilla), Aengus Cooke (Cousin Raymond), Barry O'Connor (Wemmick) and Michael Sharp (Jaggers)
Set in the south of England during the first half of the nineteenth century, 'Great Expectations' by Charles Dickens, has some of his most memorable scenes and best loved characters. From the opening in a graveyard, where the young Pip encounters the escaped convict, Abel Magwitch, the story goes on to introduce other memorable creations such as the eccentric Miss Havisham, the beautiful but cold Estella, and Joe, the unsophisticated and kind blacksmith.
Originally published as a serial in Dickens' weekly periodical 'All the Year Round', between December 1860 and August 1861, the story explores social issues of his day through the lives of rich and poor and a struggle between good and evil.
From the time of its first publication, 'Great Expectations' delivered on what was expected – almost everyone loved it. There were of course some dissenting reviews. Thomas Carlyle, the Scottish philosopher, satirical writer, essayist, translator, historian, mathematician and teacher, considered it to be "Pip nonsense", while reportedly reading each new instalment with "roars of laughter."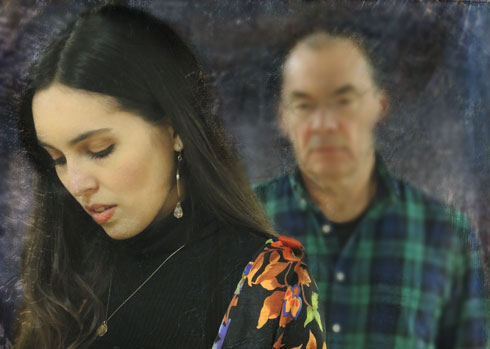 Remy Naidoo as Estella and Michael McHugh as Adult Pip during a rehearsal for 'Great Expectations'.
On the other hand, George Bernard Shaw said it was "all of one piece and consistently truthful". The public sided with the view of the Irish playwright and critic over the opinion of the Scottish thinker famous for developing the Carlyle Circle – 'ruler-and-compass constructions of regular polygons' – a publication devoid of laughter for all but the most excitable mathematician! Dickens was, understandably, very pleased with the reaction of his readers to what he called, when the idea first came to him, "a very fine, new and grotesque idea".
The finished work turned that idea into what one modern edition, published by Penguin Books, called "the novelist's bittersweet understanding of the extent to which our deepest moral dilemmas are born of our own obsessions and illusions".

The performances were supported by dlr County Council.