Meetings cancelled on Monday 16 October
Rehearsals and auditions rescheduled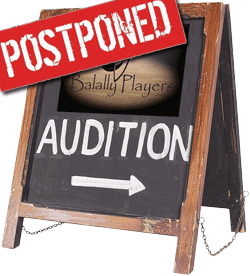 Auditions on Mon 16 October 2017 cancelled
With the severe weather warnings in place for Monday 16 October, all Balally Players rehearsals and auditions have been cancelled for that day.
The auditions for 'Of Mice and Men', which were scheduled to be held on Monday 16 October at 7:30pm in the dlr Mill Theatre, were cancelled.
However, the auditions on Tuesday 17 October at 7:30pm in the dlr Mill Theatre, will go ahead as planned. See Members' Area for more.
Rehearsals for 'At the Hawks Well' on Monday 16 October were also cancelled.

One-Act Plays in Mill Studio – Oct 2017
'At The Hawk's Well' by W B Yeats
Maureen O'Hara Studio 5 to 7 October 2017
'At the Hawk's Well' by William Butler Yeats was first performed in 1916 and is loosely based on the stories of Cuchulain. Yeats wrote five such plays about the mythological hero of ancient Ulster. This work was the first play written in English to incorporate aspects of the Japanese Noh Theatre.
Through movement, sound and poetic language this presentation of the play transports you to a land of mythology. It is a creative re-imagining of the play while staying true to the Japanese Noh theatre which originally inspired it.
'At the Hawk's Well' was directed by Aoibhinn Healy.
'Pvt Wars' by James McLure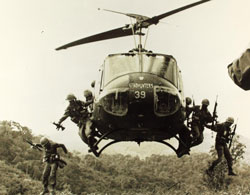 While 'Pvt. Wars' is about three veterans of the Vietnam War, it does not concentrate on the war itself. It focuses attention on what is left behind in the wounded bodies and the emotional scars that the men bring home with them. The three characters small talk conceals their inner turmoil. Even though they are now free to leave whenever they want, their own private wars keep these war veterans trapped as they look for some common understanding of what they have experienced and how it has changed them.
'Pvt Wars' was directed by Lorcan Dunne.
For more see the What's On page.

Search the Site
This search facility will find references to plays, people or anything else within the pages of this website. It's great for searching past performances, newsletters or text witin PDF files anywhere on our website. The site is re-indexed weekly.
You may also use Google to find items on this website. However, it may not include more recent entries if they were posted since the last time that Google scanned and indexed the site.
Loading