Alone It Stands
dlr Mill Theatre – 19 to 22 February 2020

Balally Players presented John Breen's 'Alone It Stands' for four nights in February 2020.
On 31 October 1978, in Thomond Park, Limerick, the mighty New Zealand All Blacks, on an Irish tour, take on the none-too-mighty Munster team – and, to everyone's surprise, they lose 12-0. From this piece of Irish sporting history John Breen has fashioned a funny, lively play in which both teams, plus fans, children, relatives and even a dog, are portrayed by a cast of six, with no props and only half-time change of shirt.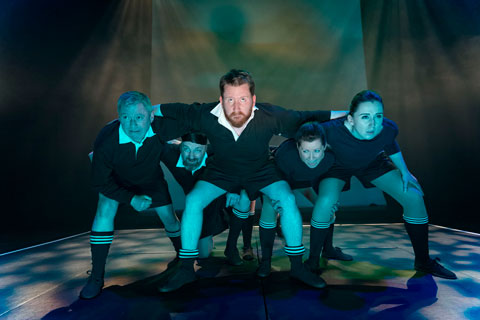 The cast of 'Alone It Stands' on stage in the dlr Mill Theatre, Dundrum
.
Photo: Declan Brennan
See the What's On page for more including photographs of the actors on stage.

DLI AGM
dlr Mill Theatre – Sunday 1 March 2010
All DLI members are welcome to attend the Drama League of Ireland Annual General Meeting, which takes place this year at 1:30pm on Sunday 1 March 2020, in the dlr Mill Theatre, Dundrum Town Centre, Dublin 16.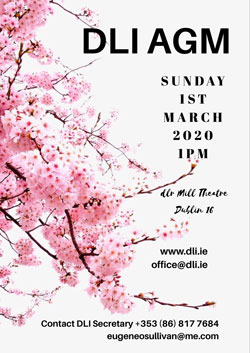 Following registration, which begins from 1pm, the meeting will review the past year of amateur drama in Ireland and plan for the year ahead. The Annual General Meeting gives members an opportunity to review the work of the Drama League of Ireland and influence decisions that are made on the future of the organisation. The AGM will include the process of electing new Committee members.
The Committee advises that it is important for two delegates from each DLI member drama group and all individual members to attend and vote. Nominations for places on the DLI Board of Directors, received by the Friday 7 February 2020 deadline, are as follows:
Emma Jane Nulty, Dalkey Players, nominated by Dalkey Players.
Mary Newman, The Moat Club Naas, nominated by The Moat Club Naas.
John Lennon, The Moat Club Naas, nominated by The Moat Club Naas.
Christine O'Brien, Backstage Drama Group, nominated by Backstage Drama Group.
For more information, contact the DLI Office on 01-296 9343 (email: office @ dli.ie) or the DLI National Secretary, Eugene O'Sullivan, at eugeneosullivan @ me.com

Our Halloween Hours — fun & fireworks!
dlr Mill Theatre – Wed 30 October for 4 nights
One of three One Act plays in one entertaining night at dlr Mill Theatre from Wednesday 30 October to Saturday 2 November 2019.
That title of the second of three plays in Balally Players' 'Evening of One Acts' captured the humour and humanity in the three excellent shows that were run back-to-back. Two of the plays that were presented are original works by members of the group. Audiences enjoyed a motley collection of characters in three very different, but equally engaging stories about people with a few firecrackers of their own!
Waiting For You written by Mark O'Leary and directed by Aisling Uí Laoire
I'm Not Laughing, I'm Screaming written by Sandy Taylor and directed by Lorcan Dunne
Soldier Field written and directed by Pat McCarry.
Read more on the What's On page.

Search the Site
This search facility will find references to plays, people or anything else within the pages of this website. It's great for searching past performances, newsletters or text witin PDF files anywhere on our website. The site is re-indexed weekly.
You may also use Google to find items on this website. However, it may not include more recent entries if they were posted since the last time that Google scanned and indexed the site.
Loading