Jane Austen's novel brought to the Mill
Tuesday 21 to Saturday 25 February 2017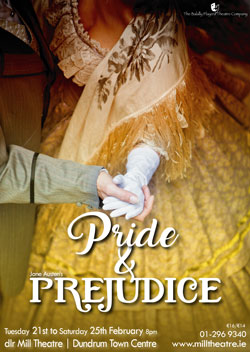 In a revision of Mary Keith Medbery's adaptation by Brian Molloy, Balally Players brings Jane Austen's 'Pride and Prejudice' to the main stage of the dlr Mill Theatre in February. It is one of the most beloved works in literature and this lively stage adaptation features all the sparkling wit and romance of the great novel.
Sparks fly when spirited Elizabeth Bennet meets single, rich and proud Mr Darcy. But Mr Darcy reluctantly finds himself with a woman beneath his class. Can each overcome their own pride and prejudice?
A large talented ensemble cast from Balally Players brings this lavish, witty and romantic drama to the stage featuring some of the best loved Austen characters and maybe even a dance or two!
The play, directed by Brian Molloy, is on the main stage of the dlr Mill Theatre from 21 to 25 February at 8pm. There is also an additional matinee performance on Saturday 25 February at 2:30pm. Tickets (€16/€14) can be booked online at milltheatre.ie or by contacting the Box Office at 01-296 9340
For more, including a special offer for Opening Night, see the What's On page.

Christmas at Marlay
Marlay House 7 to 10 December 2016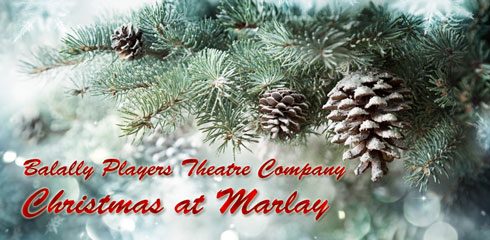 In the delightful setting of the Oval Room at Marlay House, Marlay Park, Rathfarnham, the Balally Players Christmas Show is the perfect way to start the Christmas period. The show is a delightful evening of seasonal sentiment in music, song, recitation, monologues and comedy.
With tea, coffee, mulled wine and satisfyingly flavoursome mince pies at the Interval, it's a great evening for all the family. Since its inception, more than ten years ago, it has become a 'must see' event on the Christmas entertainment calendar.

All Ireland One Act Finals
dlr Mill Theatre 2 to 4 December 2016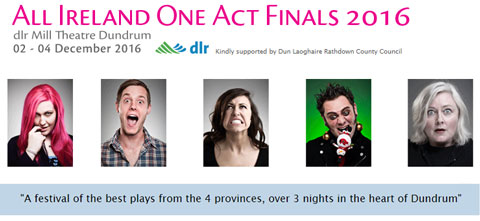 Balally Players is hosting the 2016 finals in the dlr Mill Theatre, Dundrum
Writing in the blog on the website for the All Ireland One Act Drama Finals, Committee Chair, Karen Carleton, noted that it is just "six short years since we first extended a welcome to participating groups from all over Ireland".
Balally Players and the Dundrum One Act Festival hosted the Finals in December 2016 and full details about the event are on the festival website dundrumfinals.com The site, designed with participating groups in mind, had everything that the competing groups needed to know and it also had much of interest to those who wished to attend some of the shows to support and enjoy the drama and all that surrounds it.
The One Act Festival was run over three days with shows scheduled for the following times:
Fri 2 December at 20:00 (three shows)
Sat 3 December at 13:30 (two shows)
Sat 3 December at 19:30 (three shows)
Sun 4 December at 19:30 (two shows)
A selection of photographs taken during the Finals Weekend in the dlr Mill Theatre (Friday 2 to Sunday 4 December 2016) is available in a Photo Gallery and Video Slideshow on the Finals page of the Dundrum Drama Festival website.

Pearse and Shakespeare
Thursday 25 August 2016 in St Enda's, Rathfarnham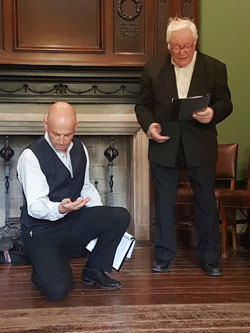 (l-r) Brendan Phelan and Lorcan Dunne in the rehearsed reading from 'King Lear' in the Great Hall (Halla Mór) at the Pearse Museum.
As part of National Heritage Week, an evening of dramatic readings from some of Patrick Pearse's favourite Shakespeare plays was organised in the Pearse Museum, St Enda's Park, Grange Rd, Dublin 16 on Thursday 25 August.
Balally Players was invited to contribute to this event with a rehearsed reading of an extract from King Lear.
The house on the grounds of St Enda's Park, on Grange Road, Rathfarnham in Dublin, was where Patrick Pearse lived and ran his innovative Irish-speaking school, Scoil Éanna, between 1910-16. It is now home to the Pearse Museum.

Search the Site
This search facility will find references to plays, people or anything else within the pages of this website. It's great for searching past performances, newsletters or text witin PDF files anywhere on our website. The site is re-indexed weekly.
You may also use Google to find items on this website. However, it may not include more recent entries if they were posted since the last time that Google scanned and indexed the site.
Loading