'A Midsummer Night's Dream'
Summer Shakespeare 2019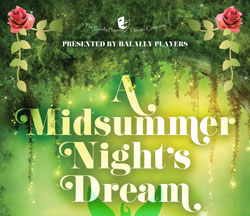 Summer Shakespeare 2019
The Summer Shakespeare this year is 'A Midsummer Night's Dream', directed by Karen Carleton and presented around mid-summer in the gardens of St Enda's Park, Rathfarnham.
Shakespeare's comic fantasy of four lovers who find themselves bewitched by fairies is one of the Bard's most loved plays. In it he turns his attention to love, jealousy and marriage with great comic effect.
The outdoor performances are on Thursday to Saturday, 20 to 22 June and also from 27 to 29 June 2019 at 7:30pm in the Walled Garden of St Enda's Park, Rathfarnham. Tickets are €14 (€12 concession). Tickets may be booked in advance through the dlr Mill Theatre at milltheatre.ie or through the Box Office on 01-296 9340. Tickets are also available at the venue just before each performance.
For more, see the What's On page.

DLI Spring magazine
New Chairperson and 2019 news from Drama League of Ireland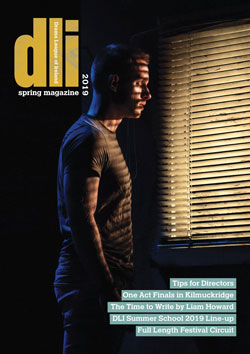 In her editorial for the Spring 2019 edition of the Drama League of Ireland magazine, Joanne Keane, Chairperson of Balally Players, and now also DLI Chairperson, notes the contribution made by amateur drama.
By way of underscoring that, Joanne highlights some of what will be featured at the DLI Summer School this year at the University of Limerick from 27 July to 3 August.
The magazine includes coverage of the One Act and Full Length circuits, DLI Convention, tips for directors, what's new in the DLI library and a member's competition. A photo of the cast of 'The Giant Killers' and Director Gary Wall is also included.
Copies of the magazine may be ordered through the DLI office at dlr Mill Theatre, Dundrum Town Centre, Dundrum, Dublin 16. D16 C5X6

Stage adaptation of Dickens classic
'Great Expectations' – dlr Mill Theatre – 20-23 February 2019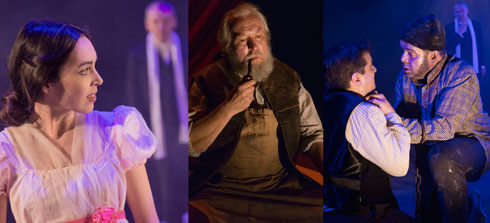 Three scenes from the show photographed during the dress rehearsal.
In February (20-23), at dlr Mill Theatre, Dundrum, Balally Players presented one of Charles Dickens' best-loved tales brought thrillingly to life and given a fresh spin. Directed by Brian Molloy, 'Great Expectations' follows the tumultuous yet uplifting adventures of the orphan, Pip.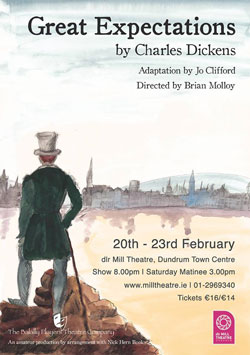 Balally Players brings this Charles Dickens story to the main stage of the dlr Mill Theatre from 20 to 23 February 2019.
When the orphan Pip meets the convict Magwitch in a graveyard and is forced to help him escape, his life takes a series of unexpected turns. Invited to the house of the mysterious Miss Havisham, he falls in love with her adopted daughter, the beautiful but cold-hearted Estella. Then the generosity of an unknown benefactor sends him to London to become a gentleman. But the truth behind his change of fortune, once revealed, is not what Pip expects…
This production for Balally Players, a stage adaptation written by Jo Clifford, was directed by Brian Molloy and was on stage in the dlr Mill Theatre from Wednesday 20 to Saturday 23 February 2019. In addition to the evening shows, there was a Saturday Matinee at 3pm.

The performances were supported by dlr County Council.
For more, see the What's On page.

Search the Site
This search facility will find references to plays, people or anything else within the pages of this website. It's great for searching past performances, newsletters or text witin PDF files anywhere on our website. The site is re-indexed weekly.
You may also use Google to find items on this website. However, it may not include more recent entries if they were posted since the last time that Google scanned and indexed the site.
Loading