New Season launched at Open Night
Programme for 2018-2019 shown on 5 September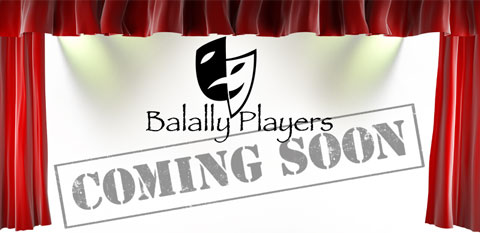 More information about forthcoming shows will be published here throughout the year. See
Members' Area
for more.
Plans for the coming year were announced at the 'Open Night', which was held in the dlr Mill Theatre on 5 September 2018.
The programme of events for the year up to next summer includes:
Two One-Act plays in the Studio at dlr Mill Theatre from Thu 11 to Sat 13 October 2018.
Auditions for 'Great Expectations' in October (on stage Tue 19 to Sat 23 February 2019).
Christmas at Marlay from Wed 12 to Sat 15 December 2018.
and lots more.
Watch this space for further details on these and all other performances and events throughout the year.

Summer Shakespeare 2018
In the gardens of St Enda's Park – Tue 3 to Sat 7 July 2018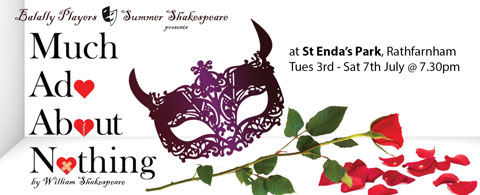 Outdoor performances were in the Walled Garden beside the Pearse Museum.
Our annual Balally Players' outdoor Shakespeare production was, once again, in the Walled Garden on the grounds of St Enda's Park, Rathfarnham.
This year's production was 'Much Ado About Nothing', directed by Brendan Phelan, and performances were from Tuesday 3 to Saturday 7 July 2018.
To many of the very many people who have enjoyed 'Much Ado About Nothing' it is considered to be one of Shakespeare's best comedies. It has the humour and wit you might expect from the Bard; but it also has other aspects, not always associated with comedy, such as its serious contemplations on honour, shame, and the politics of courtly life in the 1500s. Thought to have been written in the latter years of the 16th century, it is a play from the middle of Shakespeare's writing years. It's a joyful comedy that ends with multiple marriages and no deaths.
For more, including a programme for the play and some photographs of a performance, see the What's On page.

Audience at the play in the Walled Garden of St Enda's Park on Wednesday 5 July 2018.

Little Gem – March 2018
Award-winning play by Dublin playwright Elaine Murphy – dlr Mill Theatre Studio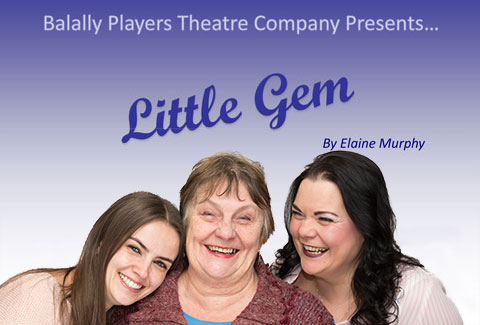 Eimear Smyth, Doris Cullen and Lisa Walsh
The Balally Players production of this wonderfully funny play was back for three final performances in the Maureen O'Hara Studio in the dlr Mill Theatre on Thursday 22, Friday 23 and Saturday 24 March 2018.
In the three monologues, each of the women tells the story of one extraordinary year in their life. Party girl Amber has brutal indigestion the Sambuca's won't shift, Lorraine has lost it at work and is shipped off to see the head doctor and Granny Kay is minding Gem and wondering about an itch she can't fix...all told with love and humour. Be prepared to be beguiled and enchanted by this moving and entertaining play.

Of Mice And Men
Steinbeck play in dlr Mill Theatre – 6 to 10 February 2018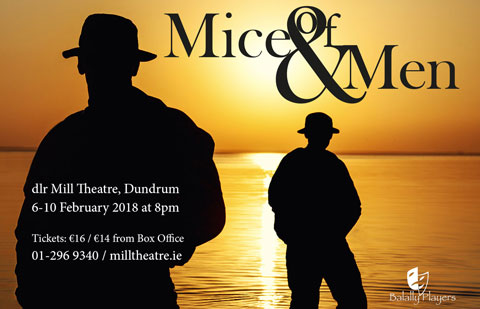 The John Steinbeck play was Balally Players' first presentation of 2018 on the main stage of the dlr Mill Theatre.
John Steinbeck's short novel, published in 1937, is a classic of twentieth century literature. It has been widely acclaimed and taught in schools; but it has fallen foul of censors over the years, earning it a place in the American Library Association's list of the Most Challenged Books of the 21st Century.
The main characters in 'Of Mice And Men' are George Milton and Lennie Small. In the years of the Great Depression in the United States during the 1930s, these two men move around California looking for work on ranches. From the outside they are very different – one big, one smaller; one smart, one less so – but their fears and powerlessness, together with their hopes and dreams, give them common cause; and their companionship blurs their differences. Steinbeck, writing about what he called 'a base theme' in literature, commented that "if you understand each other you will be kind to each other. Knowing a man well never leads to hate and nearly always leads to love".
In this production at the dlr Mill Theatre, Steinbeck's own stage version of his classic novel was directed for Balally Players by Kate Canning.
For more see the Past Productions page.

Search the Site
This search facility will find references to plays, people or anything else within the pages of this website. It's great for searching past performances, newsletters or text witin PDF files anywhere on our website. The site is re-indexed weekly.
You may also use Google to find items on this website. However, it may not include more recent entries if they were posted since the last time that Google scanned and indexed the site.
Loading