Events List for Balally Players and Other Groups
Productions that are running now, planned for the future or that have been on stage recently are listed on this page in two sections. The first section covers Balally Players events. The second section below that, Other Events, has information on plays and events presented by other groups and organisations.
To have an event included here, send details to the Committee using the form on the Contact page.
The Members' Area has a Balally Players Calendar of Events that covers a period of six months from and prior to the current month.
Balally Players Shows and Events
'Great Expectations' – 20 to 23 February 2019
Adaptation of Charles Dickens novel – Balally Players – dlr Mill Theatre, Dundrum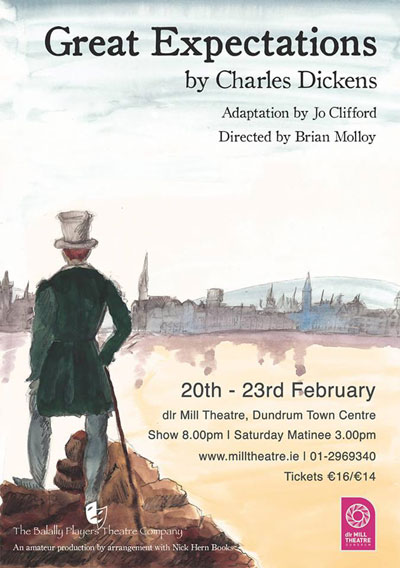 One of Dickens's best-loved novels brought to life in a beautifully simple adaptation for the stage directed by Brian Molloy.
Set in the south of England during the first half of the nineteenth century, 'Great Expectations' by Charles Dickens, has some of his most memorable scenes and best loved characters. From the opening in a graveyard, where the young Pip encounters the escaped convict, Abel Magwitch, the story goes on to introduce other memorable creations such as the eccentric Miss Havisham, the beautiful but cold Estella, and Joe, the unsophisticated and kind blacksmith.
Originally published as a serial in Dickens' weekly periodical 'All the Year Round', between December 1860 and August 1861, the story explores social issues of his day through the lives of rich and poor and a struggle between good and evil.
From the time of its first publication, 'Great Expectations' delivered on what was expected – almost everyone loved it. There were of course some dissenting reviews. Thomas Carlyle, the Scottish philosopher, satirical writer, essayist, translator, historian, mathematician and teacher, considered it to be "Pip nonsense", while reportedly reading each new instalment with "roars of laughter." On the other hand, George Bernard Shaw said it was "all of one piece and consistently truthful". The public sided with the view of the Irish playwright and critic over the opinion of the Scottish thinker famous for developing the Carlyle Circle – 'ruler-and-compass constructions of regular polygons' – a publication devoid of laughter for all but the most excitable mathematician! Dickens was, understandably, very pleased with the reaction of his readers to what he called, when the idea first came to him, "a very fine, new and grotesque idea".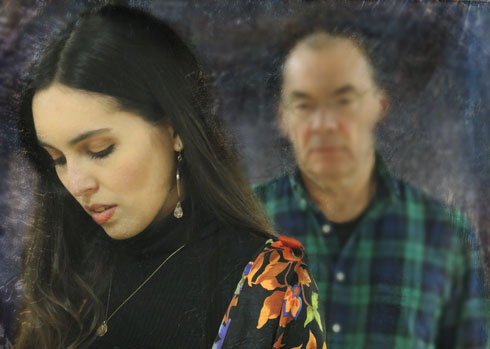 Remy Naidoo as Estella and Michael McHugh as Adult Pip during a rehearsal for 'Great Expectations'.
The finished work turned that idea into what one modern edition, published by Penguin Books, called "the novelist's bittersweet understanding of the extent to which our deepest moral dilemmas are born of our own obsessions and illusions".
This production for Balally Players, a stage adaptation written by Jo Clifford, is directed by Brian Molloy on stage in the dlr Mill Theatre from Wednesday 20 to Saturday 23 February 2019 at 8pm with Saturday Matinee at 3pm. Tickets (€16/€14) are available from the Box Office on 01-296 9340 or through the theatre website.

'Christmas at Marlay' – 12 to 15 December 2018
Marlay House, Marlay Park, Rathfarnham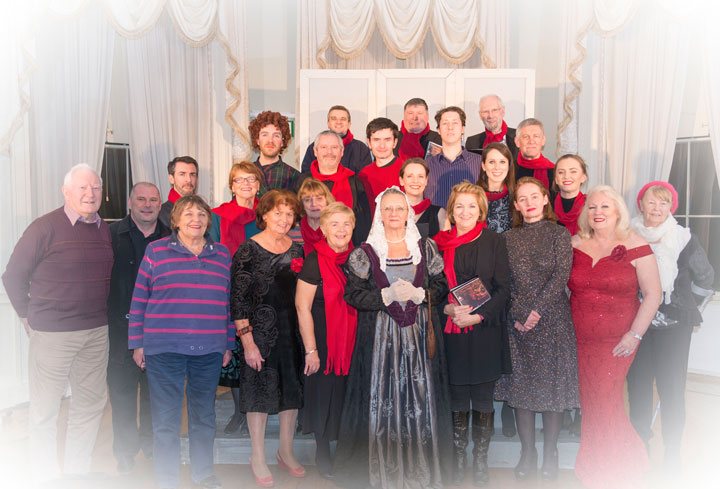 The cast of 'Christmas at Marlay' at the dress rehearsal in Marlay House on 11 December 2018
In the delightful setting of the Oval Room at Marlay House, Marlay Park, Rathfarnham, the Balally Players Christmas Show is the perfect way to start the Christmas period. The show is a delightful evening of seasonal sentiment in music, song, recitation, monologues and comedy.
With tea, coffee, mulled wine and satisfyingly flavoursome mince pies at the Interval, it's a great evening for all the family. Since its inception, more than ten years ago, it has become a 'must see' event on the Christmas entertainment calendar.
These photographs, taken at the dress rehearsal on Tuesday 11 December 2018, are stored in a SmugMug gallery '2018-Christmas-at-Marlay' (Photos: Declan Brennan).

Summer Shakespeare – St Enda's Park, Rathfarnham
Tuesday 3 to Saturday 7 July 2018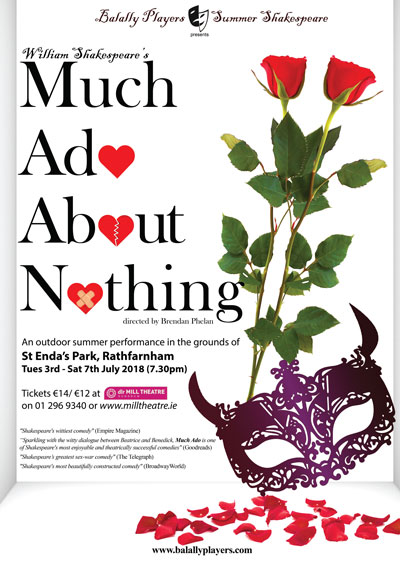 In the beautiful, some might say idyllic surroundings of St Enda's Park, Rathfarnham, William Shakespeare's 'Much Ado About Nothing' was presented by Balally Players in the Walled Garden beside the Pearse Museum.
In the play, the nobleman, Leonato, lives in the equally idyllic Italian town of Messina with his beautiful young daughter, Hero; his clever niece, Beatrice; and Antonio, his elderly brother, and Beatrice's father. The play opens after the end of a war when Leonato is getting ready to welcome some of the returning soldiers, including his close friend, Prince Don Pedro, a young nobleman Claudio, and Benedick, a clever joker, who enjoys making fun – often at the expense of others.
So the scene is set for love: Claudio quickly falls for Hero – for a war of witty insults: Benedick and Beatrice pick up where they left off before the real war began – and for the inevitable 'fly in the ointment': Don John (Don Pedro's illegitimate brother), who brings a sullen, bitter disposition to the stage, determined to make lots of trouble for everyone.
Before long, Claudio and Hero decide to get married. To pass the time while that is arranged, some of the others devise a game to visit the same fate on Benedick and Beatrice, with the intention of turning their bickering into betrothal.
Bringing all that to a satisfying conclusion provided much for the actors to do and, in the hands of Brendan Phelan, director of this production, lots for the audience to enjoy. To see all of the people involved in the production, you can download the programme here.
In the grounds of St Enda's Park, Rathfarnham, the play was performed at 7:30pm on the evenings of Tuesday to Saturday, 3 to 7 July 2018. The contingency plan for wet weather was to move the performance to An Halla Mór in the Pearse Museum in St Enda's Park. However, the heatwave of summer 2018 meant that was not necessary.
These photographs, taken at the performance on Wednesday 4 July 2018, are stored in a SmugMug gallery '2018-Much-Ado-About-Nothing' (Photos: Declan Brennan).

Other Shows and Events
'Girls in Silk Kimonos' — returns Jan & Feb 2019
A play about two sisters and all that surrounded them in the early twentieth century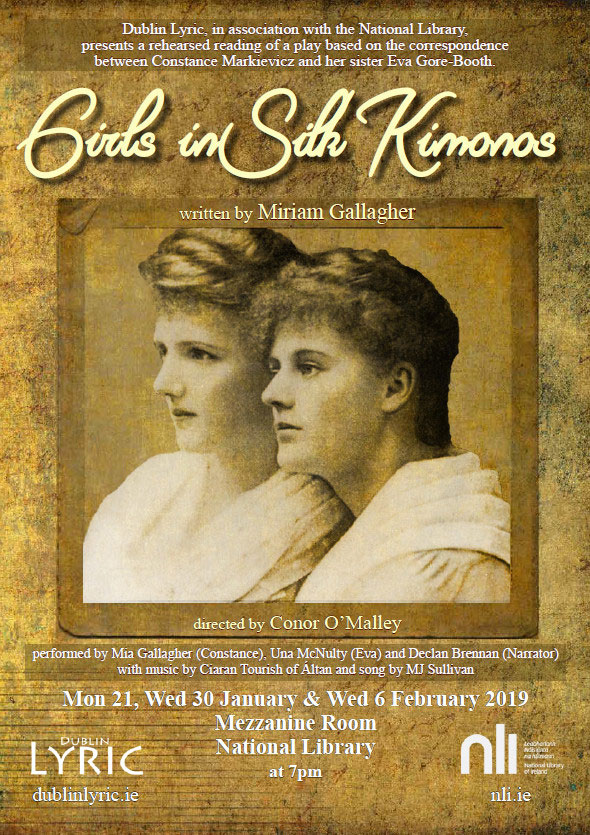 The National Library, 7-8 Kildare Street, Dublin 2, D02 P638
In this decade of commemorations attention now turns to what was happening here either side of the roaring twenties – and some of the characters who made their mark for good or ill. 'Girls in Silk Kimonos', written by the late Miriam Gallagher, is a play about one of those characters, Countess Markievicz, or Constance Gore-Booth as she was before she married her Polish Count, Casimir.
Countess Markievicz is one of those historical characters who is viewed very differently depending on your view of the history she had a part in shaping. In addition to her links with the 1916 Rising and the War of Independence, she was also a child reared in a wealthy Anglo-Irish family that divided its time between Sligo and town houses in London and Dublin. She studied art in London and Paris, where she met her Polish husband. In stark contrast to her upbringing, she set up a soup kitchen to support the families of workers striking in the 'Dublin Lockout' of 1913. In 1918 she became the first woman elected to the British Parliament, but as a member of Sinn Fein, she refused to take her seat. At age 59, five weeks after she was re-elected to the 5th Dáil as a candidate for Fianna Fáil, Constance died from peritonitis on 15 July 1927. She had given away what was left of her wealth and she died in a public ward.
Just like many people at that time, she kept a diary and wrote letters – many letters. The play 'Girls in Silk Kimonos' by the late Miriam Gallagher, is based on letters exchanged between Constance and her sister Eva. It paints an interesting picture of the people and the time through which they lived.
In this performance of the play, Constance Markievicz is played by Mia Gallagher (the writer's daughter), Una McNulty plays her sister, Eva, and the role of the Narrator, who also gives voice to about ten other characters, is played by Declan Brennan. The reading is directed by Conor O'Malley and music is provided by Ciaran Tourish of Áltan with song from MJ Sullivan.
Following an initial reading in November 2018, a further three performances will be performed on Monday 21 and Wednesday 30 January 2019 and also on Wednesday 6 February 2019 at 7pm in the Mezzanine Room at the National Library, Kildare Street, Dublin. The performances are supported by the Commemoration Unit of the Department of Culture, Heritage and the Gaeltacht.
Tickets can be booked here online, or purchased at the performance in the National Library. For more see dublinlyric.ie and nli.ie

'Macbeth'
dlr Mill Theatre, Dundrum — October 2018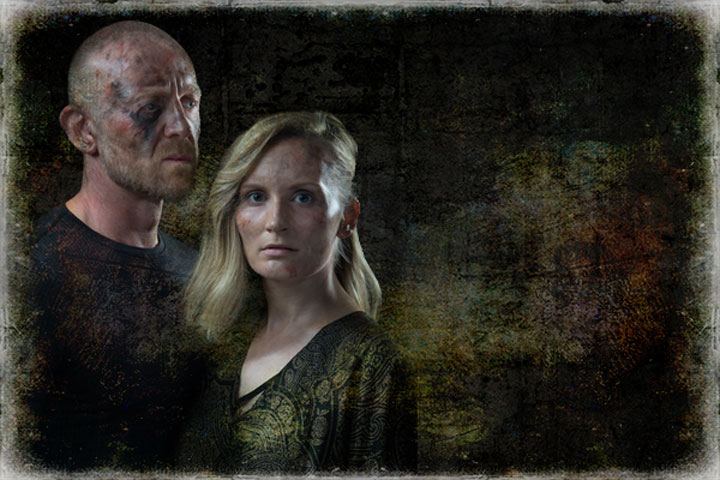 Neill Fleming as 'Macbeth' and Nichola MacEvilly as 'Lady Macbeth' at dlr Mill Theatre in October 2018.
Photo: Declan Brennan
William Shakespeare's 'Macbeth', directed by Geoff O'Keeffe, was in the dlr Mill Theatre for the month of October 2018. Daytime shows, at 10am and 1:30pm, were for schools and there were two evening performances: Wednesday 10 and Wednesday 24 October at 7:30pm.
This dark tragedy, set in medieval Scotland, combines a heady mix of themes – ambition that runs amok; the real or imagined status of fate; and a vicious cycle of violence. Witches and their prophesies fill the characters with fear, but also fuel a desire and hunger for power in the hearts and minds of Lord and Lady Macbeth, who calls upon these dark spirits to fill her with the cruelty she will need to help crown Macbeth king. Since its first performance in 1605, it has remained one of Shakespeare's most popular plays, partly because so many are introduced to it first at school; but also because it explores themes that continue to exercise the minds of writers today, in a way that is unique to the Bard.
The cast members were: Neill Fleming, Nichola MacEvilly, Aibhe Cowley, Damien Devaney, Eanna Hardwicke, Andrew Kenny, Shane Quigley Murphy, Jed Murray, Matthew O'Brien. Set Design is by Gerard Bourke, Lighting Design by Kris Mooney, Multimedia and Sound Design by Declan Brennan, Stage Management and Sound Operation by Ciara Nolan. The company manager for Mill Productions is Karen Carleton.

dlr Mill Theatre, Dundrum Town Centre, Dublin, D16 C5X6
Visit the theatre website for details on all shows
The dlr Mill Theatre is located in the Dundrum Town Centre, beside the Mill Pond. It opened in May 2006 with a production of 'Our Town' in which many Balally Players members participated. Since then the theatre has staged a wide variety of performing arts, community theatre, visual art, comedy, music, and children's shows. By including both professional and community productions in its programme, the theatre brings many people together both on and off stage. It has become a focal point of the community in South Dublin, a home for local groups and stage schools and a venue much loved by the many professional groups that have graced its stage.
If you have any queries about hiring the theatre or rehearsal spaces, call Kate Canning on 01-296 9340 or email manager @ milltheatre.ie
The dlr Mill_Theatre_website has all the information you need about the theatre itself as well as a comprehensive list of all the shows coming up.

The theatre Box Office is open from Monday to Saturday between 12:30pm and 5:30pm and the theatre re-opens at 7pm when there is an evening performance. You can also phone 01-296 9340 to make a credit card booking.
To book tickets online...
On the theatre website click the button beside your chosen performance and follow the instructions. You should note that there is a €1 booking fee per ticket for all bookings taken online and over the phone and you cannot choose your seats online, you are automatically allocated the next available seat.
To book tickets at the theatre...
Call in to the Mill Theatre Box Office, which is open from Monday to Saturday, 12:30pm to 5:30pm. The theatre re-opens at 7pm when there is an evening performance.
To book tickets over the phone...
The telephone number to call is 01-296 9340. The information needed is the date and event you wish to attend, and how many tickets you require. If booking by credit card, you will need to give your card number and expiry date, your name and address. You should have an alternative date in mind, just in case your first choice is not available.