Events List for Balally Players and Other Groups
Productions that are running now, planned for the future or that have been on stage recently are listed on this page in two sections. The first section covers Balally Players events. The second section below that, Other Events, has information on plays and events presented by other groups and organisations.
To have an event included here, send details to the Committee using the form on the Contact page.
The Members' Area has a Balally Players Calendar of Events that covers a period of six months from and prior to the current month.
Balally Players Shows and Events
'The Merchant of Venice' by William Shakespeare
Wednesday 21 June to Saturday 24 June 2017 in St Enda's Park, Rathfarnham, Dublin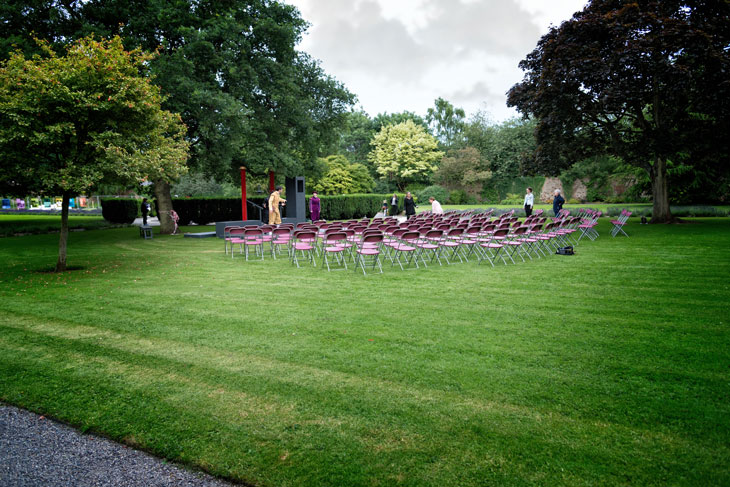 Under the shade of a tree in the beautiful gardens of St Enda's Park, the members of Balally Players brought 'The Merchant of Venice' to life'.
One of Shakespeare's most popular plays was performed this summer in the grounds of St Enda's Park, Rathfarnham by Balally Players. From the evening of Wednesday 21 June up to and including Saturday 24 June the play was performed at 8pm each evening.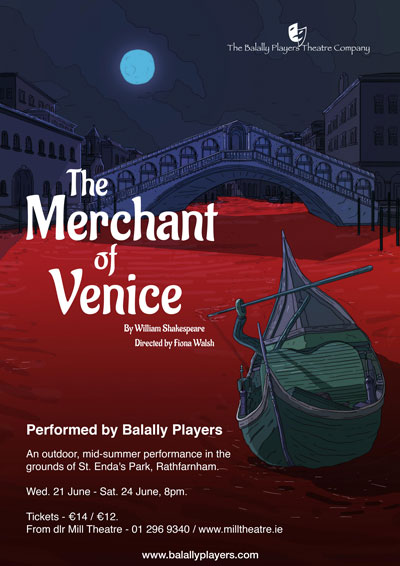 The cost of pursuing the wealthy Venetian heiress, Portia, requires young Bassanio to apply for a loan from his friend Antonio, a merchant in Venice. Antonio's money is tied up in his fleet of trading ships, currently on the high seas, so he goes to the Jewish money lender, Shylock. Antonio's anti-Semitic behaviour leaves little room for favour in the deal and provides the backdrop for the dark terms and conditions applied to the loan by Shylock. The loan must be repaid in three months or Shylock will exact a pound of flesh from Antonio. The ever confident Antonio agrees, believing (rashly as it turns out) that his ships will return home before repayment of the loan falls due. What falls from that, is the stuff of one of Shakespeare's most entertaining plays.
Balally Players took Shakespeare's 'The Merchant of Venice' to St. Enda's Park Grange Road, Rathfarnham, Co. Dublin for its Summer Shakespeare 2017 presentation.
The play, directed by Fiona Walsh, was performed outdoors in the Walled Garden, St. Enda's Park from 21 to 24 June 2017.
St Enda's Park is home to the Pearse Museum, which is housed where Patrick Pearse lived and ran his innovative Irish-speaking school, Scoil Éanna, between 1910-16.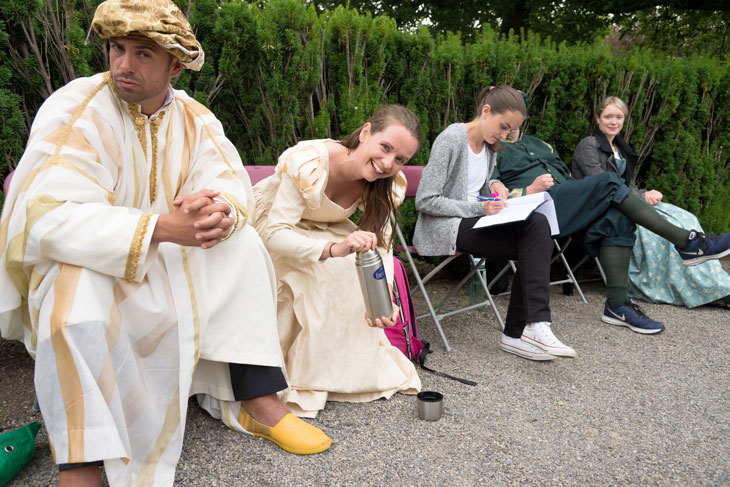 Cast and crew of 'The Merchant of Venice' preparing for the dress rehearsal on 20 June 2017 in St Enda's Park, Rathfarnham.

Jane Austen's novel brought to the dlr Mill Theatre in February
Tuesday 21 to Saturday 25 February 2017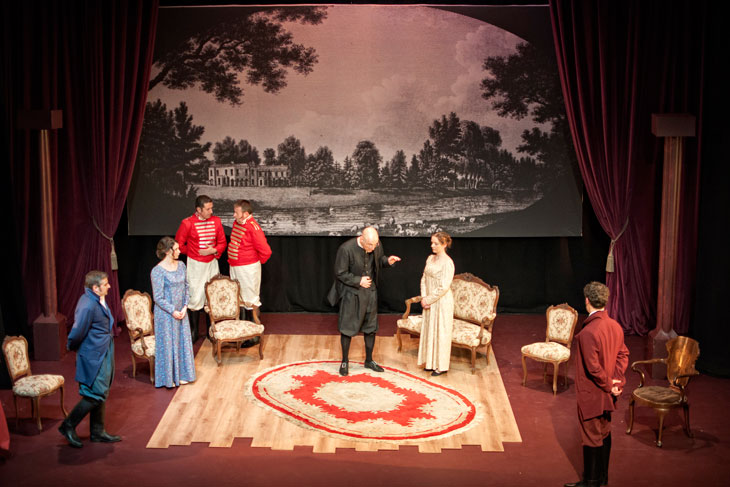 'Pride & Prejudice', directed by Brian Molloy, was on the main stage of the dlr Mill Theatre for five days from 21 to 25 February 2017.
First published in 1813. 'Pride and Prejudice' follows the main character, Elizabeth Bennet, as she deals with the challenges of manners, upbringing, morality, education and marriage that were serious issues in the society of the landed gentry in Regency England. Country gentleman, Mr Bennet, lives in Longbourn with his wife and five daughters, the second of whom is Elizabeth.
The novel, on which this stage adaptation is based, is set in England in the early 19th century and tells the story of Mr and Mrs Bennet's five unmarried daughters after two gentlemen have moved into their neighbourhood: the rich and eligible Mr Bingley, and his status-conscious friend, the even richer and more eligible Mr Darcy. While Bingley takes an immediate liking to the eldest Bennet daughter, Jane, Darcy is disdainful of local society and repeatedly clashes with the Bennets' lively second daughter, Elizabeth.
In this revision of Mary Keith Medbery's adaptation by Brian Molloy, Balally Players brought Jane Austen's 'Pride and Prejudice' to the main stage of the dlr Mill Theatre in the last week of February. It is one of the most beloved works in literature and this lively stage adaptation features all the sparkling wit and romance of the great novel.
A large talented ensemble cast from Balally Players brought this lavish, witty and romantic drama to the stage featuring some of the best loved Austen characters.
The play, directed by Brian Molloy, was on the main stage of the dlr Mill Theatre from 21 to 25 February. There was also an additional matinee performance on Saturday 25 February at 2:30pm.
For more, including photographs from the dress rehearsal and behind the scenes, see the page for the play in the Productions section.

Other Shows and Events
'The Importance of Being Earnest
dlr Mill Theatre from 17 August 2017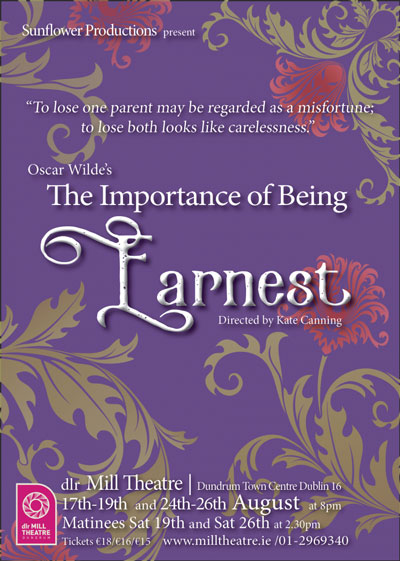 Oscar Wilde's wonderful play, The Importance of Being Earnest' is in the dlr Mill Theatre from Thursday 17 August 2017.
This presentation of the play by Sunflower Productions is directed by Kate Canning.
Wilde's superb satire on Victorian manners, widely recognised as one of the funniest plays in the English language, has been described as "something between self-parody and a deceptively flippant commentary on the dramatic genre in which Wilde had already had so much success". An old play it may be, but the delightful repartee and hilarious piercing of hypocrisy and pomposity can still make you laugh out loud.
The plot that carries Wilde's signature wit in this play centres on two bachelor friends, the adorable dandy Algernon Moncrieff and the utterly reliable John Worthing J.P.. They lead double lives to court the attentions of the exquisitely desirable Gwendolyn Fairfax and Cecily Cardew. The gallants must then grapple with the riotous consequences of their deceptions, and with the formidable Lady Bracknell.
Performance dates on the main stage of the dlr Mill Theatre are:
Thurs 17, Fri 18 and Sat 19 August at 8pm (Matinee Sat at 2.30pm)
Thurs 24, Fri 25 and Sat 26 August at 8pm (Matinee Sat at 2.30pm)
The dlr Mill Theatre Booking Office is on 01-296 9340. You can also book online at www.milltheatre.ie Tickets are €18/€16

'Echoes' in Dalkey Castle and Heritage Centre
29 and 30 September 2017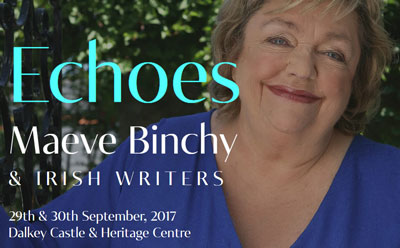 The Dalkey Castle and Heritage Centre presents 'ECHOES' on 29 and 30 September 2017.
'ECHOES' will have an exciting mix of talks, debates, readings, walks, recordings and dramatisations. On Friday (29 Sep) Maeve's 'Aches and Pains', adapted by Shay Linehan, will launch the weekend at 7:30pm.
For full details on the programme for Saturday (30 Sep), which runs from 9:30am to 5:30pm, check out www.echoes.ie
Maeve Binchy's work echoes around the world. Her books were translated into 37 languages. ​ Echoes celebrates the work of Maeve Binchy and other renowned Irish writers. It takes place in the coastal, heritage town of Dalkey. Echoes traces Maeve Binchy's literary path from letter writing to journalism and on to becoming an internationally acclaimed author. ​ The programme explores common threads with other major writers, all of whom were associated with Dalkey. ​
'Echoes' promises to be a thought provoking series of talks, walks, debates, interviews and theatrical events. For more see: www.echoes.ie Facebook.com/EchoesDalkey Twitter.com/echoesdalkey

dlr Mill Theatre, Dundrum Town Centre, Dublin
Visit the theatre website for details on all shows
The dlr Mill Theatre is located in the Dundrum Town Centre, beside the Mill Pond. It opened in May 2006 with a production of 'Our Town' in which many Balally Players members participated. Since then the theatre has staged a wide variety of performing arts, community theatre, visual art, comedy, music, and children's shows. By including both professional and community productions in its programme, the theatre brings many people together both on and off stage. It has become a focal point of the community in South Dublin, a home for local groups and stage schools and a venue much loved by the many professional groups that have graced its stage.
If you have any queries about hiring the theatre or rehearsal spaces, call Kate Canning on 01-296 9340 or email manager @ milltheatre.ie
The dlr Mill_Theatre_website has all the information you need about the theatre itself as well as a comprehensive list of all the shows coming up.

The theatre Box Office is open from Monday to Saturday between 12:30pm and 5:30pm and the theatre re-opens at 7pm when there is an evening performance. You can also phone 01-296 9340 to make a credit card booking.
To book tickets online...
On the theatre website click the button beside your chosen performance and follow the instructions. You should note that there is a €1 booking fee per ticket for all bookings taken online and over the phone and you cannot choose your seats online, you are automatically allocated the next available seat.
To book tickets at the theatre...
Call in to the Mill Theatre Box Office, which is open from Monday to Saturday, 12:30pm to 5:30pm. The theatre re-opens at 7pm when there is an evening performance.
To book tickets over the phone...
The telephone number to call is 01-296 9340. The information needed is the date and event you wish to attend, and how many tickets you require. If booking by credit card, you will need to give your card number and expiry date, your name and address. You should have an alternative date in mind, just in case your first choice is not available.