Events List for Balally Players and Other Groups
Productions that are running now, planned for the future or that have been on stage recently are listed on this page in two sections. The first section covers Balally Players events. The second section below that, Other Events, has information on plays and events presented by other groups and organisations.
To have an event included here, send details to the Committee using the form on the Contact page.
The Members' Area has a Balally Players Calendar of Events that covers a period of six months from and prior to the current month.
Balally Players Shows and Events
'Of Mice and Men' by John Steinbeck
6 to 10 February 2018 in the dlr Mill Theatre, Dundrum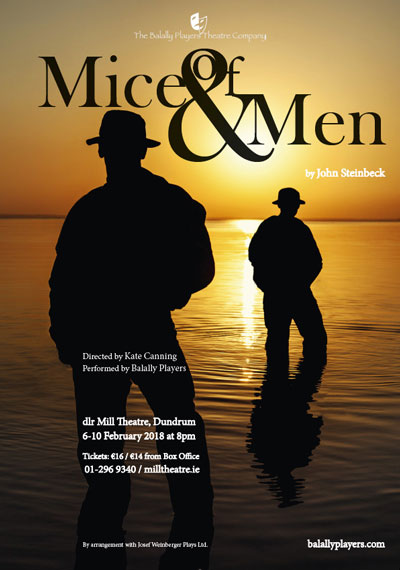 The play, 'Of Mice and Men', began as a short novel of the same name, published in 1937. It is set in the United States at the time of the Great Depression, which followed the Stock Market Crash of 1929. The work was an experimental form in which Steinbeck set out to explore human suffering in general and the hardships faced by migrant workers in particular.
In a letter to a friend, the writer said, "I think I would like to write the story of this whole valley, of all the little towns and all the farms and the ranches in the wilder hills. I can see how I would like to do it so that it would be the valley of the world." That valley is the Salinas Valley in California, where he grew up. Steinbeck's family was relatively well-off, but he was aware of what the migrant workers had to deal with in the area not far from his home. He travelled through the small valleys, saw how the workers lived and heard first-hand many of their stories.
The play tells the tale of two great friends and their struggle to live the American dream. George and Lennie have been travelling together from ranch to ranch for years, working hard to make ends meet and save enough for a place of their own. The two are polar opposites: George is intelligent, quick and not very tall, while Lennie is slow-minded, childlike, and big. Though they are different, they care deeply about each other. They have been dreaming for years to save enough for a little land of their own, and when they are both hired to a new job they believe that they may finally achieve their goal. But trouble begins to brew when one of the bosses' wife becomes too interested in the infatuated Lennie. It has been described as 'a beautiful tragedy'; and while 'Of Mice and Men' has become a staple of American theatre, it has also remained very popular with audiences far from its Californian valley.
The play is directed for Balally Players by Kate Canning. Tickets (€16/€14) may be booked through the dlr Mill Theatre Box Office at 01-296 9340 or on the theatre website www.milltheatre.ie
Little Gem
Award-winning play by Dublin playwright Elaine Murphy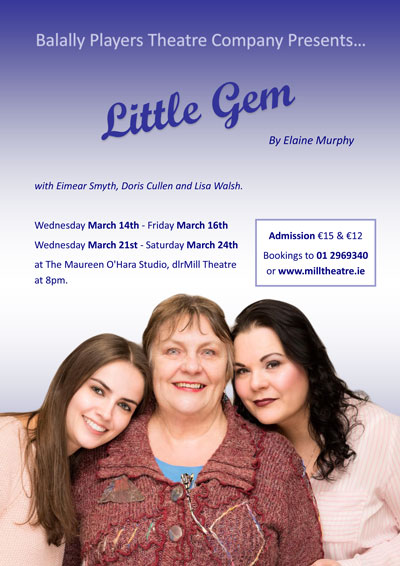 Three Dublin women, from three generations, Kay (grandmother), Loraine (mother) and Amber (granddaughter) take the audience on an emotional roller-coaster ride as they narrate how they navigate ups and downs over many months.
For each one of these women, a male partner, who is nowhere to be seen, muddies the troubled waters of their lives. But Amber's new baby boy brings with him hope and the promise of some redemption
Elaine Murphy's play unfolds in alternating monologues, as three generations of Irish women greet life's travails with strength, humour and the occasional vodka and Diet Coke, or night of abandon on the salsa dance floor. Members of Balally Players are delighted to present this poignant and funny piece of theatre, a tribute to the resilient spirit of woman.
Karen Carlton directs Eimear Smyth, Doris Cullen and Lisa Walsh in this award-winnig play by Elaine Murphy.
The show is on Wednesday 14, Friday 16, Wednesday 21 and Saturday 24 March 2018 at 8pm each evening in the Maureen O'Hara Studio, dlr Mill Theatre, Dundrum.
For tickets (€15 / €12) contact the Box Office on 01-296 9340 or online at milltheatre.ie


Balally Players Christmas Show
Marlay Park House 6 to 9 December 2017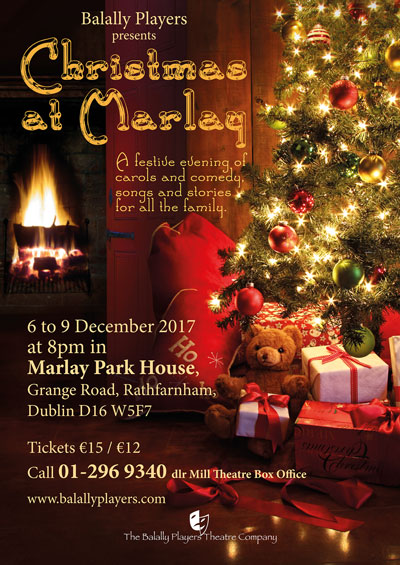 The Balally Players show, 'Christmas at Marlay', is the perfect way to start Christmas. This delightful evening of seasonal sentiment – a heart-warming collection of music, song, recitation, monologue and comedy – is staged in the ideal setting, the Oval Room at Marlay Park House, Grange Road, Rathfarnham.
With tea, coffee, mulled wine and flavoursome mince pies at the Interval, it's a great evening for all the family. Since its inception, more than twelve years ago, it has become a 'must see' event on the Christmas entertainment calendar.
Marlay Park House is on 300 acres of parkland in south Dublin. The original house was built by Thomas Taylor and was known as 'The Grange'. The house is a fine example of Georgian architecture and has many elaborate features including plasterwork by Michael Stapleton. In 1972 it was donated to Dublin County Council. The grounds, which are close to the Dublin Mountains, include lakes, sport fields and recreational spaces. Marlay Park is also an important outdoor music venue and is the official start of the 132 km Wicklow Way.
The show was performed on Wednesday 6 to Saturday 9 December 2017 at 8pm each evening in Marlay Park House.

Balally Players presented two compelling and contrasting one-act plays in October 2017 – the magical and mystical At the Hawk's Well by WB Yeats and the hilarious and moving Pvt Wars by James McLure.
'At The Hawk's Well' by W B Yeats
Balally Players entry for 2017 One Act Festival wins 1st in 4 out of 5 festivals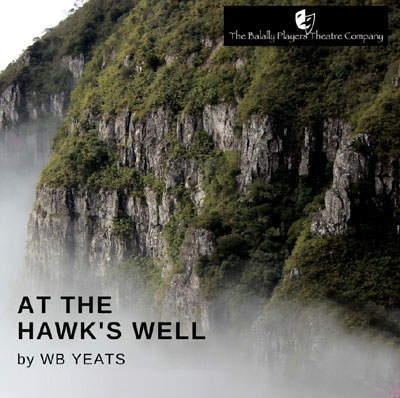 An old man climbs to a mystical well in a high and barren place everyday for fifty years, seeking to drink the magic waters of eternal life that one day will fill the well. The well is guarded by a woman of the Sidhe, a she-hawk. One day, on foot of a rumour told over too much wine, a young Cuchulain has sailed to Ireland to find this enchanted well and drink its waters.
A magical reawakening of one of Yeats' 'Four Plays for Dancers'. Through movement, sound and poetic language Balally Players will transport you to a land of mythology. Over one hundred years since it was first performed, this production is a creative re-imagining of the play while staying true to the Japanese Noh theatre which originally inspired it – a fresh and dynamic production to delight the senses and revitalize the soul.
The play was in the Maureen O'Hara Studio, dlr Mill Theatre, Dundrum from 5 to 7 October 2017.
'At the Hawk's Well', directed by Aoibhinn Finnegan, was performed at the following festivals on the One Act Circuit:
Fri 27 October in Skerries
Venue: The Little Theatre, Skerries, Co. Dublin
Adjudicator: Tom Byrne
Result: First Place


Sat 28 October in Coolgreaney
Venue: St. Mogue's Hall at Inch, Coolgreany, Wexford
Adjudicator: Geoff O'Keefe
Result: First Place


Sat 04 November in Naas
Venue: The Moat Theatre, Naas, Co. Kildare
Adjudicator: Walker Ewart
Result: First Place


Fri 17 November in Dundrum
Venue: dlr Mill Theatre, Dundrum, Dublin 16
Adjudicator: Donal Courtney
Result: First Place


Sat 18 November in Ballymahon
Venue: Bog Lane Theatre, Ballymahon, Longford
Adjudicator: Chrissy Poulter
Result: Second Place


1, 2 & 3 December in Letterkenny
Venue: An Grianán Theatre, Letterkenny
Adjudicator: Padraic McIntyre
Result: Adjudicator's Harlequin Award for Ensemble Music Work


Festival website: www.oneactfinals2017.ie

Cast and production team in The Moat Theatre, Naas on Saturday 4 November 2017 where 'At The Hawk's Well' received awards for 'Best Play', 'Best Actor', 'Adjudicators Award' and 'Technical Award' for light and sound.
'Pvt Wars' by James McLure
5 to 7 October 2017 in the Maureen O'Hara Studio, dlr Mill Theatre, Dundrum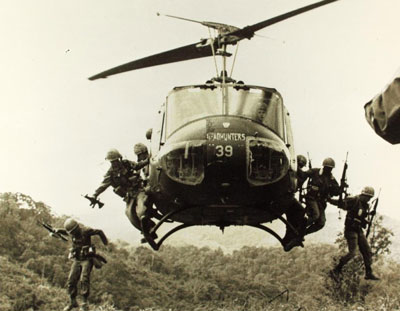 Three veterans of the Vietnam War pass the day on the terrace of the Army hospital where they are recuperating.
Silvio, brash, bragging Italian American, spends his days flashing the nurses, despite his lack of the requisite equipment due to a war injury. The innocent country boy, Gately, is absorbed in his never-ending repair of a transistor radio and the uptight rich kid, Natwick, writes constantly to his mother.
As the three men interact, clash and console, we get to learn that there is more to each of them than is immediately apparent.
'Pvt. Wars' does not dwell on the war in Vietnam, but on the small talk that conceals the inner turmoil of the patients. Even though they are now free to leave whenever they want, their emotional scars and their own private wars keep these war veterans trapped as they look for some common understanding of what they have experienced and how it has changed them.

Other Shows and Events
Aladdin for Christmas at dlr Mill Theatre
Mill Productions presents another great show for all the family — up to 7 Jan 2018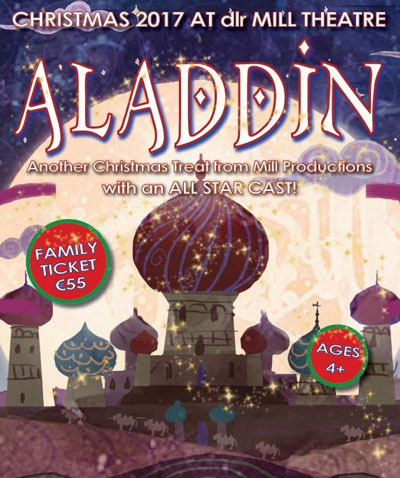 Mill Productions presents another seasonal treat for all ages written and directed by Geoff O'Keeffe! The thrilling story of a boy, a lamp and a genie, Aladdin is one of the most popular pantomimes of all. Audiences can look forward to a fun-packed performance full of comedy, slapstick, singing, dancing, dazzling special effects, beautiful costumes and plenty of participation. Guaranteed to entertain both the young and the young at heart.
Weekday School Shows (before Christmas) 10am and 11.15am
Starring Jack Boylan as Aladdin with Evelyn Shaw, Garry Mountaine, Matthew O'Brien, Neill Fleming, Paul Elliot and Joanne Quinn.
Weekend shows at 12pm, 2pm and 4pm from 7 December 2017 to 7 January 2018. Suitable for all the family – recommended ages 4 years+
To book tickets call the dlr Mill Theatre Box Office on 01-296 9340 or visit the theatre website at www.milltheatre.ie

Antony & Cleopatra
Shakespeare's tragedy in the Teachers' Club, Parnell Square from Tue 14 November 2017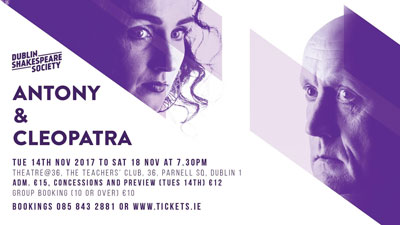 Dublin Shakespeare presents 'Antony & Cleopatra' from Tuesday 14 to Saturday 18 November 2017 inclusive at 7:30pm in the Teachers Club, Parnell Square, Dublin 1.
Directed by James O'Connor this epic production takes on one of Shakespeare's greatest, and often overlooked, tragedies.
With tales of love, war, and betrayal, we take a look at this historic conflict through the eyes of the soldiers and soothsayers, politicians and pirates, all-powerful monachs and alcoholics that brought it to pass. The cast of sixteen actors includes Balally Players member, Claire O'Donovan, who plays Octavius Caesar.
Booking at www.tickets.ie or Phone 085-843 2881 (€15/€12). For more see dublinshakespearesociety.ie
Dundrum One Act Festival 2017
dlr Mill Theatre, Dundrum – 17 to 19 November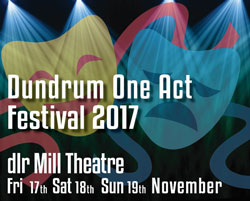 dlr Mill Theatre, Dundrum Town Centre
The Dundrum One Act Drama Festival returns to the dlr Mill Theatre, Dundrum, Dublin from Friday to Sunday, 17 to 19 November 2017.
Drama groups from across the country will compete over the three nights of the festival. Each night the Festival Adjudicator Donal Courtney will review the plays and on the final night he will select the winners.
See the Dundrum Festival page for more information including a list of the plays that will be performed.

And Then There Were None
Rathfarnham Theatre Group brings Agatha Christie to the dlr Mill Theatre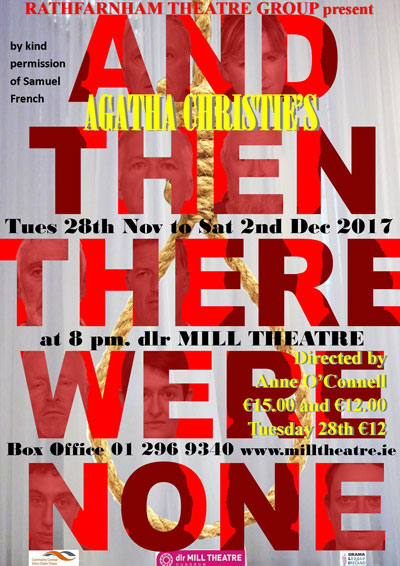 It is 1930s England and ten strangers arrive on a remote island off the coast of Devon for a relaxing weekend. When their mysterious hosts fail to appear, and long buried secrets are shockingly revealed, it soon becomes clear that this is to be no ordinary house party....
Agatha Christie's best loved book, of mystery and murder, is vividly brought to life in a stage play that will have audiences on the edge of their seats as ten guests become nine suspects, then eight … then seven … then six…
Who, if anyone, will make it off the Island alive?
The novel, on which this play is based, is considered by many to be Agatha Chrostie's masterpiece. It was described by her as the most difficult of her books to write. It was first published in the United Kingdom by the Collins Crime Club on 6 November 1939, as Ten Little Niggers, after the British blackface song, which serves as a major plot point. The US edition was not released until December 1939; its American reprints and adaptations were all retitled 'And Then There Were None', after the last five words in the nursery rhyme 'Ten Little Indians'.
Over 100 million copies of the book have been sold, making it the world's best-selling mystery and one of the best-selling books of all time.
Directed by Anne O'Connell, the play will be performed from Tuesday 28 to Saturday 2 December 2017 at 8pm in the dlr Mill Theatre.
To book tickets call the dlr Mill Theatre Box Office on 01-296 9340 or visit the theatre website at www.milltheatre.ie
All seats are €12 on Tuesday 28 November. Tickets for other nights are €15 and €12
King Lear
Shakespeare's tragedy in the dlr Mill Theatre from Wed 4 October 2017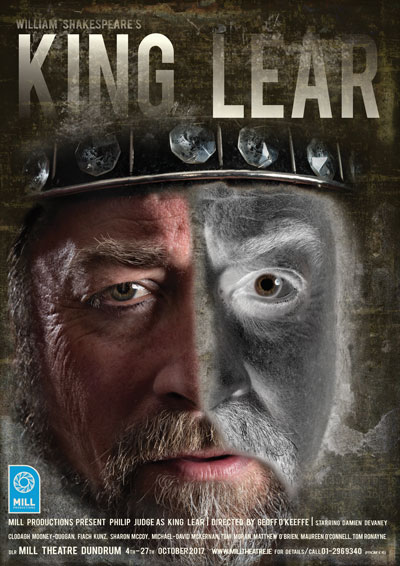 During the month of October, Mill Productions presented what is widely regarded as Shakespeare's crowning artistic achievement.
King Lear is set in the court of an aging British monarch. Shakespeare probably wrote it in around 1604, sandwiched between two other great tragedies, Othello and Macbeth.
Following acclaimed productions of Macbeth (2013), Othello (2014), King Lear (2015) and Hamlet (2016), this year sees the return of King Lear in a new production directed once again by Geoff O'Keeffe.
A new cast, featuring Philip Judge as King Lear, presented the play with genuinely gripping and often affecting performances, sharpening understanding of Shakespeare's analysis of human folly and doing justice to this greatest of plays.
Performances during the day were for schools, but there were evening performances at 7:30pm on Wednesday 11, Thursday 12, Wednesday 25 and Thursday 26 October.

'God has No Country' in Smock Alley
9 to 14 October 2017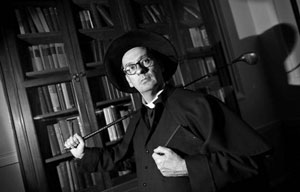 'God Has No Country', written and performed by Donal Courtney, a tribute to one of Killarney's most heroic sons, Monsignor Hugh O'Flaherty.
Nicknamed "The Scarlet Pimpernel of the Vatican", Kerry cleric, O'Flaherty, aided by Sam Derry, Henrietta Chevalier and others, was responsible for helping save 6,500 people during the German occupation of Rome. He moved between the neutral Holy See and Gestapo-controlled territory in order to coordinate the highly dangerous rescue missions. In his later years, when O'Flaherty returned to Kerry to live with his sister in Caherciveen, he rarely spoke of his wartime exploits.
Dr Fiona Brennan, in an article for the Hugh O'Flaherty Memorial Society, commented that the play "deftly illustrates O'Flaherty's deep love for Killarney. His Roman surrounds prompt O'Flaherty's fond recollections of memories of life in Killarney: the roars at Fitzgerald Stadium on Munster Football Final day; his home at Mangerton View; and the smell of Mrs. O'Leary's home-cooked corned beef wafting through the laneways around the town."
This dramatic retelling of the war time exploits of Irish priest Hugh O'Flaherty and how he saved thousands of lives in Rome during the Second World War, was developed by the writer through Fishamble New Play Clinic. ​
Donal Courtney is the adjudicator for the Dundrum Festival this year.

dlr Mill Theatre, Dundrum Town Centre, Dublin
Visit the theatre website for details on all shows
The dlr Mill Theatre is located in the Dundrum Town Centre, beside the Mill Pond. It opened in May 2006 with a production of 'Our Town' in which many Balally Players members participated. Since then the theatre has staged a wide variety of performing arts, community theatre, visual art, comedy, music, and children's shows. By including both professional and community productions in its programme, the theatre brings many people together both on and off stage. It has become a focal point of the community in South Dublin, a home for local groups and stage schools and a venue much loved by the many professional groups that have graced its stage.
If you have any queries about hiring the theatre or rehearsal spaces, call Kate Canning on 01-296 9340 or email manager @ milltheatre.ie
The dlr Mill_Theatre_website has all the information you need about the theatre itself as well as a comprehensive list of all the shows coming up.

The theatre Box Office is open from Monday to Saturday between 12:30pm and 5:30pm and the theatre re-opens at 7pm when there is an evening performance. You can also phone 01-296 9340 to make a credit card booking.
To book tickets online...
On the theatre website click the button beside your chosen performance and follow the instructions. You should note that there is a €1 booking fee per ticket for all bookings taken online and over the phone and you cannot choose your seats online, you are automatically allocated the next available seat.
To book tickets at the theatre...
Call in to the Mill Theatre Box Office, which is open from Monday to Saturday, 12:30pm to 5:30pm. The theatre re-opens at 7pm when there is an evening performance.
To book tickets over the phone...
The telephone number to call is 01-296 9340. The information needed is the date and event you wish to attend, and how many tickets you require. If booking by credit card, you will need to give your card number and expiry date, your name and address. You should have an alternative date in mind, just in case your first choice is not available.