Events List for Balally Players and Other Groups
Productions that are running now, planned for the future or that have been on stage recently are listed on this page in two sections. The first section covers Balally Players events. The second section below that, Other Events, has information on plays and events presented by other groups and organisations.
To have an event included here, send details to the Committee using the form on the Contact page.
The Members' Area has a Balally Players Calendar of Events that covers a period of six months from and prior to the current month.
Balally Players Shows and Events
'Midsummer Night's Dream' – June 2019
In the Walled Garden of St Enda's Park, Rathfarnham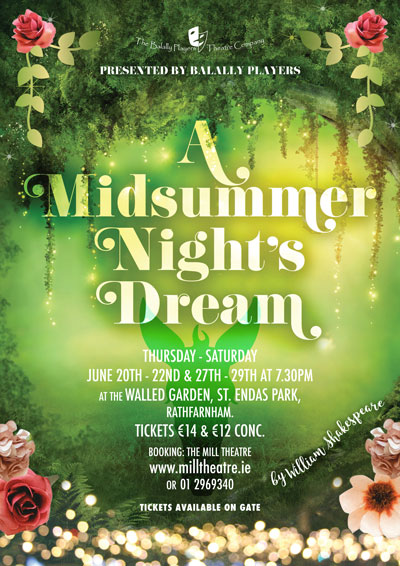 Balally Players Summer Shakespeare presentation for 2019
directed by Karen Carleton
This comedy was written by William Shakespeare sometime between 1595 and 1596. Across its five acts its multi-layered examination of love and its vagaries, has long been one of the most popular of Shakespeare's plays.
The play opens with Theseus and Hippolyta planning their wedding, which is due to take place in four days time.
Here Shakespeare uses a similar multiple plotting device to that which he used in 'The Taming of the Shrew' and other earlier comedies. The overarching plot is of Duke Theseus of Athens and his impending marriage to an Amazonian warrior, Hippolyta, whom Theseus has recently conquered and brought back to Athens to be his bride. Their marriage ends the play. They share this concluding ceremony with the four young lovers Hermia and Lysander, Helena and Demetrius, who have fled into the forest nearby to escape the Athenian law and to pursue one another, whereupon they are subjected to a complicated series of mix-ups. Eventually all is righted by fairy magic, but the fairies have their own quarrels over one who falls in love with an Athenian artisan who wears an ass's head.
Four separate strands or plots interact with one another and, although this is one the Bard's shorter plays, it is considered to be one of his masterpieces.
Balally Players presented William Shakespeare's most popular and loved comedy in a refreshing and inventive production at Pearse Park, St. Enda's, Rathfarnham, Dublin 16.
The outdoor performances were on Thursday to Saturday, 20, 21 and 22 June and again on Thursday to Saturday 27, 28 and 29 June 2019 at 7:30pm in the Walled Garden of St Enda's Park, Rathfarnham.
Twenty two Balally Players performers are involved in this dynamic ensemble, directed by Karen Carleton, including some local favourites and some fresh new faces too. In the garden setting at St. Enda's, we follow the lovers and the mechanicals as they journey into the spirit world with Oberon, Titania, Puck and two diminutive fairies and as night falls in the park, Balally Players are delighted to present this evocative, joyful and funny piece of theatre.
The photographs below were taken at the dress rehearsal on Wednesday 19 June 2019.
Photography: Declan Brennan

Other Shows and Events
Two One-Act Plays – Rathfarnham Theatre Group
Pearse Museum, Rathfarnham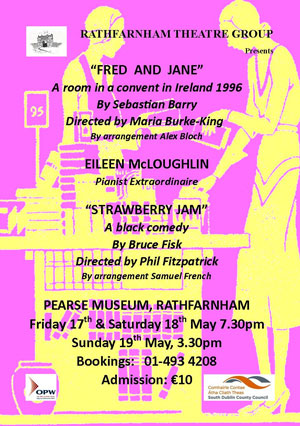 Rathfarnham Theatre Group
website
Rathfarnham Theatre Group presents two highly entertaining One-Act plays in the month of May at the Pearse Museum, Grange Road, Rathfarnham.
The first play is 'Fred and Jane' written by Sebastian Barry. The play explores the deep and sustaining friendship between two nuns, Anna and Beatrice, over many years and through the particular difficulties of religious life. The play illustrates the small fragments of life both in and out of the convent in 20th-century Ireland.
The second one-act play in the Rathfarnham Theatre Group presentation is 'Strawberry Jam' written by Bruce Fisk. The play is a black comedy dealing with two sisters living in England as their father dies six months too early. The sisters must act quickly in order to avoid a Death Duty, which would affect their inheritance.
The performances are in the Pearse Museum on Friday 17 and Saturday 18 May at 7:30pm and also on Sunday 19 May at 3:30 pm.
Admission is €10 and bookings may be made by calling 01-493 4208

'Romeo and Juliet'
Mill Productions presentation for schools at dlr Mill Theatre, Dundrum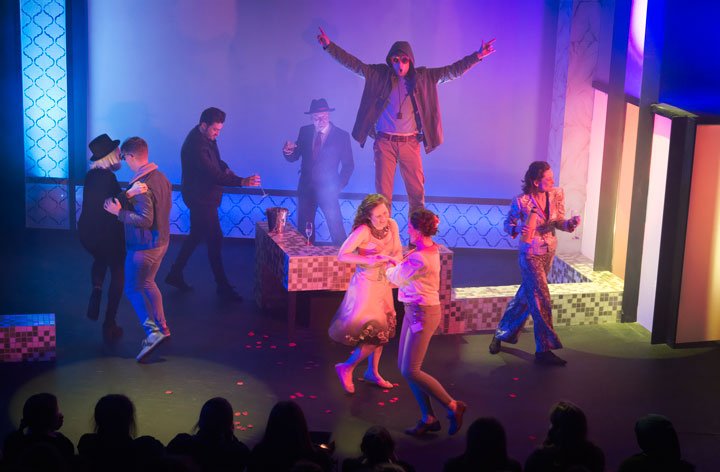 The party scene from 'Romeo and Juliet' at dlr Mill Theatre.
Photos: Declan Brennan
From 25 February to 15 March 2019, Mill Productions presented William Shakespeare's 'Romeo and Juliet', directed by Geoff O'Keeffe, in the dlr Mill Theatre. The daytime shows at 10am and 1:30pm, were for schools and there was one evening performance on Thursday 14 March.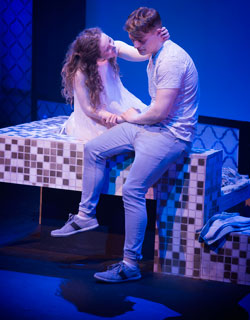 Gillian Buckle (Juliet) and Jack Mullarkey (Romeo).
This modern take on the classic drama is full of energy and brings out the humour as well as the tragedy in Shakespeare's play.
The story of the two young star-crossed lovers remains one of Shakespeare's most popular plays. The deaths of the young lovers finally brings about a reconciliation between their two families, who have been at war with each other for years.
It was written early in Shakespeare's life and, together with Hamlet, it is one of his most frequently performed plays.
The cast members are: Jack Mullarkey (Romeo), Gillian Buckle (Juliet), Michael-James Ford (Capulet), Serena Brabazon (Lady Capulet), Evelyn Shaw (Nurse), Ethan Dillon (Benvolio), Rachel O'Connell (Mercutio), Brian James Gilligan (Tybalt and The Friar). Set Design is by Gerard Bourke, Lighting Design by Kris Mooney, Sound Design by Declan Brennan, Stage Management by Claire O'Donovan. The company manager for Mill Productions is Karen Carleton.

dlr Mill Theatre, Dundrum Town Centre, Dublin, D16 C5X6
Visit the theatre website for details on all shows
The dlr Mill Theatre is located in the Dundrum Town Centre, beside the Mill Pond. It opened in May 2006 with a production of 'Our Town' in which many Balally Players members participated. Since then the theatre has staged a wide variety of performing arts, community theatre, visual art, comedy, music, and children's shows. By including both professional and community productions in its programme, the theatre brings many people together both on and off stage. It has become a focal point of the community in South Dublin, a home for local groups and stage schools and a venue much loved by the many professional groups that have graced its stage.
If you have any queries about hiring the theatre or rehearsal spaces, call Kate Canning on 01-296 9340 or email manager @ milltheatre.ie
The dlr Mill_Theatre_website has all the information you need about the theatre itself as well as a comprehensive list of all the shows coming up.

The theatre Box Office is open from Monday to Saturday between 12:30pm and 5:30pm and the theatre re-opens at 7pm when there is an evening performance. You can also phone 01-296 9340 to make a credit card booking.
To book tickets online...
On the theatre website click the button beside your chosen performance and follow the instructions. You should note that there is a €1 booking fee per ticket for all bookings taken online and over the phone and you cannot choose your seats online, you are automatically allocated the next available seat.
To book tickets at the theatre...
Call in to the Mill Theatre Box Office, which is open from Monday to Saturday, 12:30pm to 5:30pm. The theatre re-opens at 7pm when there is an evening performance.
To book tickets over the phone...
The telephone number to call is 01-296 9340. The information needed is the date and event you wish to attend, and how many tickets you require. If booking by credit card, you will need to give your card number and expiry date, your name and address. You should have an alternative date in mind, just in case your first choice is not available.