Events List for Balally Players and Other Groups
Productions that are running now, planned for the future or that have been on stage recently are listed on this page in two sections. The first section covers Balally Players events. The second section below that, Other Events, has information on plays and events presented by other groups and organisations.
To have an event included here, send details to the Committee using the form on the Contact page.
The Members' Area has a Balally Players Calendar of Events that covers a period of six months from and prior to the current month.
Balally Players Shows and Events
Summer Shakespeare – St Enda's Park, Rathfarnham
Tuesday 3 to Saturday 7 July 2018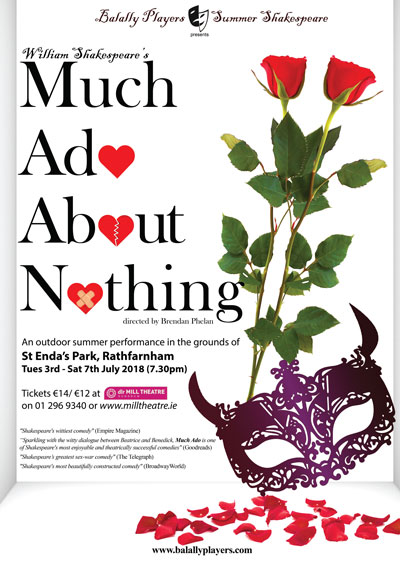 In the beautiful, some might say idyllic surroundings of St Enda's Park, Rathfarnham, William Shakespeare's 'Much Ado About Nothing' was presented by Balally Players in the Walled Garden beside the Pearse Museum.
In the play, the nobleman, Leonato, lives in the equally idyllic Italian town of Messina with his beautiful young daughter, Hero; his clever niece, Beatrice; and Antonio, his elderly brother, and Beatrice's father. The play opens after the end of a war when Leonato is getting ready to welcome some of the returning soldiers, including his close friend, Prince Don Pedro, a young nobleman Claudio, and Benedick, a clever joker, who enjoys making fun – often at the expense of others.
So the scene is set for love: Claudio quickly falls for Hero – for a war of witty insults: Benedick and Beatrice pick up where they left off before the real war began – and for the inevitable 'fly in the ointment': Don John (Don Pedro's illegitimate brother), who brings a sullen, bitter disposition to the stage, determined to make lots of trouble for everyone.
Before long, Claudio and Hero decide to get married. To pass the time while that is arranged, some of the others devise a game to visit the same fate on Benedick and Beatrice, with the intention of turning their bickering into betrothal.
Bringing all that to a satisfying conclusion provided much for the actors to do and, in the hands of Brendan Phelan, director of this production, lots for the audience to enjoy. To see all of the people involved in the production, you can download the programme here.
In the grounds of St Enda's Park, Rathfarnham, the play was performed at 7:30pm on the evenings of Tuesday to Saturday, 3 to 7 July 2018. The contingency plan for wet weather was to move the performance to An Halla Mór in the Pearse Museum in St Enda's Park. However, the heatwave of summer 2018 meant that was not necessary.
These photographs, taken at the performance on Wednesday 4 July 2018, are stored in a SmugMug gallery '2018-Much-Ado-About-Nothing' (Photos: Declan Brennan).

'Little Gem' – March 2018
Award-winning play by Dublin playwright Elaine Murphy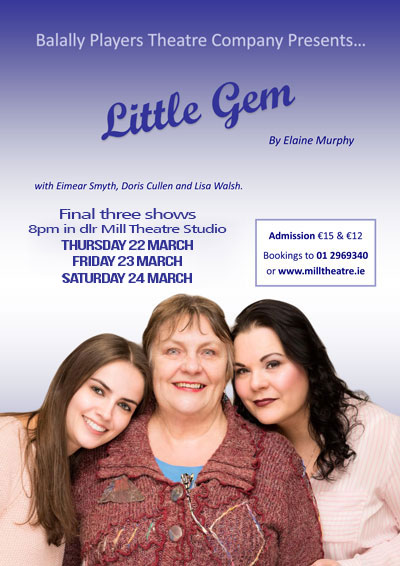 Three Dublin women, from three generations, Kay (grandmother), Loraine (mother) and Amber (granddaughter) take the audience on an emotional roller-coaster ride as they narrate how they navigate ups and downs over many months.
For each one of these women, a male partner, who is nowhere to be seen, muddies the troubled waters of their lives. But Amber's new baby boy brings with him hope and the promise of some redemption
Elaine Murphy's play unfolds in alternating monologues, as three generations of Irish women greet life's travails with strength, humour and the occasional vodka and Diet Coke, or night of abandon on the salsa dance floor. Members of Balally Players are delighted to present this poignant and funny piece of theatre, a tribute to the resilient spirit of woman.
Karen Carlton directed Eimear Smyth, Doris Cullen and Lisa Walsh in this award-winnig play by Elaine Murphy.
Following performances in the previous week, the final three performances were on Thursday 22, Friday 23 and Saturday 24 March 2018 at 8pm each evening in the Maureen O'Hara Studio, dlr Mill Theatre, Dundrum.

'Of Mice and Men' by John Steinbeck
6 to 10 February 2018 in the dlr Mill Theatre, Dundrum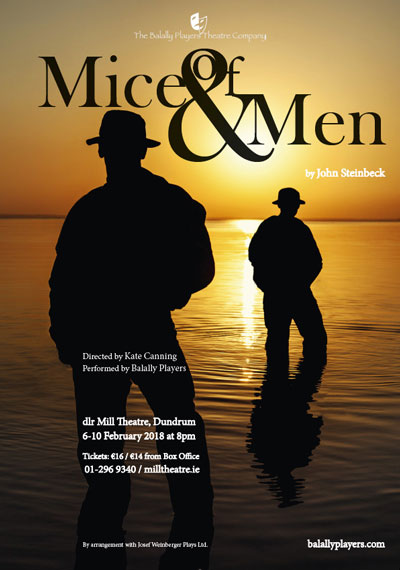 The play, 'Of Mice and Men', began as a short novel of the same name, published in 1937. It is set in the United States at the time of the Great Depression, which followed the Stock Market Crash of 1929. The work was an experimental form in which Steinbeck set out to explore human suffering in general and the hardships faced by migrant workers in particular.
In a letter to a friend, the writer said, "I think I would like to write the story of this whole valley, of all the little towns and all the farms and the ranches in the wilder hills. I can see how I would like to do it so that it would be the valley of the world." That valley is the Salinas Valley in California, where he grew up. Steinbeck's family was relatively well-off, but he was aware of what the migrant workers had to deal with in the area not far from his home. He travelled through the small valleys, saw how the workers lived and heard first-hand many of their stories.
The play tells the tale of two great friends and their struggle to live the American dream. George and Lennie have been travelling together from ranch to ranch for years, working hard to make ends meet and save enough for a place of their own. The two are polar opposites: George is intelligent, quick and not very tall, while Lennie is slow-minded, childlike, and big. Though they are different, they care deeply about each other. They have been dreaming for years to save enough for a little land of their own, and when they are both hired to a new job they believe that they may finally achieve their goal. But trouble begins to brew when one of the bosses' wife becomes too interested in the infatuated Lennie. It has been described as 'a beautiful tragedy'; and while 'Of Mice and Men' has become a staple of American theatre, it has also remained very popular with audiences far from its Californian valley.
The play was directed for Balally Players by Kate Canning.

Other Shows and Events
'Fantastic Mr Fox'
dlr Mill Theatre in June 2018 — Evening show Fri 22 June at 7pm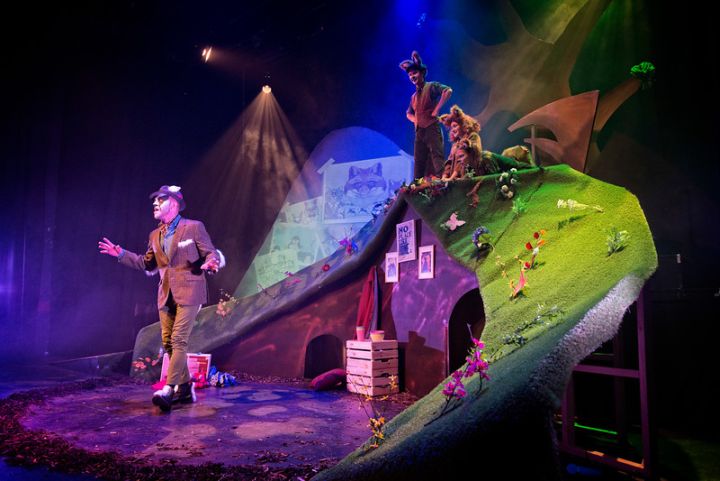 'Fantastic Mr Fox' on the main stage at dlr Mill Theatre.
Photo: Declan Brennan
Roald Dahl's wonderfully dark tale of the cute and conniving animals below ground, getting their own back on the cruel and crass owners of the land above, is told with great energy and fun in Fantastic Mr Fox at the dlr Mill Theatre, Dundrum, directed by Geoff O'Keeffe. If you're a child at heart, or have a child or two, there's an evening show on Friday 22 June at 7pm and the final afternoon shows are on Saturday and Sunday (23 & 24 June) at 2pm and 4pm. Full details are on the dlr Mill Theatre theatre website.
The cast members are: Matthew O'Brien (Mr Fox), Evelyn Shaw (Mrs Fox), Aisling Reid (Small Fox), Neill Fleming (Badger), Paul Elliot (Boggis), Garry Mountaine (Bunce) and Michael-David McKernan (Bean). Set Design is by Gerard Bourke, Lighting Design by Kris Mooney, Multimedia and Sound Design by Declan Brennan, Stage Management and Sound Operation by Ursula McGinn and Ciara Nolan. The company manager for Mill Productions is Karen Carleton.
Tickets are €16 / Children U12: €14 / Family of 4: €55. The dlr Mill Theatre Box Office is at 01-296 9340 or you can book online at the threatre website.

The Night Alive
dlr Mill Theatre 15 to 19 May 2018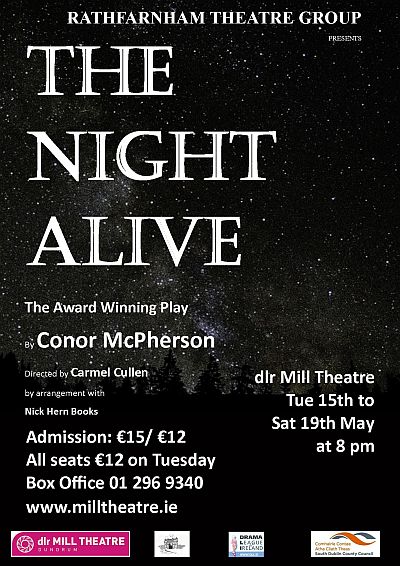 Following its recent successful production of Agatha Christie's 'And Then There Were None', Rathfarnham Theatre Group is delighted to present 'The Night Alive' by Conor McPherson in dlr The Mill Theatre, Dundrum, from Tuesday 15 May to Saturday 19 May at 8pm.
The World Premiere of 'The Night Alive' was presented in London in June 2013 and the American Premier followed in New York in December 2014, where it won the 2013/14 New York Drama Critics' Circle Award for best play. Reviewers called it:
"Extraordinary.... The play can only be called transcendent....a heaven sent vision – The New York Times
"Conor McPherson's wonderful 'The Night Alive' is spellbinding and gorgeous and by one of the true poets of the theatre." – Time Out (New York)
"A spectacularly splendid evening's theatre" – The Irish Independent
"Effortlessly comic without ever being less than serious" – The Irish Mail on Sunday
Tommy is living in a bedsit in his uncle's house, trying to make ends meet while all the while thinking of schemes to better his lot. Estranged from his wife and kids, and barely tolerated by his uncle, he hasn't a lot going for him. His sidekick, Doc, is even worse off, scrounging a bed from his sister or staying the odd night on Tommy's camp bed.
Tommy is a decent skin, with a kind nature, trying to keep the show on the road. When he sees Aimee being abused he rescues her and takes her back to his flat. What follows is a gripping tale which illuminates the humanity which can be found in the most unlikely of situations.
To book for one of the performances at the dir Mill Theatre from Tuesday 15 to Saturday 19 May at 8pm, call the Box Office on 01-296 9340 or online at the theatre website www.milltheatre.ie
Admission is €15/€12 and all tickets are €12 for the Tuesday performance.
For more information visit
www.rathfarnhamtheatre.com
and you can follow the group on Twitter at #rathtg and on Facebook at Rathfarnham Theatre Group.

Drama League of Ireland AGM
Prince of Wales Hotel, Athlone – 29 April 2018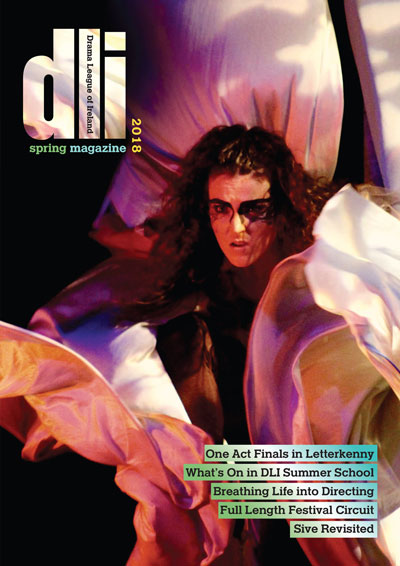 The Drama League of Ireland Annual General Meeting is on at 2pm on Sunday 29 April in the Prince of Wales Hotel, Athlone. Registration for the AGM commences at 1:30pm.
The hotel is on Church Street at the Athlone Town Centre. To find it quickly on Google maps, the Eircode for the hotel is N37 T2P0. You can contact the hotel by phone on 090-647 6666 and by email at info @ theprinceofwales.ie
The agenda for the Annual General Meeting will include a review the past year of amateur drama in Ireland and a discussion of plans for the coming year.
All DLI members are welcome. Two delegates from each DLI member drama group and all individual members are invited to attend and vote.
You can contact the DLI Office by phone on 01-296 9343 or by email at dli @ eircom.net
The image on the left shows the cover of the latest edition of the DLI Magazine, which features Máirín O'Sullivan in Balally Players production of 'At the Hawk's Well' by W B Yeats, directed by Aoibhinn Finnegan. (Photo credit: Thomas Clare).
To order extra copies of the magazine, send an email to the Editor, Joanne Keane, at joannekeane1 @ gmail.com

Lyrics by Tom Moran
Theatre Upstairs 30 March to 14 April 2018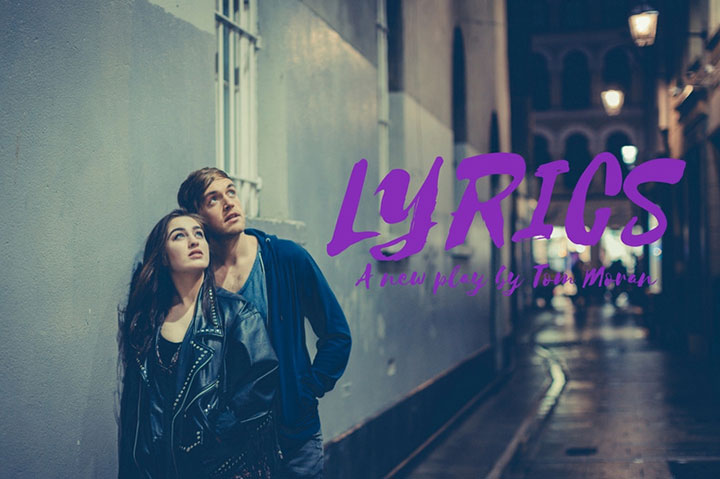 Dublin City Centre. An Open Mic has ended and a captivating dissection of a chance encounter has just begun. 'Her' and 'Him' zigzaggedly converse about connection, chance and the council's questionable responsibility when it comes to swan hygiene. LYRICS is an offbeat romance starring Danielle Galligan & Tom Moran, directed with verve and pace by Romana Testasecca and featuring original songs in a darkly comic new play by Tom Moran.

dlr Mill Theatre, Dundrum Town Centre, Dublin
Visit the theatre website for details on all shows
The dlr Mill Theatre is located in the Dundrum Town Centre, beside the Mill Pond. It opened in May 2006 with a production of 'Our Town' in which many Balally Players members participated. Since then the theatre has staged a wide variety of performing arts, community theatre, visual art, comedy, music, and children's shows. By including both professional and community productions in its programme, the theatre brings many people together both on and off stage. It has become a focal point of the community in South Dublin, a home for local groups and stage schools and a venue much loved by the many professional groups that have graced its stage.
If you have any queries about hiring the theatre or rehearsal spaces, call Kate Canning on 01-296 9340 or email manager @ milltheatre.ie
The dlr Mill_Theatre_website has all the information you need about the theatre itself as well as a comprehensive list of all the shows coming up.

The theatre Box Office is open from Monday to Saturday between 12:30pm and 5:30pm and the theatre re-opens at 7pm when there is an evening performance. You can also phone 01-296 9340 to make a credit card booking.
To book tickets online...
On the theatre website click the button beside your chosen performance and follow the instructions. You should note that there is a €1 booking fee per ticket for all bookings taken online and over the phone and you cannot choose your seats online, you are automatically allocated the next available seat.
To book tickets at the theatre...
Call in to the Mill Theatre Box Office, which is open from Monday to Saturday, 12:30pm to 5:30pm. The theatre re-opens at 7pm when there is an evening performance.
To book tickets over the phone...
The telephone number to call is 01-296 9340. The information needed is the date and event you wish to attend, and how many tickets you require. If booking by credit card, you will need to give your card number and expiry date, your name and address. You should have an alternative date in mind, just in case your first choice is not available.