Events List for Balally Players and Other Groups
Productions that are running now, planned for the future or that have been on stage recently are listed on this page in two sections. The first section covers Balally Players events. The second section below that, Other Events, has information on plays and events presented by other groups and organisations.
To have an event included here, send details to the Committee using the form on the Contact page.
The Members' Area has a Balally Players Calendar of Events that covers a period of six months from and prior to the current month.
Balally Players Shows and Events
Alone It Stands
dlr Mill Theatre, Dundrum 19 to 22 February 2020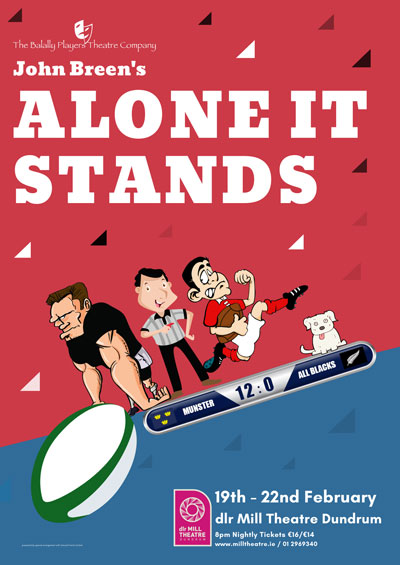 'Alone It Stands', written by John Breen and originally published in 2004, is a play about a famous 1978 rugby match at Thomond Park in Limerick. It tells the story of what happened when the Munster provincial team played the New Zealand national team, the All Blacks.
The title of the play, 'Alone It Stands', is taken from the anthem of the club in Shannon, 'There Is An Isle'. The significance of the match comes from the fact that the result, a 12-0 victory for Munster was the only time that any Irish team, national or provincial, had ever beaten the All Blacks.
A whole host of different fictional stories are woven into what actually happened on the day of the big match itself and the excitement and anticipation leading up to it. The play presents the personal stories of various characters and their connections to the game on that remarkable day in Irish sporting history.
A handful of actors play a wide range of roles including the Munster team, the New Zealanders playing on the All Blacks team, the two coaches, the referee, the crowd, the press, a pregnant woman, Bunratty singers, several children, a dog and even the ball itself.
Balally Players presented John Breen's 'Alone It Stands' for four nights from 19 to 22 February 2020.
Photography: Declan Brennan

An Evening of One Act Plays
dlr Mill Theatre from Wednesday 30 October to Saturday 2 November 2019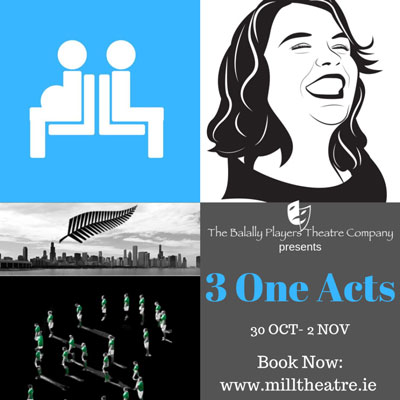 Balally Players presented an Evening of One Act Plays, which brought together three excellent shows, including two original works by members of the group.
Waiting For You
Written by Mark O'Leary
Directed by Aisling Uí Laoire
This is the play entered by Balally Players for the 2019 One Act Circuit Festivals.
Written by Balally Players member, Mark O'Leary, this one-act play tells the story of two strangers who meet in a doctor's waiting room, both unhappy with the directions in which their lives are heading. Through their interactions with each other, as well as with their eccentric fellow patients, they both leave with a different outlook on life.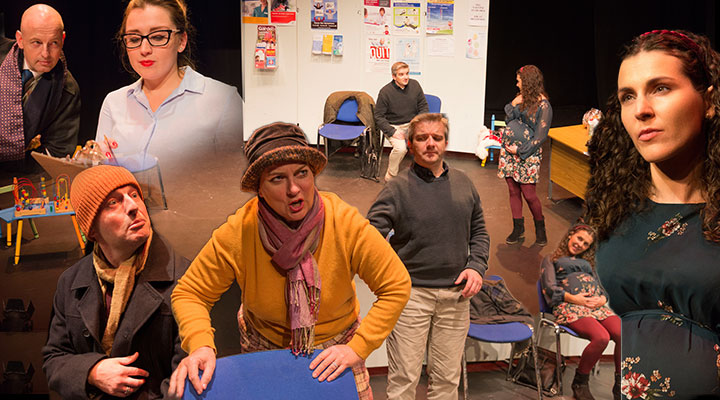 Some of the characters who appear in the doctor's waiting room in 'Waiting For You'
This montage is from a wider selection of photos by Declan Brennan
available here
.
I'm Not Laughing, I'm Screaming
Written by Sandy Taylor
Directed by Lorcan Dunne
The accidental meeting of two woman from very different backgrounds, leads to self-discovery and renewed hope for both of them. This is a wonderful story of friendship, personal growth and female empowerment.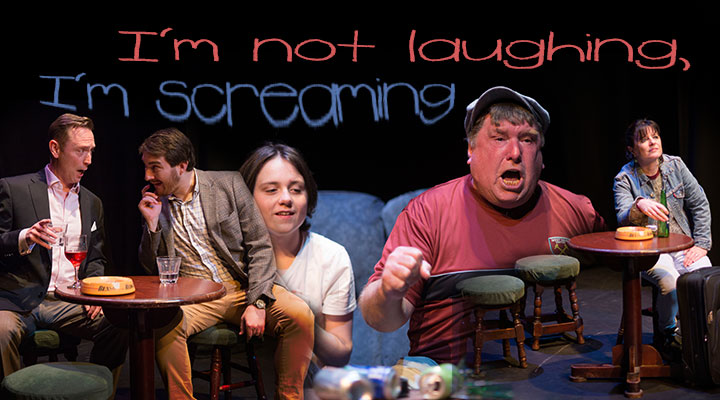 Some members of the cast of 'I'm Not Laughing, I'm Screaming'.
This montage is from a wider selection of photos by Declan Brennan
available here
.
Soldier Field
Written and directed by Pat McCarry.
This presentation by Balally Players was the premiere of another original work by a member of the group, Pat McCarry. 'Soldier Field' tells the story of Ireland's historic, first ever, victory over the All Blacks in Chicago. The absorbing, white-knuckle triumph is told through the eyes of Irish fans, who travelled to be at the game, and also by the players who defeated a world champion side – one that nobody believed could be beaten.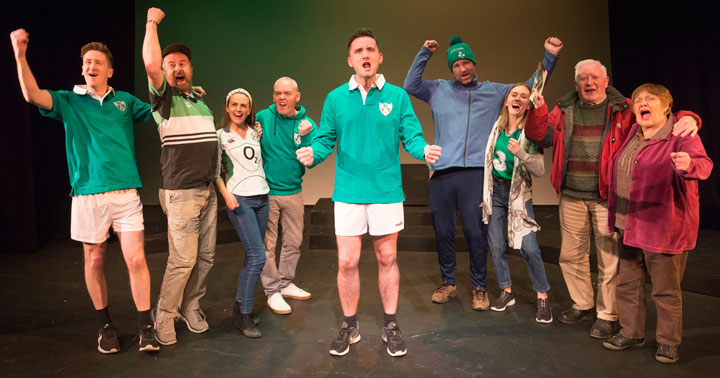 The cast of 'Soldier Field' in a scene celbrating victory over the All Blacks in Chicago.
This photo is from a wider selection by Declan Brennan
available here
.

Other Shows and Events
Dundrum One Act Festival 2019
dlr Mill Theatre – 8 to 10 November 2019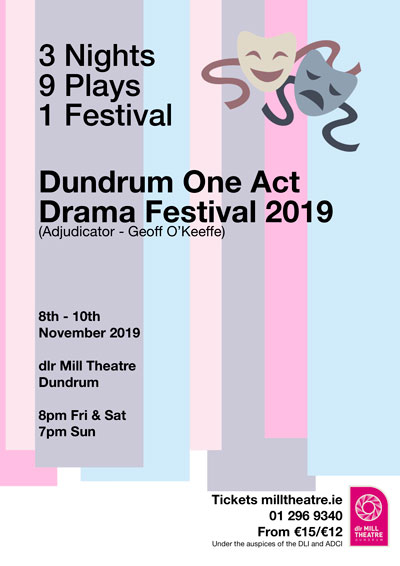 The Dundrum One Act Drama Festival returned to the dlr Mill Theatre, Dundrum, Dublin from Friday to Sunday, 8 to 10 November 2019.
Drama groups from across the country competed over the three nights of the festival. Each night the Festival Adjudicator Geoff O'Keeffe reviewed the plays and on the final night he selected the winners.
The Dundrum One Act Drama Festival is part of the All Ireland One Act Drama circuit and is conducted under the auspices of the two organising bodies ADCI and DLI.
The Amateur Drama Council of Ireland (A.D.C.I) is the federation of amateur drama festivals for the whole of Ireland - North and South. A.D.C.I was founded in 1952 and has coordinated the running of preliminary drama festivals and All Ireland festivals ever since.
The Drama League of Ireland aims to support, nurture and enhance the aspirations and activities of practitioners in the amateur theatre sector through education, training, advocacy and advisory services
The plays performed at the Dundrum One Act Festival were as follows:
Friday Night (8pm)
Conna Drama Group
I'm not ADHD, I'm BOLD by Georgina McKevitt and Jacinta Sheerin
Bunclody/Kilmyshall
The Glass Asylum by Niall O'Muiri
Model Box Drama Group
Two Sisters by Caroline Harding
Saturday Night (8pm)
Moat Club Naas
Nine by Jane Shepard
Blue Hat Productions
Interior Designs by Jimmie Chinn
Martello Productions
Red Cross by Sam Shepard
Sunday Night (7pm)
Coolgreany Drama
A Beginners Guide to Madness by Barry McKinley
Milrace Drama Group
Thirst by Flann O'Brien
Prosperous Dramatic Society
Hue and Cry by Deirdre Kinahan
The winners from local festivals, including Dundrum, aim to qualify for the 2019 All Ireland Final, which will be held in St Mary's Theatre, Rossmore, Co Cork from 6 to 8 December 2019.
The full list of plays in the 2019 One Act Festival is here in the DLI Festival Listing.

Shakespeare's 'Hamlet'
Mill Productions presentation for schools at dlr Mill Theatre, Dundrum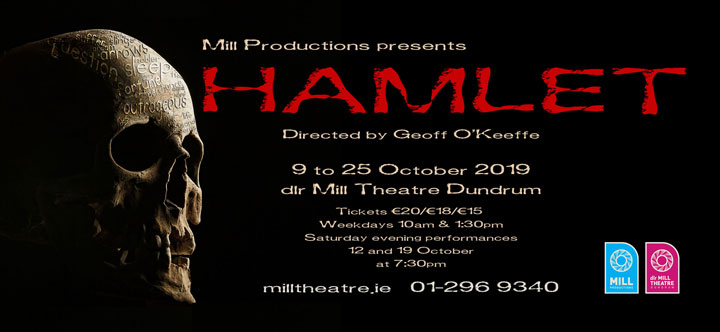 From 9 to 25 October 2019, Mill Productions presented William Shakespeare's 'Hamlet', directed by Geoff O'Keeffe, in the dlr Mill Theatre. The daytime shows at 10am and 1:30pm, were for schools and there were two evening performances on Saturday 12 and 19 October at 7:30pm.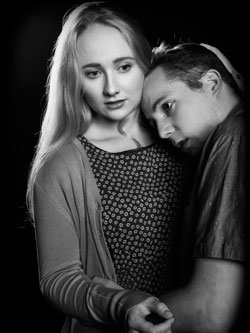 Laoise Sweeney (Ophelia) and Kyle Hixon (Hamlet)
Mill Productions was proud to reimagine Shakespeare's masterpiece, in an edited version of the original text and directed by Geoff O'Keeffe in a fast paced, searing and contemporary production. Kyle Hixon stared in the title role and he was accompanied by a superb ensemble of actors. The potent mixture of treachery, murder, and madness, and reminded audienes of all ages why Hamlet remains a giant of world theatre..
Set in Denmark, the play depicts Prince Hamlet and his revenge against his uncle, Claudius, who has murdered Hamlet's father in order to seize his throne and marry Hamlet's mother. Hamlet is Shakespeare's longest play and is considered among the most powerful and influential works of world literature,
It was one of Shakespeare's most popular works during his lifetime and still ranks among his most performed
The cast members were: Malcolm Adam (Polonius,Priest), Felix Brown (Laertes), Harry Butler (Horatio, Laertes), Gerard Byrne (Claudius, Ghost), Neill Fleming (Player King, Grave Digger 2, Sailor), Kyle Hixon (Hamlet), Caoilfhionn McDonnell (Gertrude), Jack Mullarkey (Marcellus, Rosencrantz), Matthew O'Brien (Player Queen, Grave Digger 1, Messenger), Rachel O'Connell (Barnardo, Guildenstern), Laoise Sweeney (Ophelia).
Set Design was by Gerard Bourke, Lighting Design by Kris Mooney, Sound and Multimedia Design by Declan Brennan, Stage Management by Ciara Nolan. The company manager for Mill Productions is Karen Carleton.

dlr Mill Theatre, Dundrum Town Centre, Dublin, D16 C5X6
Visit the theatre website for details on all shows
The dlr Mill Theatre is located in the Dundrum Town Centre, beside the Mill Pond. It opened in May 2006 with a production of 'Our Town' in which many Balally Players members participated. Since then the theatre has staged a wide variety of performing arts, community theatre, visual art, comedy, music, and children's shows. By including both professional and community productions in its programme, the theatre brings many people together both on and off stage. It has become a focal point of the community in South Dublin, a home for local groups and stage schools and a venue much loved by the many professional groups that have graced its stage.
If you have any queries about hiring the theatre or rehearsal spaces, call Kate Canning on 01-296 9340 or email manager @ milltheatre.ie
The dlr Mill_Theatre_website has all the information you need about the theatre itself as well as a comprehensive list of all the shows coming up.

The theatre Box Office is open from Monday to Saturday between 12:30pm and 5:30pm and the theatre re-opens at 7pm when there is an evening performance. You can also phone 01-296 9340 to make a credit card booking.
To book tickets online...
On the theatre website click the button beside your chosen performance and follow the instructions. You should note that there is a €1 booking fee per ticket for all bookings taken online and over the phone and you cannot choose your seats online, you are automatically allocated the next available seat.
To book tickets at the theatre...
Call in to the Mill Theatre Box Office, which is open from Monday to Saturday, 12:30pm to 5:30pm. The theatre re-opens at 7pm when there is an evening performance.
To book tickets over the phone...
The telephone number to call is 01-296 9340. The information needed is the date and event you wish to attend, and how many tickets you require. If booking by credit card, you will need to give your card number and expiry date, your name and address. You should have an alternative date in mind, just in case your first choice is not available.