Events List for Balally Players and Other Groups
Productions that are running now, planned for the future or that have been on stage recently are listed on this page in two sections. The first section covers Balally Players events. The second section below that, Other Events, has information on plays and events presented by other groups and organisations.
To have an event included here, send details to the Committee using the form on the Contact page.
The Members' Area has a Balally Players Calendar of Events that covers a period of six months from and prior to the current month.
Balally Players Shows and Events
Summer Shakespeare 2022 – 'As You Like It'
Killruddery Sylvan Theatre (30 June + 1 July) & St Enda's Park (6 to 9 July)
Rosalind and her cousin escape into the forest and find Orlando, Rosalind's love. Disguised as a boy shepherd, Rosalind has Orlando woo her under the guise of 'curing' him of his love for Rosalind, who reveals she is a girl and marries Orlando during a group wedding at the end of the play.
William Shakespeare's 'As You Like It' is a pastoral comedy, which was written sometime around 1600. In the intervening years it has continued to be one of the Bard's most popular plays.
This year, the play was in the grounds of Killruddery House, outside Bray and St Enda's Park, Rathfarnham.
The play was directed by Karen Carleton. It was performed first in Killruddery Sylvan Theatre, in the grounds of Killruddery House, Southern Cross, Bray, Co Wicklow. The Killruddery performances were on Thu 30 June and Fri 1 July.
From Wed 6 to Sat 9 July, audiences also had the opportunity to enjoy the play in the beautiful surroundings of another great venue, St Enda's Park. The performances there were in the Walled Gardens of St. Enda's Park, Rathfarnham, Dublin 16.
In Killruddery, on Thursday 30 June, the sun shone and the rain stayed away for the performance outdoors in the Sylvan Theatre. The following evening, however, the start of July brought clouds and showers. Undaunted, the company moved into the spectacular Orangery in Killruddery for an indoor performance on 1 July.
Killruddery House performance on 1 July 2022. Photography: © Declan Brennan
For more about Killruddery House, visit the Killruddery website.
Wed 6 to Sat 9 July in St Enda's Park, Rathfarnham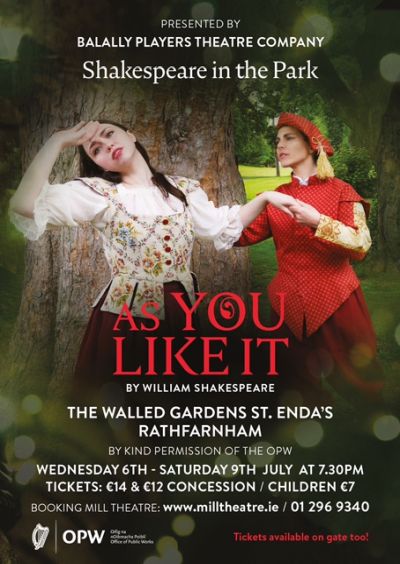 The Pearse Museum and St Enda's Park was where Patrick Pearse lived and ran his innovative Irish-speaking school, Scoil Éanna, between 1910-16. The museum and park are approximately 8Km from Dublin City Centre. The address, Saint Enda's Park, Grange Road, Dublin, D16 Y7Y5, is served by the number 16 bus, which stops close to the main entrance to the park on Grange Road. The numbers 17, 75, and 61 also serve the Rathfarnham area. There is car parking available on the site. For more about the venue, visit the Pearse Museum website.
Maps for both venues are in the entries for the performances on the Calendar page in the Members Area.
"Love is merely a madness…"
The central theme of 'As You Like It', in common with other Shakespearean comedies, is love. Here it is represented in some of its many and varied forms from romantic and courtly love, to sisterly, brotherly, and fatherly love – everything from that which flowers at first sight, to the unrequited variety that never blossoms.
"The fool doth think he is wise, but the wise man knows himself to be a fool."
Weaving its way in and out of this tangled web of romance is a tale of trouble and intrigue at court. Rivalry between two families, Touchstone's wise foolery, Jaques's cynical jibes, and Corin's practical insights, all contribute to Shakespeare's distinctive approach to romantic comedy with entertaining prose, verse, and a tune or two along the way.

Over the River and Through the Woods
dlr Mill Theatre – 22 to 26 March 2022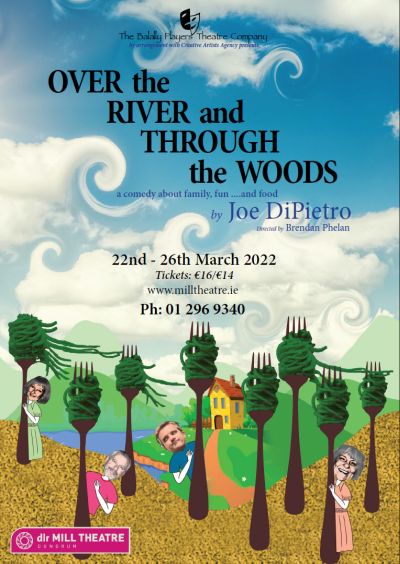 'Over the River and Through the Woods', written by Joe DiPietro, was published in 1998 and played Off-Broadway at the John Houseman Theatre for 800 performances over two years.
Nick Cristano is a single, Italian-American guy from New Jersey. His parents retired and moved to Florida and he lives the life of a modern young professional in New York City, but his loving grandparents never let him forget where he belongs: in New Jersey, in the bosom of his tenacious, tender-hearted, loud, loving, and well-fed Italian-American grandparents, who live two doors down from each other in Hoboken, and who lavish all of their affection on their last unmarried grandchild.
Nick sees both sets of his grandparents every Sunday for dinner. This has become a routine that is as expected as it is enjoyed by the grandparents. However, when Nick is offered a dream job – marketing executive in Seattle, Washington – he threatens to break this routine by a distance of some 2,800 miles. When he tells them, the news doesn't go down well at all.
Frank, Aida, Emma, and Nunzio are heartbroken at the prospect of their beloved grandson raising a family all the way across the country -- or worse, not raising a family at all! Besides the usual tactics of emotional blackmail, in order to keep him safe at home, these wily elders cook up a matchmaking scheme, inviting lovely nurse Caitlin O'Hare over for Sunday dinner.
Will the prospect of true love keep Nick from moving across the country? Over the River and Through the Woods is a warm-hearted, boisterously funny, and touching story about inter-generational relationships, deep familial love, and the inevitable little heartbreaks that occur as time passes and children grow.
The play, directed by Brendan Phelan, was performed in dlr Mill Theatre from Tue 22 to Sat 26 March 2022.

Other Shows and Events
Kilmacud Musical Society presents 'Disco Inferno'
The 70's musical in dlr Mill Theatre – 29 March to 2 April 2022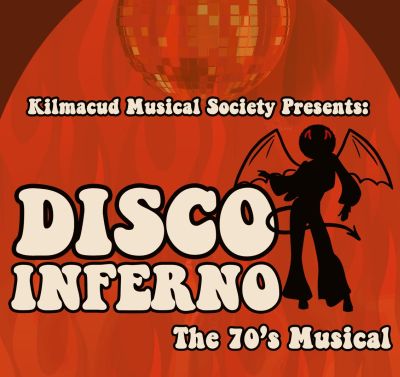 Following on from the phenomenally successful run of Chess the Musical in November 2021, Kilmacud Musical Society was delighted to announce their production of Disco Inferno.
It was an evening for anyone who loves the music of the 1970s – a riotous trip back to the decade that brought us flared trousers, platform shoes and glitter. In Disco Inferno, the story of Faust was brought to life in an explosion of hit songs, high-energy dance routines and glitter ball-spinning action.
The show was set in London in 1976; the hottest summer on record. 'Disco Inferno' tells the story of an ambitious and talented hopeful, Jack, and his 'burning' desire to make it in the music industry.
Signing away this thing called a soul is a small price to pay to make it. But Jack soon finds out that all that glitters isn't gold on the other side, especially if you're all out of love.

Glencullen Dundrum MDS 'Celebrating the Golden Years'
dlr Mill Theatre – 6 to 9 April 2022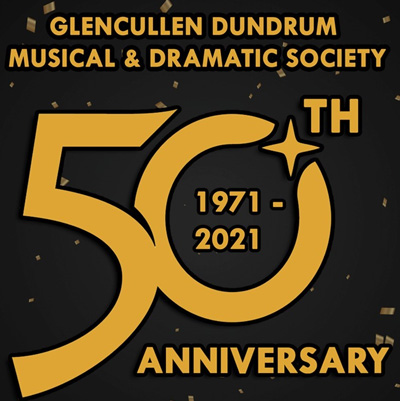 Glencullen Dundrum MDS was delighted to be back on stage in this special year, which saw the group celebrating its 50th Anniversary.
From 1971-2021, the society has seen many changes and has brought plays and musicals to stage and audience members every year. Some of the last productions include 'The importance of Being Earnest', 'My Fair Lady', 'The House of Frankenstein', 'The Hired Man' and 'Copacabana'. From a society that started as a choral society based in a library in Glencullen to a musical and dramatic society with members from all over Dublin based in Dundrum, Glencullen Dundrum MDS is delighted to be finally able to celebrate the Golden years with this variety show.
This trip down memory lane revisited musicals and plays performed over the last 50 years. It had teh audience singing, dancing, and laughing in their seats.

Romeo and Juliet
One public performance in dlr Mill Theatre on Thursday 10 March 2022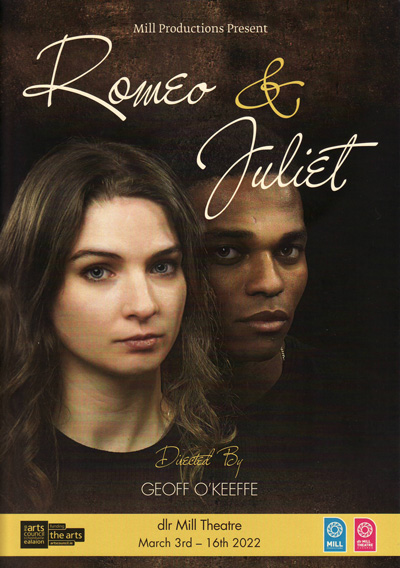 Two young people free-falling into a love beyond their wildest dreams, bear the weight of a bitter family feud. They sacrifice everything for love in a story that resonates as much now, as it did when first written.
An ensemble cast of nine actors brought Shakespeare's tragic tale of star-crossed lovers to life in a contemporary, fast paced and insightful retelling.
This abridged production, directed by Geoff O'Keeffe, which was performed during March for schools, ran for 90 minutes without an interval.
The cast included Benjamin Lafayette as Romeo and Eilish McLaughlin as Juliet, supported by Lesley Conroy, Ross Fitzpatrick, Sarah Foley, Fiach Kunz, Garry Mountaine, Evelyn Shaw and Ben Waddell.
Set Design by Gerard Bourke, Lighting Design by Kris Mooney, Sound Design by Declan Brennan and Costume Design by Florentina Burcea.
Produced by Karen Carleton for Mill Productions. There was one public performance in dlr Mill Theatre on 10 March 2022.

dlr Mill Theatre, Dundrum Town Centre, Dublin, D16 C5X6
Visit the theatre website for details on all shows
The dlr Mill Theatre is located in the Dundrum Town Centre, beside the Mill Pond. It opened in May 2006 with a production of 'Our Town' in which many Balally Players members participated. Since then the theatre has staged a wide variety of performing arts, community theatre, visual art, comedy, music, and children's shows. By including both professional and community productions in its programme, the theatre brings many people together both on and off stage. It has become a focal point of the community in South Dublin, a home for local groups and stage schools and a venue much loved by the many professional groups that have graced its stage.
If you have any queries about hiring the theatre or rehearsal spaces, call Kate Canning on 01-296 9340 or email manager @ milltheatre.ie
The dlr Mill_Theatre_website has all the information you need about the theatre itself as well as a comprehensive list of all the shows coming up.

The theatre Box Office is open from Monday to Saturday between 12:30pm and 5:30pm and the theatre re-opens at 7pm when there is an evening performance. You can also phone 01-296 9340 to make a credit card booking.
To book tickets online...
On the theatre website click the button beside your chosen performance and follow the instructions. You should note that there is a €1 booking fee per ticket for all bookings taken online and over the phone and you cannot choose your seats online, you are automatically allocated the next available seat.
To book tickets at the theatre...
Call in to the Mill Theatre Box Office, which is open from Monday to Saturday, 12:30pm to 5:30pm. The theatre re-opens at 7pm when there is an evening performance.
To book tickets over the phone...
The telephone number to call is 01-296 9340. The information needed is the date and event you wish to attend, and how many tickets you require. If booking by credit card, you will need to give your card number and expiry date, your name and address. You should have an alternative date in mind, just in case your first choice is not available.