Wander Down Memory Lane
Click 'Productions' to review 38 years of Balally Players shows
While COVID-19 has drawn a veil of inactivity over our plans and the stage remains empty, why not browse our archive of Past Productions and the collection of images in our Photo Gallery covering everything from Summer Shakespeare and Christmas Variety to a wide range of plays in just about every genre.
Full details on the plays presented since 1982 by Balally Players can be found in the Productions pages of the website.

'Pizzazz' takes a virtual bow
Awards won in Scarriff Radio Play Festival – April 2021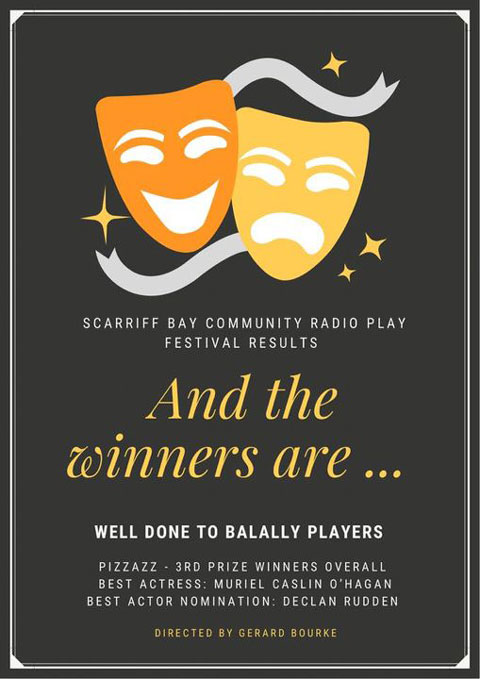 The first Clare Drama Radio Play Festival on Scariff Bay Community Radio was organised with The Clare Drama Festival with support from local organisations, the Community Radio Association of Ireland, The Broadcasting Authority of Ireland, the DLI, the ADCI and the Association of Drama Adjudicators. Paul Brennan was the adjudicator.
At the Awards Night on 4 April 2021, Balally Players entry 'Pizzazz' was awarded third place and the Best Actress award went to Muriel Caslin O'Hagan. Declan Rudden was nominated for the Best Actor Award. The production involved editing a series of remotely recorded audio performances and sound effects into a radio play, directed by Gerard Bourke.
The play was written by Hugh Leonard and first performed in the Olympia Theatre, Dublin, as part of the Dublin Theatre Festival in October 1983.
In the one act play, a medical consultant finds himself stuck with a loud American woman by the River Shannon. She sets about aiming to resolve issues in his marriage through psychodrama enlisting the help of her attractive personal assistant and a hapless local youth – all to the bewilderment of the local cleaning lady.

Alone It Stands
dlr Mill Theatre – 19 to 22 February 2020

Balally Players presented John Breen's 'Alone It Stands' for four nights in February 2020.
On 31 October 1978, in Thomond Park, Limerick, the mighty New Zealand All Blacks, on an Irish tour, take on the none-too-mighty Munster team – and, to everyone's surprise, they lose 12-0. From this piece of Irish sporting history John Breen has fashioned a funny, lively play in which both teams, plus fans, children, relatives and even a dog, are portrayed by a cast of six, with no props and only half-time change of shirt.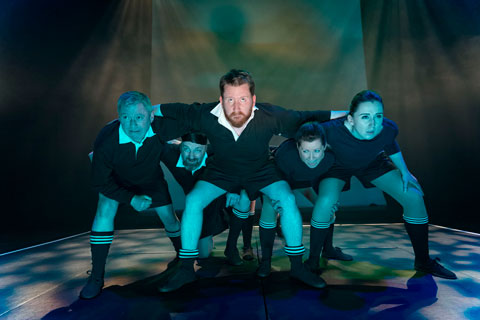 The cast of 'Alone It Stands' on stage in the dlr Mill Theatre, Dundrum
.
Photo: Declan Brennan
See the What's On page for more including photographs of the actors on stage.

Our Halloween Hours — fun & fireworks!
dlr Mill Theatre – Wed 30 October for 4 nights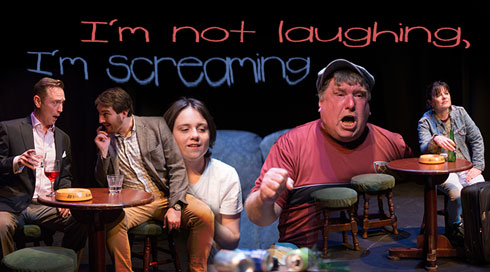 One of three One Act plays in one entertaining night at dlr Mill Theatre from Wednesday 30 October to Saturday 2 November 2019.
That title of the second of three plays in Balally Players' 'Evening of One Acts' captured the humour and humanity in the three excellent shows that were run back-to-back. Two of the plays that were presented are original works by members of the group. Audiences enjoyed a motley collection of characters in three very different, but equally engaging stories about people with a few firecrackers of their own!
Waiting For You written by Mark O'Leary and directed by Aisling Uí Laoire
I'm Not Laughing, I'm Screaming written by Sandy Taylor and directed by Lorcan Dunne
Soldier Field written and directed by Pat McCarry.
Read more on the What's On page.

Search the Site
This search facility will find references to plays, people or anything else within the pages of this website. It's great for searching past performances, newsletters or text witin PDF files anywhere on our website. The site is re-indexed weekly.
You may also use Google to find items on this website. However, it may not include more recent entries if they were posted since the last time that Google scanned and indexed the site.