'Bedbound'
One-Act Festival entry on stage in dlr Mill Theatre 23-24 Oct 2021
The first play for our return to performances after the long break is our entry into the One Act Festival. The play is 'Bedbound' by Enda Walsh. It stars Aisling Uí Laoire and Mark O'Leary and is directed by Óran O'Rua.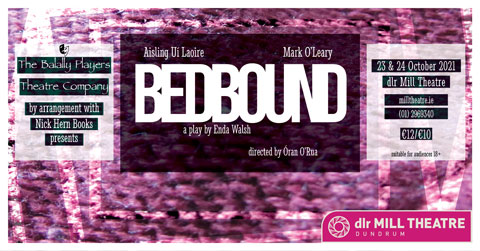 Before heading out on the Circuit, the play will be staged for two nights, on 23 and 24 October in dlr Mill Theatre.
We would love to have your support on one of those nights. Tickets can be booked through the dlr Mill Theatre website.
For more about the One Act Festival dates for 'Bedbound', see the What's On page.

Dundrum One Act Festival 2021
dlr Mill Theatre – 5 to 7 November 2021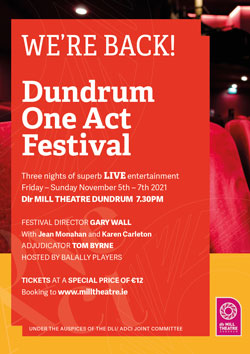 The Dundrum One Act Drama Festival returns to dlr Mill Theatre, Dundrum, Dublin from Friday to Sunday, 5 to 7 November 2021.
Drama groups from across the country compete over the three nights of the festival. Each night the Festival Adjudicator, Tom Byrne, reviews the plays and on the final night he selects the winners.
The Dundrum One Act Drama Festival is part of the All Ireland One Act Drama circuit.
The winners from local festivals, including Dundrum, aim to qualify for the 2021 All Ireland Final in Ennis, Co. Clare during the first weekend in December.
Read more on the What's On page.

Search the Site
This search facility will find references to plays, people or anything else within the pages of this website. It's great for searching past performances, newsletters or text witin PDF files anywhere on our website. The site is re-indexed weekly.
You may also use Google to find items on this website. However, it may not include more recent entries if they were posted since the last time that Google scanned and indexed the site.