'Juggernaut' by David Sears
Decade of Centenaries project – final performance 25 Nov 2023
In this ninety-minute retelling of a play first staged to great acclaim by MacLiamoir and Edwards in the Gate Theatre in 1929, David Sears sets the action in Killiney during the War of Independence and centres it around a middle-class family whose immunity from the struggle is shattered by the arrival of a wounded gunman looking for refuge.

A rehearsed reading of this play was presented in dlr LexIcon, Dún Laoghaire, Co. Dublin on Saturday 18 November> at 7:30pm and the final rehearsed reading will be in the Pearse Museum, Rathfarnham on Saturday 25 November at 2:30pm. A full production of the play will be staged by Balally Players in 2024.
The first rehearsed reading was also in the Pearse Museum on Saturday 30 September. This Balally Players presentation is part of the series of events that have contributed to the Decade of Centenaries. The play by David Sears was written in 1928, just five years after the end of the Irish civil war, and was first produced in 1929 by Hilton Edwards and Micheál Mac Liammóir in the Peacock Theatre.
The rehearsed reading was also be presented in dlr Mill Theatre Studio on Friday 6 and Saturday 6 October.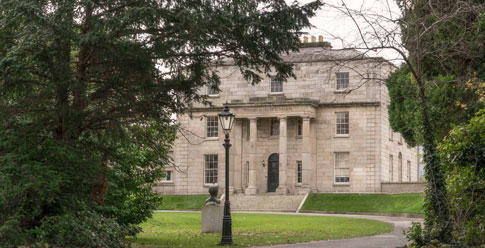 The Pearse Museum in St. Enda's Park, Rathfarnham, Dublin.
The play is about a middle-class family whose moderate Home Rule sympathies are put to the test when they have to choose between aiding or turning in a wounded IRA soldier. The family is persuaded to hide the IRA man and then to let him escape, although his survival means death for the daughter's British officer fiancé. The writer, David Sears, was one of Patrick Pearse's pupils at St Enda's and was a veteran of both the 1916 Easter Rising and the War of Independence (1922-1923). Sears won the gold medal for English language drama at the 1928 Tailteann Games with this play, a tragedy that disrupts the life of the family at its centre, and explores the interplay and conflicts within a complex set of loyalties and values.
The project is supported by Dun Laoghaire Rathdown County Council and the Department of Tourism, Culture, Arts, Gaeltacht, Sports and Media under the Decade of Centenaries 2012-2023 initiative.
See the What's On for more about the background to the project.

Two One-Act plays in November 2023
For one night only in dlr Mill Theatre
On Monday 27 November 2023, Balally Players presents a performance of 'Salome' in dlr Mill Theatre. The play, written by Oscar Wilde and directed by Gary Wall has qualified for the ADCI/DLI All Ireland One Act Finals.
'Salome' will be presented with another opportunity to see 'Dead Man's Bells' by Méabh De Brun and directed by Joanne Keane, which was performed with another one act play, 'Autobahn' by Neil Labute and directed by Brian Molloy in dlr Mill Theatre Studio from 24 to 28 October 2023.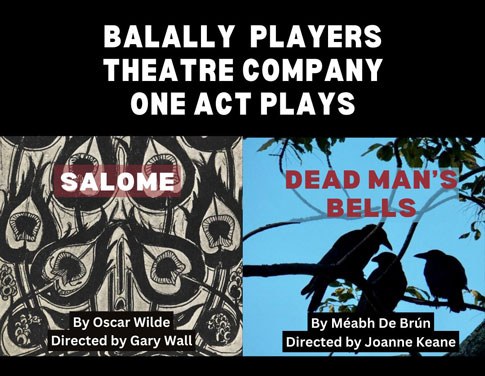 See the What's On page for more about the plays and booking details.

Dundrum One Act Festival 2023
The Dundrum One Act Drama Festival returns to the dlr Mill Theatre, Dundrum, Dublin from Thursday to Saturday, 2 to 4 November 2023.
Three nights of superb live entertainment hosted by Balally Players.
Organised by Festival Director, Joanne Keane, with Jean Monahan and Karen Carleton.
Drama groups from across the country will compete over the three nights of the festival. Each night the Festival Adjudicator Michael McCabe ADA will review the plays and announce the winners on the final night.
The Dundrum One Act Drama Festival is part of the All Ireland One Act Drama circuit. The winners from local festivals aim to qualify for the All Ireland Final in Castleblayney during December 2023.
See the Dundrum Festival page, in the What's On section, for more information, including a list of the plays that will be performed.

Farewell friend
Brendan Dunne died 31 July 2023
Following a long illness, through which he continued to play some roles with Balally Players, Brendan Dunne died unexpectedly, but peacefully on the last day of July.
May Brendan rest in peace.
At his funeral on 4 August, Brendan's many friends in Balally Players expressed their deepest condolences to his family and large circle of friends, while also sharing their fond memories of Brendan, his performances on stage, his unfailing support behind the scenes, together with his valued and true friendship.
We all hit the jackpot when Brendan walked into our lives.

For me, it was about 21 years ago when Lorcan Dunne introduced the two of us and said he had a play he wanted us to look at: Virtual Reality by Alan Arkin. After a few months rehearsing in a tiny and fairly squalid basement office that I was working from at the time, we were up in Cavan winning the All-Ireland with it.

So began a very long friendship.

Brendan was one of the most generous actors I've known. He always performed in a way that allowed the rest of the cast to respond in the most honest way possible. It was a joy to play opposite him.

He was involved in a number of Balally productions down the years and many members of the company had the opportunity to work with him. Some memorable performances included Joe in All my Sons, Monk in The King, The Boss in Of Mice and Men and of course the role that some said he was born for – Shylock in The Merchant of Venice. He also made a very impressive directing debut recently when he took on What Edward Did by Maeve Edwards as part of the Balally Shorts programme of plays.

We also remember him as a talented carpenter and set builder who loved a few pints, or a cup of tea and a chat about what shows were coming up and who was doing what.

I've so many lovely memories of my time with Brendan, mostly on stage, but also around our home – dodgy doors fixed, shelves mounted, workbenches sorted.

Permanent daily reminders now, if ever I needed them, of a great pal.

I'm going to miss him terribly.

Seán Murphy

Summer Shakespeare
Outdoor performances in June and July 2023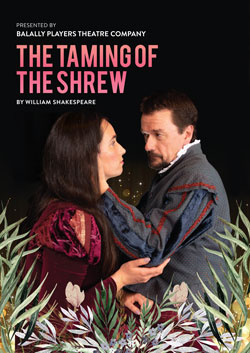 This year's Shakespeare in the Park was The Taming of the Shrew and was presented in St Enda's Park, Rathfarnhamn and the Sylvan Theatre in the grounds of Killruddery House, Co. Wicklow.
The action hovers around the story of Katherine and Petruchio and reflects a topic openly and regularly talked about in Shakespeare's day - the nature and role of women. Four hundred years later, the topic lives on and continues to entertain audiences in this much-loved play.
The first shows were presented in St Enda's Park, Rathfarnham, Dublin, on Sun 25, Tue 27, Thur 29 and Fri 30 June.
The performances in Kilruddery House, Sylvan Theatre, County Wicklow were on Thursday 6 and Friday 7 July, and they started at 8 pm.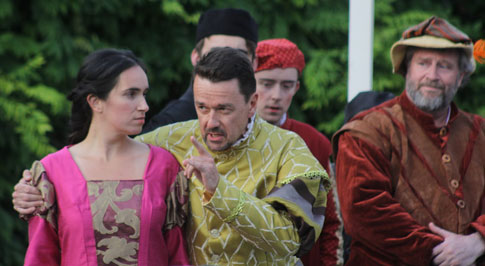 Photo by Michael Lysaght

40th Anniversary Production
dlr Mill Theatre – 7 to 11 February 2023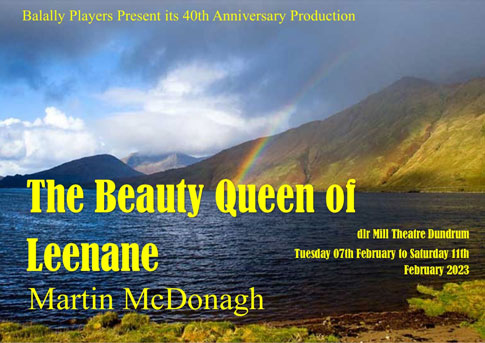 During February, in its 40th year, Balally Players opened its 2023 programme with a special Anniversary production of 'The Beauty Queen of Leenane' by Martin McDonagh.
Prior to his success with 'In Bruges' and the 'Banshees of Inisherin', this was McDonagh's debut play, the work that launched his career and electrified audiences. It introduced the world to McDonagh's darkly comic style, at times hilarious, at times vicious.
First produced by the Druid Theatre Company in 1996 'The Beauty Queen of Leenane' tells the story of spinster Maureen Folan, trapped in a dysfunctional relationship with her scheming and manipulative mother Mags, in a rundown cottage in the wilds of Connemara. Will Maureen's last chance at love have a happy ending? Not if Mags can help it.
With 'Banshees of Inisherin' hotly tipped for Oscar glory, Mill audiences had the opportunity to experience McDonagh's black humour in the flesh.
See the What's On page for more information.

Summer Shakespeare 2022
Killruddery Sylvan Theatre & St Enda's Park – 30 June to 9 July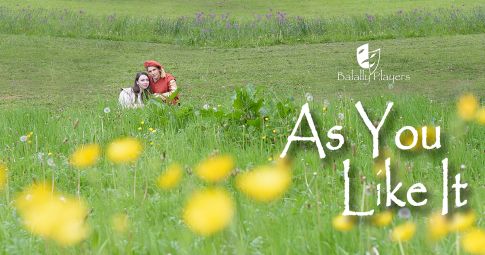 The Balally Players outdoor productions of some of the most popular Shakespeare plays returned this year with performances of 'As You Like It'. The Forest of Arden was recreated in the gardens of Killruddery House and the Walled Gardens of St Enda's Park at the end of June and early July.
The play, directed by Karen Carleton, was performed first in Killruddery Sylvan Theatre, in the grounds of Kilruddery House, Southern Cross, Bray, Co Wicklow. The Kilruddery performances were on 30 June and 1 July 2022.
From Wed 6 to Sat 9 July 2022, the performances were in the Walled Gardens of St. Enda's Park, Rathfarnham, Dublin 16.
For more, including performance photographs, see the page for the play in the Productions section.

Search the Site
This search facility will find references to plays, people or anything else within the pages of this website. It's great for searching past performances, newsletters or text witin PDF files anywhere on our website. The site is re-indexed weekly.
You may also use Google to find items on this website. However, it may not include more recent entries if they were posted since the last time that Google scanned and indexed the site.